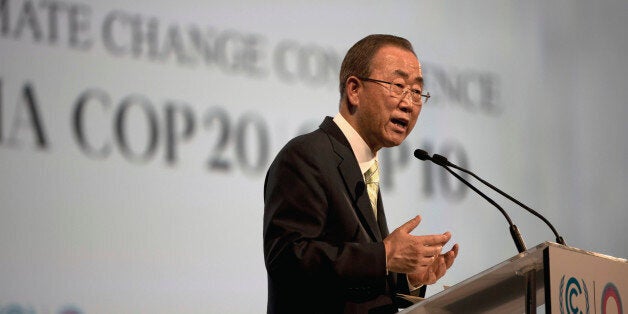 NEW DELHI -- If saying good bye to each other took so much time in Lima, saying hello to each other in Paris will prove more difficult. The Lima Accord is but a polite postponement of mutually antagonistic issues.
The global hope raised by the U.S.-China agreement of Nov. 12 was replaced by time-consuming bickering in Lima. Finally, after two weeks of hectic parleys, more than 190 countries at the Lima climate change talks agreed on a plan to fight global warming that would, for the first time, commit all countries to cutting their greenhouse gas emissions.
The Lima Accord was agreed upon at the United Nations talks on Sunday and is considered by some as a significant first step towards a climate change deal due to be finalized in Paris next year. If things go according to plan, China, Brazil, India and other rising economies will pledge to cut their greenhouse gas emissions.
However, there is a significant departure from one of the defining principles of the last 20 years of climate talks: wealthy countries would not carry the burden of cutting carbon dioxide emissions. Neither does the agreement have any mention of the provision that the rich nations will compensate the poorer and vulnerable countries to adjust to climate change. Developed nations, which have had the first mover advantage both in industrial development and in polluting the earth without accountability, cannot now turn a blind eye to the need to fund green technologies and help developing nations avoid the very learning curve that polluted the earth in the first place. While Brazil proposed different expectations for developed, emerging economies and least-developed countries, the final agreement in Lima did not address Brazil's proposal. Developing countries had long demanded that the wealthy nations enhance their emission reduction targets in the period before 2020. The deal only reiterates its resolve to accomplish this. According to India's Environment Minister Prakash Javadekar, "This is not the best text that we could have had. But it is certainly the best that we could have secured in the circumstances." However, not everybody is in agreement. Many feel the principle of Common But Differentiated Responsibilities that allows developing countries to be treated differently, has been diluted with the addition of the phrase "in light of different national circumstances."
Harjeet Singh, international manager for climate change and resilience at ActionAid International, says, "This totally compromises the position of developing countries. Differentiation is at the heart of climate negotiations. Developing countries might have to repent for letting this clause pass." Critics apprehend that self-regulation may not be enough for countries to enact domestic laws and put in place a plan to reduce carbon emissions by March 31. These Intended Nationally Determined Contributions will constitute the Paris deal. The absence of a legally binding language makes the Lima Accord a short-term achievement, but in the long term unquantifiable, unpredictable and unenforceable. After all, the world does not just depend on "peer pressure" for nuclear disarmament. For India, where per capita energy consumption is less than 150 units a year compared to the West's close to 10,000 units per year, the country has comparatively low emission figures and by this measure, can be considered among the least polluting nations in the world. This, coupled with the need for economic growth, was why Jairam Ramesh, the environment minister during the tenure of UPA 2, had strongly resisted attempts by developed economies to apply the standards of the West in controlling emissions and setting a peak year for emission standards.
At the Lima talks, Malaysian negotiator Gurdial Singh Nijar said, "We are in a differentiated world. That is the reality. Many of you colonized us, so we started from a completely different point." If India's current leadership, led by the NDA, does not raise its voice, and has meekly agreed to the demands of Western nations, we have already surrendered the hard-won gains in climate talks India had won during the Manmohan Singh-led UPA 2 government. With the ball of emission control in the domestic court, countries like India will have to harmonize their economic goals with quantifiable environmental measures. China's objection to demands by Europe for detailed accounting of its emission reduction plans does not augur well for Paris.
How well we cover the vast difference between "may" and "shall" will determine our commitment towards arresting climate change in the months to come in the run up to Paris next year.
PHOTO GALLERY
15 Ways You Contribute To Climate Change
Calling all HuffPost superfans!
Sign up for membership to become a founding member and help shape HuffPost's next chapter