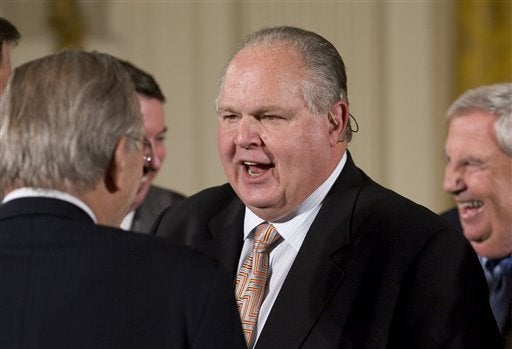 On Monday Rush Limbaugh became the most prominent in a series of conservative figures to push back against a new Republican re-branding effort launched by GOP luminaries over the weekend.
During his program, the brash radio personality whacked the National Council for a New America -- an effort undertaken by, among others, Mitt Romney, Jeb Bush, John McCain, and Eric Cantor to repair the party's image after the '08 election -- saying that rather than a "listening tour," what the party needed was "a teaching tour."
"I'm weary of the same people who drove us to this point telling us what we have to do now. I'm not including Jeb in that. Jeb was not part of the campaign last year," said Limbaugh. "But everybody else on this bus tour -- for the most part -- is responsible for where we are. We did it their way in 2008. We did it with the candidate and approach that they thought would work. Pandering. 'We got to listen to the American people.' I maintain that when a politician says we have to listen to the American people and learn, we are pandering. We're not leading."
Limbaugh's comments, picked up by Media Matters' Limbaugh Wire, were delivered a day after the NCNA hosted its first meeting at a North Virginia pizzeria. At that event, Romney, Bush and Cantor all discussed the need for a modernized and more inclusive approach to Republican politics -- one still premised on conservative principles.
In expressing his doubts, Limbaugh, who insisted that the GOP would have won in '08 with the right presidential candidate, joins a host of other prominent conservative voices to have publicly or privately pushed back against NCNA.
Earlier on Monday Roll Call reported that Rep. Thaddeus McCotter would not be joining the new effort out of concerns that it would overwhelm or trample upon what Republicans in the House were trying to do to reassert the GOP brand.
"We should be focusing on doing the little things right and building on them," said the Michigan Republican. "We have to do it every single day in the House... I hope [the new group] augments it but I worry that it may overwhelm it."
Meanwhile, as Greg Sargent reports, Alaska Governor Sarah Palin has been visibly absent from the NCNA's list of signatories, despite having received overtures -- including from Sen. McCain -- to join. After calls for comment, Palin said she would work with the Council.
LISTEN TO LIMBAUGH'S COMMENTS:
Popular in the Community