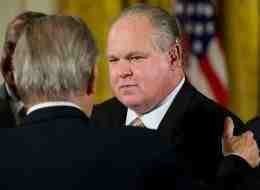 I mean, it's easy if you're Sean Hannity or Rush Limbaugh or even sometimes Newt Gingrich to stand back and throw bricks. You don't have to try to do what's best for your people and your party.You know you're just on these talk shows and you're living well and plus you stir up a bit of controversy and gin the base and that sort of thing.
It was well worth the moment of reflection. See, like a lot of people, I sort of see Obama's rise to the Presidency as a conquering of those old "Nixonland" tactics of tar, smear, and fear. But Limbaugh's not going down easily. Rather, he's positioning himself for another oppositional heyday.
And lest you think there are limitations on Limbaugh's ability to influence conservative opinion -- and conservative votes -- you'd better take another moment and check out this video from Media Matters for America, which ably documents the Limbaugh effect. Media Matters' Karl Frisch points out that "Limbaugh's latest comments prove that he is out of step with the American people and their hopes for overcoming this economic crisis." So he asks, "How much longer will conservatives allow Limbaugh to be their voice?" In light of what happened to Phil Gingrey, it's a pressing question.
Calling all HuffPost superfans!
Sign up for membership to become a founding member and help shape HuffPost's next chapter