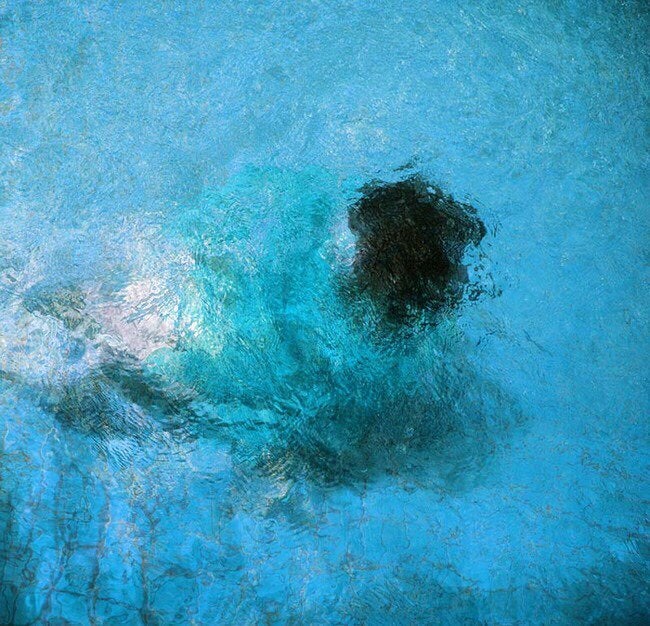 LIMBO: Young Gil Kang, the current exhibition at the Tenri Cultural Institute in New York City, challenges the viewer's sense of truth in a very curious way. It presents, what to most would be an unfamiliar, even worrisome situation of the apparent suspension of life and breath, but not the termination of free thought. A suspension of life as all of Young Gil Kang's subjects here are reclining women situated at or near the bottom of a pool of crystal clear water where there is in fact, no air for human consumption. On the other hand, I believe these women in these photographs are deeply thoughtful individuals caught in "Limbo", as the artist and exhibition's title implies. I say this as I imagine they all are experiencing enhanced brain activity as the corporal connections that the body and mind must make to come to terms with their situation come to the fore.
Printed on oversized sheets of rice paper in rich color, the artist's photographs show us a view from above, as we look down upon the aquatic settings as willing participants who appear to be as detached from their circumstances as is humanly possible. Is this mind over matter? Are all these women in an altered state where the heart slows so that air is not as essential to life as it was moments before?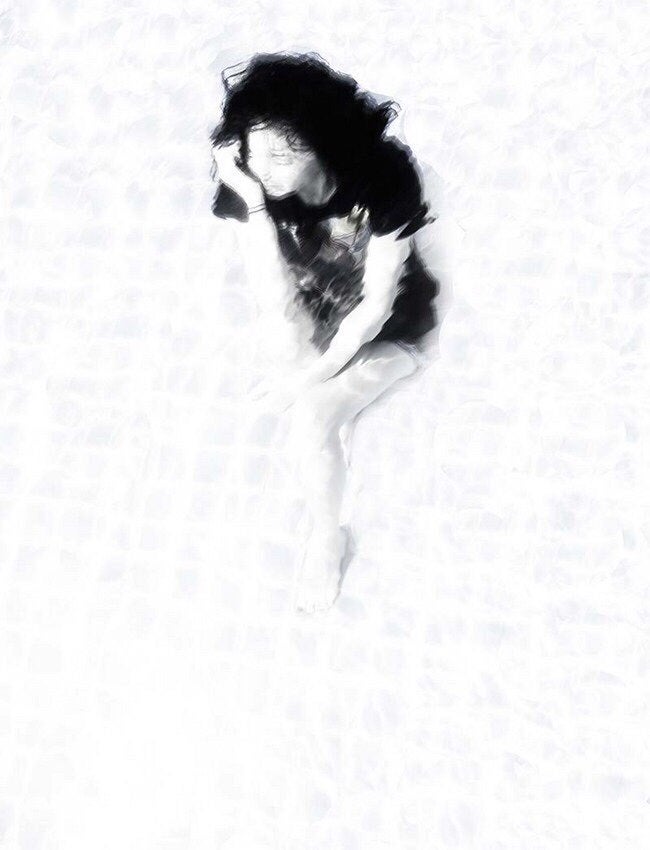 The poses or attitudes of Kang's subjects range in tone from a bit anxious or uncomfortable to confident, even sexual. In visiting this work, you will find yourself walking through the exhibition, moving from image to image looking, almost pleading for answers to the puzzling dramas put forth by Kang. When you move in close to the work you will see, submerged beneath a watery grid of liquid line and color, the details and features of Kang's subjects come and go as is the case of one work, as we see a face distorted beyond any possible human form. However, in all instances, the faces and thus the identity of each is not clear or essential, even though each subject has their own distinct personality. Kang's art is more about the mind/body/living/dead conundrum – something like the paradox of Schrödinger's cat. Add to this the indications of how the body and the clothing each seem to symbolize a different level of age, purpose, place or status and you begin to understand the boundless interpretations presented here by the artist.
Most of the works are vertical, as one would think of as a full-length portrait while in a few instances, the artist prints the upright image in a squarer format. In two of these instances, Kang places his prints on a large horizontal sheet, more or less centered, to create a flag like composition. This may not sound like a big difference yet it does something quite important to the way one might 'read' the narrative. The extra-added space on the sides oddly contextualizes both images emphasizing the allure of the overall effect. Now, the viewer becomes something of a voyeur who peers down through a skylight above an indoor pool. That, in turn, means the submerged subject may see or sense the onlooker's presence – a very different level of tension and engagement than one might feel with the vertical works.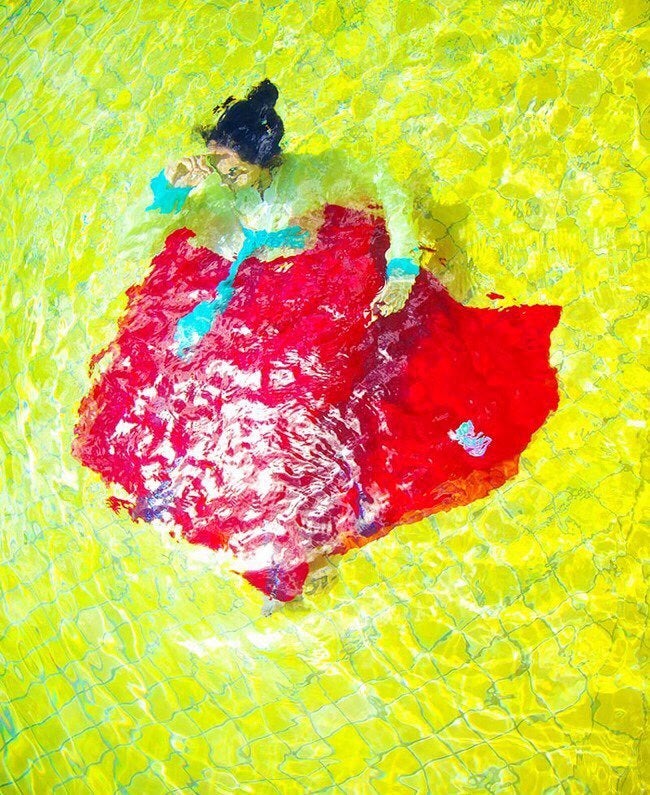 In one piece, there is what looks to be a woman, her hair tied tight in a bun, donning a much more traditional dress that swims and swirls around her legs and torso like a bloody organism. I found it quite curious that there was an indication of a drop of water that leaves concentric rings of surface disturbance next to the left hand of our subject – perhaps a first drop of rain or a bead of sweat from the photographer who kneels still and focused on the task at hand from a tenuous perch.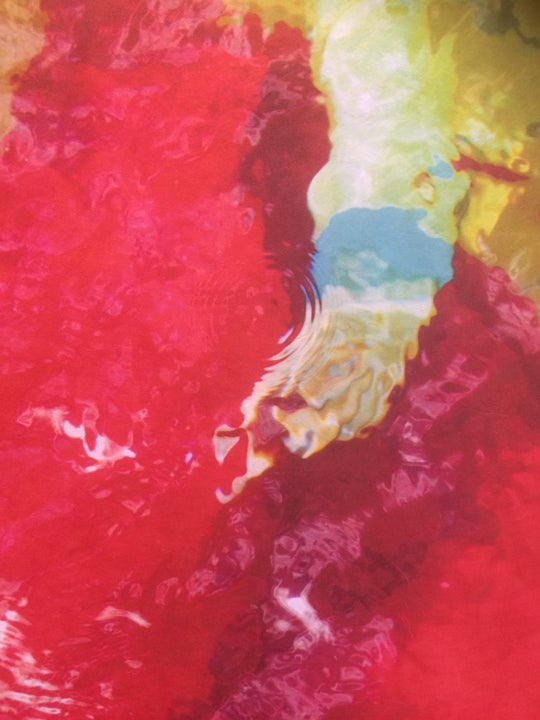 The other two woks on that same short wall off of the main gallery space show the emotional range of Kang's work. In one we see a very young woman, a casually attired teenager that is all tangled up in her thoughts and fears while nearby, dressed in a tight fitting thigh length ruby red dress, is a confident and open women with her head turned away in daring defiance and strength.
From a stylistic standpoint, all of the works are somewhat impressionistic in feel as they all break down the structure and space into fragments of vibrant color and frenzied line. On the other hand, all of the works have a grid like pattern formed by the quaking surface tension of the water complicated by the refracted light that pulverizes the detail. At this juncture, I am reminded of the more expressive and loosely abstracted portraits of Chuck Close such as Lucas I (1986-87).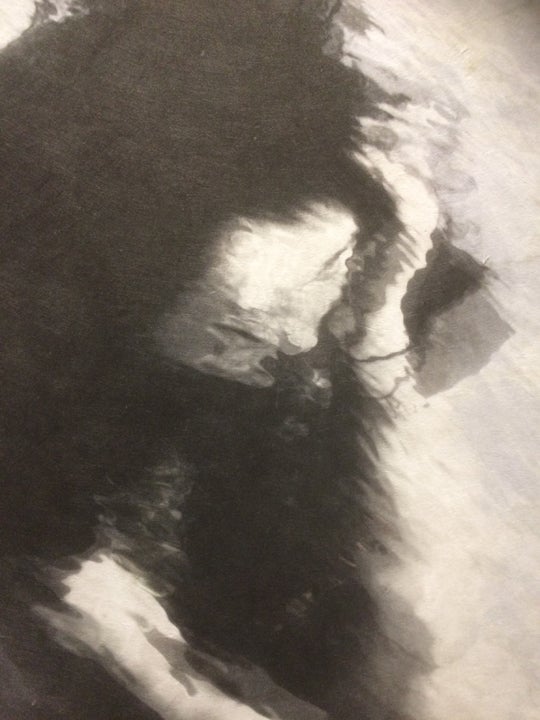 In fact, one of the faces here is so distorted by the scrambling characteristics of the water and how it bends the form into a mesh of garbled information that it is unrecognizable as human.
With all this said, the magic here comes in many waves. First, is how the viewer completes the narrative. It is how one responds to the presented puzzle with wonder and even a little worry as most might immediately put them selves in a similar position where they would tend to jump up and out of the water, especially those that cannot swim. Then there is the beautifully captivating surface that combines the organic nature of the rice paper with the sinuous line and sumptuous color of the printed photograph. There is quite a bit of movement here too, not in the subject's themselves, but in the water which in turn changes the shapes and form of what it contains. We have all seen photographs taken in low light, of snapshots of people or animals that move too quickly for the shutter or film to capture. As a result, the image breaks down and blurs into something quite ghostly or inter-dimensional. Kang's work transcends even that 'accidental' state of blurred movement as it changes our perception of reality, and perhaps, even our understanding of time and space.
Finally, this exhibition makes me think of the classic image of a woman in water, Ophelia, Hamlet's great love, that tragically died by drowning in a brook. An image made most famous in the painting by the Pre-Raphaelite Sir John Everett Millais, in his 1852 painting of the same name. There are two works here that most directly bear a resemblance to Millais' great work with a bit of a twist. Kang's 'version' is a diptych hung vertically, spanning a good 12 to 14 feet from floor to ceiling. Both works meet at the feet and are a near mirror image of each other. As a result, we see two endings to the story; two paths, one to life and one to death as the subject decides her own fortune and fate. Or is it two paths after death, one to heaven and the other to hell? In the end, this work is about how we can control our own destiny. We can tune out and contemplate, even if it is only for a minute or two, then return to 'life' with a distinctly tactile memory renewed with the confidence that we are, at least for the foreseeable future, in control.
LIMBO: Young Gil Kang runs through March 18th, 2017
Support HuffPost
The Stakes Have Never Been Higher
Related
Popular in the Community