There's a little bit of Alexander Hamilton and Aaron Burr inside us all. That is some of the wisdom Lin-Manuel Miranda dished out to The Huffington Post in a recent conversation on the lessons learned creating and starring in Broadway's most recent classic, "Hamilton."
When it comes to Hamilton and Burr, Miranda explains, it's not a matter of good versus evil, hero versus villain, brilliant versus brainless. Rather, it's more complex -- a matter of temperament. "This is about who charges forward and who exercises caution," Miranda said. "And I think we're all a mix of both."
"You've got Hamilton who, orphaned, [his] mother dies at 12. Very traumatic early life. And his takeaway, his wiring, is to go and go and go as fast as possible," Miranda explained. "Now you've got Burr, same basic childhood. Lost both parents, lost a series of relatives. Burr's whole thing is terror to act. Burr always wants the right to change his mind."
For Miranda, the seven-year process of writing "Hamilton" mirrored the contradictions embodied by his protagonists. Creating the musical tapped into both elements, willfulness and caution, Hamilton and Burr, simultaneously and all at once. "I am someone who is keenly aware that we could all be gone tomorrow, and yet I write things that I know will take years to finish," he said. "Musicals take forever!"
The long and strenuous process of writing a historically accurate rap musical required Miranda to tap into another contradiction within himself, the ability to work in both isolation and collaboration.
And yet, despite the hardships and paradoxes along the way, Miranda never stopped working, and felt blessed to be able to do so. "I think that's also the thing about writing is you have to live with the notion of, if I don't write this, no one is going to write it. If I die, this idea dies with me."
He mentions how Jonathan Larson, the creator of "Rent," died before ever seeing the completed version of his game-changing musical, before he even had a chance to make edits on his last draft. For that reason, Miranda expresses, even when it's trying and frustrating and exhausting, work is a gift. "The ability to literally change a song and change some notes is a privilege, because we're alive."
And just like that, Miranda surprises and inspires us once again. Watch the entire conversation with Arianna Huffington, which took place after Miranda's interview with Judith Rodin for the Rockefeller Foundation's Insight Dialogues series, unfold above.
Related
Before You Go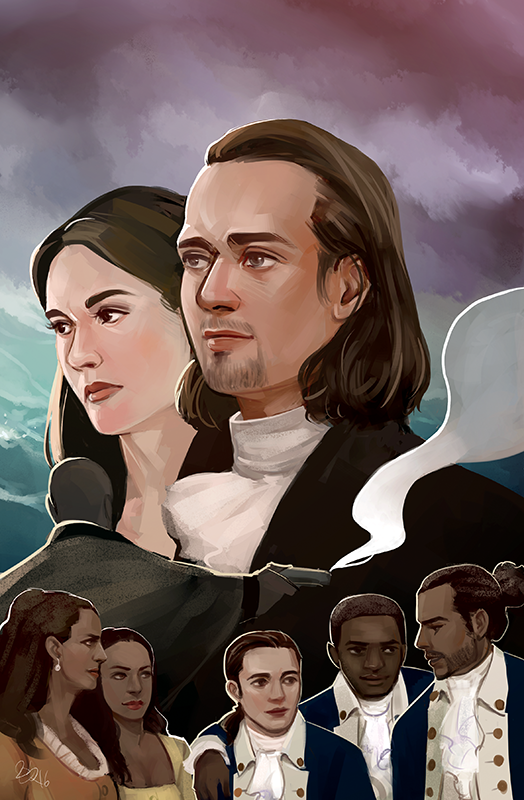 45 Illustrators Draw the 46 Tracks of "Hamilton"
Popular in the Community