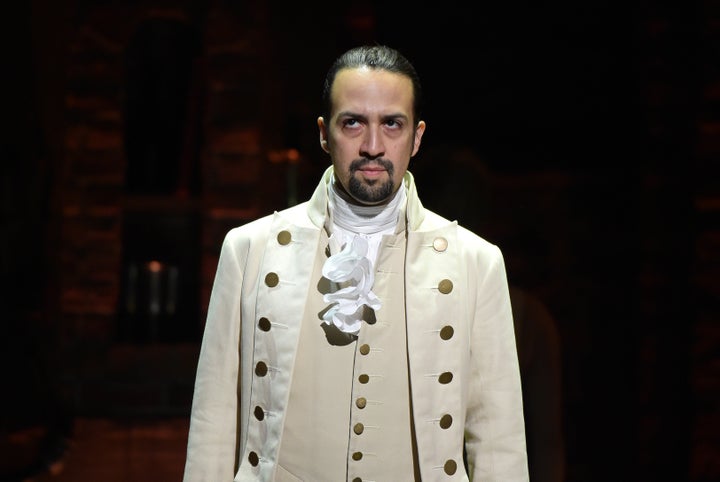 There are few spaces left in the world that are free of cell phones. Lin-Manuel Miranda wants the theater to remain one of those spaces. 
After Tuesday night's performance of Miranda's record-breaking smash musical "Hamilton," the playwright and actor sent a message to fans via Twitter, making it clear how he feels about audience members who are compelled to snap a verboten picture of his show. 
While it may seem innocent to want to Instagram Daveed Diggs' super-fast rap as the Marquis de Lafayette, as Playbill.com explains, there's usually some copyright and intellectual property issues that make that a terrible, terrible idea.
And aside from the legal implications, it is -- how shall we put this -- rude as hell to put a phone between yourself and a work of art that many, many people have dedicated countless hours to in order to provide this one-of-a-kind experience for you. Sure, the curtain of "Hamilton" will rise and fall the next night, and the one after that, but the beauty of live theater is that this very performance, with this very crowd, can only happen once in the entire history of the universe. Don't muddle it by bringing social media into it -- just appreciate the performance, and soak it all in, for what it is.
Beyond all that, do you really think your smartphone is going to capture a better-looking shot than all the widely available professional photos of what might be the most famous Broadway show right now? Are you that guy that holds his iPhone up above a concert crowd, blocking the view for an entire song so you can put it on YouTube later? Do you really want to be that guy? 
Better to hang out in your $1,000 seat, realize how lucky you are to be alive right now, and keep that phone in your pocket. When it comes to seeing "Hamilton" for the first time, you will not want to throw away your shot. 
Now back to your regularly scheduled Miranda tweets, where he can resume being a bright ray of sunshine in this dark world:
REAL LIFE. REAL NEWS. REAL VOICES.
Help us tell more of the stories that matter from voices that too often remain unheard.
BEFORE YOU GO
PHOTO GALLERY
Peeps Re-create Hamilton Because We'll Never Get Tickets