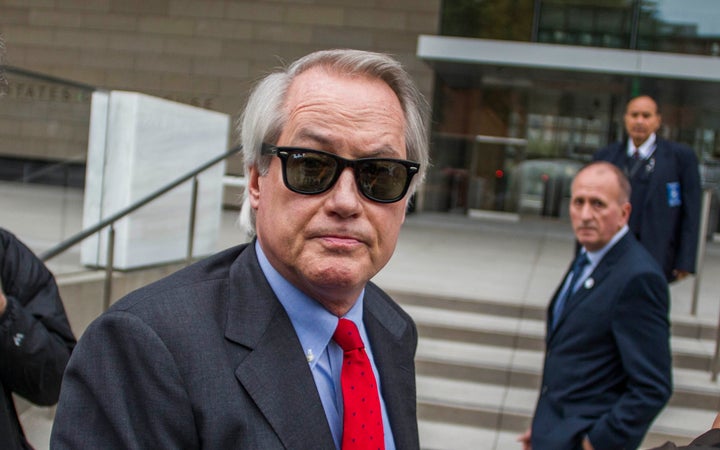 As key Donald Trump-supporting QAnon figures continue to attack one another in the wake of Kyle Rittenhouse's acquittal, right-wing attorney and longtime QAnon acolyte Lin Wood is now saying that QAnon is "likely a Deep State operation."
The claim follows Wood's declaration last week that longtime friend Michael Flynn — Trump's former national security adviser and the recipient of a Trump pardon — is a general of the "deep state," which, according to the QAnon conspiracy theory, refers to an imagined secretive clan of Satan-worshipping federal officials, agents and their supporters.
Wood also suddenly labeled the "stop the steal" movement that seeks to restore Trump to the presidency a deep state plot last week — although he continues to insist the 2020 election was fraudulent and needs to be "fixed" to put Trump back into the White House.
On the online messaging system Telegram earlier this week, Wood wrote that he has "formed an opinion that Q speaks truth," referring to the anonymous poster in QAnon lore who has purported high-level government clearance and deep access to state secrets.
"I know that I agree with the principles of Q in its fight against child sex trafficking, pedophilia, and satanic rituals," added Wood, who noted that he still considers himself one of the "Anons."
But as for "QAnon" itself, he declared, it's "likely a Deep State operation constructed to discredit Q and the Anons."
Wood, who once represented Rittenhouse, has been launching attacks on former associates and QAnon after the teen criticized him in interviews.
Rittenhouse — who was acquitted last month of killing two people and wounding a third man at a protest in Kenosha, Wisconsin — accused Wood of mishandling $2 million raised for his bail, forcing him to stay in jail for 87 days, and "using" him "for a cause."
In an interview with the cable channel NewsNation, Rittenhouse called Wood "insane" and said, "He thinks he's God and he just says all these weird things."
Rittenhouse said he and his mother fired Wood last December because "he was going on with all this QAnon and election fraud stuff, and just stuff we don't agree with."
Wood denied all of Rittenhouse's claims.
But after Rittenhouse's criticism, several far-right figures who have supported QAnon in the past publicly distanced themselves from Wood. Rep. Marjorie Taylor Greene (R-Ga.) called him "horrible," and former Trump aide and far-right radio host Sebastian Gorka labeled him a "sleazeball."
Meanwhile, Flynn and attorney Sidney Powell ignored the attacks against Wood, even though Wood had appealed to Flynn to speak up for him.
Last Sunday, Wood declared his "journey" with Flynn "at an end."
He posted a recording of a phone call with a man he says is (and sounds like) Flynn calling QAnon "nonsense" and saying he suspects the movement is a CIA-orchestrated disinformation operation to discredit the right.
Popular in the Community