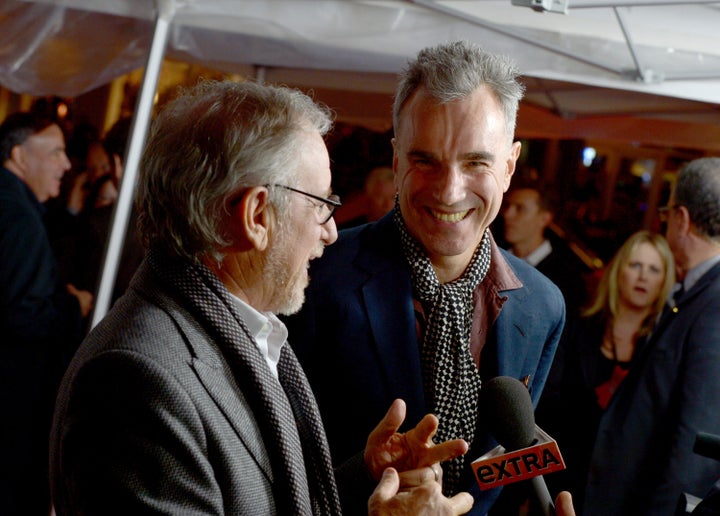 Welcome to For Your Consideration, HuffPost Entertainment's weekly breakdown of all things Oscar. Between now and Feb. 25, 2013, executive arts and entertainment editor Michael Hogan and entertainment editor Christopher Rosen will chat about awards season and which films will make the most noise at the 85th annual Academy Awards.
Rosen: Hey, Mike. It looks like critics and Oscar prognosticators weren't the only people smitten with Steven Spielberg's "Lincoln"; real people were as well. The film earned a surprising $21 million during its first wide-release weekend, helping continue the 2012 trend of good, adult-oriented films opening to better than expected results. (See also "Argo" and "Flight.") Shocking, huh? When the movies for adults are good, adults show up! Whether that means Hollywood studios will actually program to people not interested in seeing superhero origin stories in the future is unclear, but judging from past history, let's just assume that 2012 is an outlier.
As for what the "Lincoln" opening does for the film's Oscar chances, it just seems like another feather in its feathered-up cap. I still have "Argo" as the Best Picture front-runner, but more and more "Lincoln" seems like a potential runaway. No kidding: Spielberg's film will have big support from the acting branch (three acting nominations seem like a forgone conclusion), Tony Kushner's script is a mortal lock for Best Adapted Screenplay, its below-the-line contributors (specifically composer John Williams, cinematographer Janusz Kaminski and editor Michael Kahn) are all respected past winners and nominees and it's the most culturally relevant film of the bunch -- perhaps even more than either "Argo" or "Zero Dark Thirty." There are some vocal naysayers -- Jeffrey Wells, professional agitator, chief among them -- yet as the Oscar race warms up, "Lincoln" just feels like a legitimate option. Before the season, it was the film many picked to be the "J. Edgar" of 2012; now, it's building a surge of momentum that recalls "The King's Speech."
In other Best Picture contender news: "Silver Linings Playbook" opened in limited release this weekend, though if you didn't realize that you aren't necessarily alone. The Oscar contender earned $458,000 from 16 theaters, good for a per-theater average of $28,625. That's very good, but consider: "Lincoln" had a per-venue average of $85,846 from 11 theaters last week. Last year, during its limited-release opening frame, "The Artist" averaged $51,220 in four theaters. All of which is to say, box office doesn't mean anything with regard to the Academy Awards, but it kind of does, right? "Silver Linings Playbook" continues to have a difficult time finding a foothold with potential audiences (that's why The Weinstein Company made its Nov. 21 opening a limited expansion instead of a 2,000 theater blow-out). This is a great movie with rich performances and deserved Oscar buzz, but right now it seems to be headed on the same path as both "The Descendants" and "Up in the Air": an early front-runner, and excellent film, that fizzles when Oscar shines his golden light in its direction. We'll see, and I would never discount TWC nor the people involved in "Silver Linings Playbook," but it seems to be lagging behind not just "Argo," but "Lincoln" and "Les Miserables."
Anyway, I've gone on enough. Am I just talking nonsense about "Lincoln" and "Silver Linings Playbook"? More important, should we start the "Leslie Mann for Best Actress" campaign right now? Because she absolutely destroys "This Is 40," en route to giving one of the best performances of 2012, male or female.
Hogan: Hey Chris, well, if we're going to give the Oscar to the leading lady of a comedy, let's make it Leslie Mann rather than Jennifer Lawrence in "Silver Linings Playbook." I loved Maude Apatow's comment to Dave Itzkoff of The New York Times about how her mom taught her to "commit" and, in fact, commits like no other actress. That's a point Judd Apatow made to me in an interview this past Sunday (stay tuned for that, loyal HuffPost readers), and it's pretty obvious on screen. Mann serves up a Chinese buffet of emotions -- joy, humiliation, frustration, lust, rage, disappointment, contentedness, maternal solicitude, spousal solicitude, girlish self-indulgence -- while somehow shaping it all into a single, believable character. And best of all, we know she's playing a version of herself in a film whose story she helped shape. Because it's a comedy, I didn't walk out of the theater thinking, "Give that woman an Oscar!" but now that you mention it I'm happy to cosign -- especially in a year when so many of the best performances have come from women who already have statuettes on their mantles.
As for "Silver Linings," which is a great movie to take your sports-fan dad to (I'm bringing mine on Thanksgiving), I think it may be suffering in part because of its title. Even friends of mine who work in the entertainment field are not sure what it is, who's in it, whether it's a comedy, and at least one made a face and told me, "What a shitty title." I certainly hope the film finds its audience all the same -- surely there are lots of "Hangover" and "Hunger Games" fans who will show up when it goes wide, no? -- and I think its per-theater average is no cause for panic.
But the difference between David O. Russell's experience in limited release and that of Steven Spielberg certainly bolsters your point. Most people I know seem to be choosing between "Lincoln" and "Skyfall" when they think about catching a flick right now (my friends are a bit old for "Breaking Dawn," alas), and even though the vast majority seem to end up opting for 007, it's clear that "Lincoln" has broken into the national consciousness in a way few films that don't feature superheroes do. Then again, Lincoln is a superhero of sorts, isn't he? He's tall, he fights for freedom, he wears a uniform -- if I'm not mistaken, he even has a cape.
And while it's important to remember that small films routinely beat big films in the Best Picture race, the losers are usually big and dumb. "Lincoln" is big and smart -- maybe the smartest movie of the year, thanks to Tony Kushner's Pulitzer-worthy script. (Do they give Pulitzers for screenplays? If not, they should start.) Do you think Team "Argo" is cursing its early-front-runner fate right now, or are we just fan-boy crushing over here?
Rosen: To answer your question: They should give Pulitzers for screenplays. Maybe a Tony award, too. In fact, let's just give Tony Kushner the Nobel prize and American League MVP for his "Lincoln" script.
Kidding, but not kidding, aside, there is a bit of fan-boy crushing surrounding Spielberg, but unlike the fan-boy crushing that followed eventual losers like David Fincher and Christopher Nolan during recent Oscar seasons, Spielberg is the O.G. fan-boy crush. He's the guy that 60 year olds love. He's the establishment's version of the geek auteur, which may come in handy during this year's Academy Awards run. As astute Oscar watcher Tom O'Neil has said time and again, there is a coolness factor to the Academy Awards. For a film to win, it has to have some level of cachet -- stodgy, old Oscar voters don't want to appear stodgy and old, after all. Even "The King's Speech," the very-recent definition of Oscar fare, was kind of different in that Tom Hooper gussied its Merchant-Ivory-ness up with a fisheye lens and one bit of blistering foul language. Perhaps "Lincoln" will be a way for Oscar voters to straddle both worlds?
Back to Leslie Mann for a moment. Slight spoiler warning, but that scene where Mann's Debbie is driving in her car after hearing a bit of life-changing news from her doctor? That scene is incredible, and Mann doesn't even say one word. As we've discussed, Best Actress has no real locks (Jennifer Lawrence is the closest thing), so maybe Mann sneaks in for "This Is 40"? If not her, does Albert Brooks get the Oscar version of a make-up call in the Best Supporting Actor category after being snubbed at the 84th annual Academy Awards?
Hogan: I would love nothing more than to see Albert Brooks swing a nomination for "This Is 40." He's terrifyingly convincing as Paul Rudd's money-mooching, triplet-spawning dad, but he also has a redemptive scene where we see what really makes him tick and how big his heart truly is. I also thought he was robbed last year, and I'm sure as hell not alone. (Full disclosure: I work with Albert's wife, Kimberly, the founding editor of HuffPost Arts.) That said, the Best Supporting Actor category is positively stacked this year: DiCaprio, Hoffman, DeNiro, Arkin, Tommy Lee Jones, and your pet dark horse, John Goodman. As we've discussed, I'm hearing that Weinstein has very high hopes that DiCaprio will go the distance, and I still think attention must be paid to Hoffman's performance in "The Master." But as time goes by, I'm less sure that Alan Arkin absolutely has to be nominated for "Argo." So yes, I can imagine a DiCaprio, Hoffman, DeNiro, Jones, Brooks lineup. And regardless of whether Arkin or Brooks makes the cut, I think DiCaprio benefits from being the only guy under 40 navigating that traffic jam of old-timers.
The Arkin/Brooks debate raises that age-old question about the costs and benefits of being an early front-runner. Studios often like to wait until the last minute to release their awards hopefuls, on the theory that voters will favor what's freshest in their minds. But an interesting piece by Steve Pond in The Wrap posted on Monday suggests that the Academy's decision to move the voting deadline up by five days, to Jan. 10, is "essentially detonating a time bomb across the Academy Awards landscape," as some members struggle to fit in screenings over the holidays while others remain in blissful ignorance that anything has even changed. Does that give Warner Bros. the edge, since everybody who's anybody has already seen Ben Affleck's sharp hostage-heist flick?
Popular in the Community