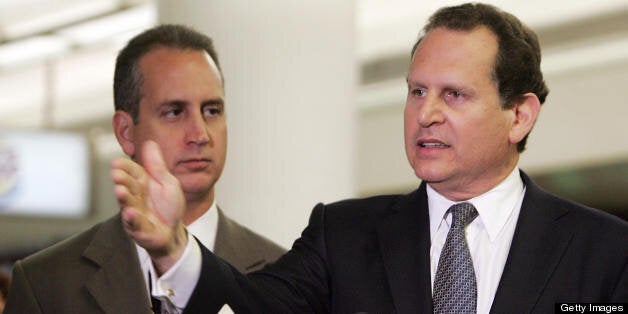 Lincoln Gabriel Diaz-Balart, nephew of U.S. Rep. Mario Diaz-Balart (R-Fla.), died Sunday at the age of 29, The Miami Herald reports. Diaz-Balart was the son of Lincoln Rafael Diaz-Balart (R-Fla.), a former congressman who retired in 2010.
The Diaz-Balart family are Cuban exiles currently living in Miami. They are well known for their political power and ties in Florida. Mario Diaz-Balart is a five-term congressman and former nephew by marriage of Fidel Castro, according to the Tampa Bay Times.
The family has asked for privacy and time to grieve.
The office of Rep. Mario Diaz-Balart referred HuffPost to the statement sent by Lincoln's family and his wife Cristina to The Miami Herald, saying that it is the only statement being made presently and the congressman is spending time with his family.
The statement to The Miami Herald:
It is with infinite sadness that we announce the passing, on May 19, 2013, of our beloved son and brother, Lincoln Gabriel Diaz-Balart. For many years, Lincoln Gabriel struggled with depression. Lincoln Gabriel was a kind and loving human being. His love and compassion touched many lives during his 29 years. We will remember him with profound love and devotion for the rest of our lives. Lincoln, Cristina, and Daniel Diaz-Balart
U.S. Rep. Ileana Ros-Lehtinen (R-Fla.), a long time friend of the family, expressed her sorrow on Twitter saying "Thinking of mi hermano @LincolnDBalart during this trying time. My prayers go out 2 u + ur family. LG is still in our hearts."
UPDATE: 4:05 p.m -- Huffpost reached out to Ros-Lehtinen, a very close friend of the Diaz-Balart family, who gave the following statement:
Along with Dexter and the rest of the Lehtinen family, I send our profound condolences to Lincoln, Cristina and Danny on the inconsolable loss of LG. During this time of overwhelming grief and sadness, the Diaz-Balart family can find solace knowing that their beloved son, brother and nephew is now by his Creator's side. While LG's time on this earth was short, his love will forever be present in the minds and hearts of those who knew and loved him.
Popular in the Community