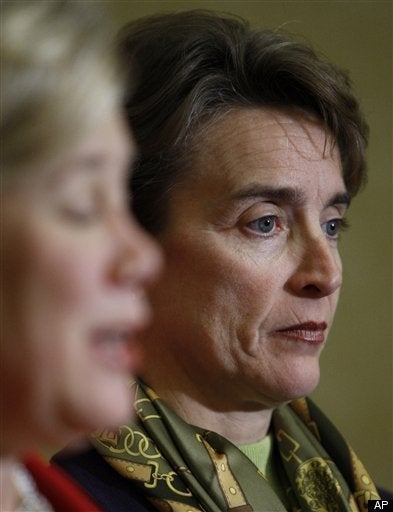 Two key conservative Democrats hinted on Wednesday that they support the health care reform compromises adopted by the party's leadership, including the dropping of a pure public option and the addition of a buy-in alternative for Medicare.
But in remarks to reporters during and outside of a forum on small business, both Sens. Mary Landrieu (D-La.) and Blanche Lincoln (D-Ark.) stressed that they would not make a final judgment about how to vote on reform until the Congressional Budget Office scores the bill.
Of the two, Landrieu seemed more receptive to the reported changes made by Senate Majority Leader Harry Reid (D-Nev.) to the Senate's version of health care legislation. The Louisiana Democrat said she thought the Medicare buy-in proposal was "a very good idea" in part because it was "paid for." "But because we don't have a score we can't tell," she added.
Lincoln was far more reserved, declining to weigh in on the Medicare buy-in proposal, saying: "There are a lot of things on the table still and, until we hear back from CBO it will be hard to say whatever I can support."
Asked what would happen if the CBO score showed the revised bill to be more expensive and less inclusive than Reid's original version, she replied: "Then we will go back to the drawing board."
The Arkansas Democrat did, however, applaud one aspect of the new version of reform: the decision to drop the public plan in favor of a non-profit system run by private insurers but regulated by the federal government.
"It takes the best of both words," she said. "Government creates an environment where private industry can operate but... it creates the environment in a way that private industry is providing a product that best suits the needs of the consumer. [Office of Personnel and Management] being the negotiator will help, I think, be able to bring the best product forward."
Both Lincoln and Landrieu have pledged to support a Republican filibuster of health care reform if the bill contained a public option for insurance coverage. So the decision by Reid and others to accommodate those concerns would, under normal circumstance, seem to be enough to earn their votes. But if one rule has been proven true during these negotiations it's that there is little to lose and much to gain when you're the 60th vote for cloture.