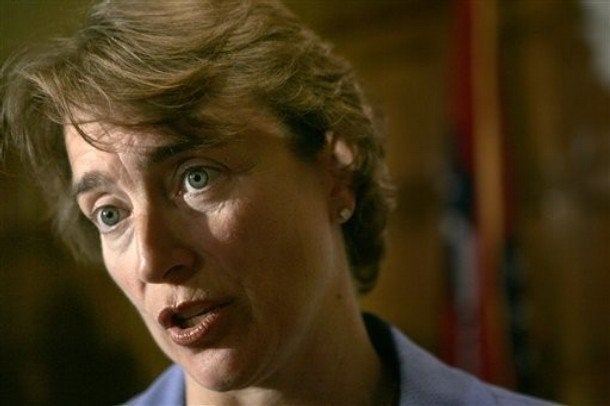 Senator Blanche Lincoln on Monday announced that she would vote against the Employee Free Choice Act. But later she elaborated, leaving the door open for her to eventually get on board a revised version of the union-backed legislation.
Listing a series of economic issues that she hoped to tackle, the Arkansas Democrat concluded, "Even though the Employee Free Choice Act is not on this priority list, it is receiving a lot of attention in the news and is the focus of many of my conversations with constituents on both sides of the issue. I consider both the labor and the business communities to be my friends. However, now that we need all hands on deck, including business and labor, to get our economy moving again, this issue is dividing us. While I may not have been clear about my position in the past, I am stating today that I cannot support Employee Free Choice Act in its current form and I can't support efforts to bring it to Senate consideration in its current form. I will consider alternatives that have the support of both business and labor but my pledge today is to focus my full attention on the priorities I have mentioned that affect every working family in Arkansas."
The remarks are, as union members predicted earlier in the day, somewhat of a softening of the Senators opposition to EFCA as reported by ArkansasBusiness.com. Lincoln, a critical Democratic vote on the measure -- which would ease the creation of unions -- voted for the bill in 2007. On Monday, however, she told a gathering of: "I cannot support that bill ... Cannot support that bill in its current form."
At the same time, however, it is difficult to imagine what major alternatives "both business and labor" could or will agree on -- the standard that Lincoln has now set for her support.
On the Hill, aides involved with crafting the legislation say that they weren't entirely surprised by Lincoln's position. Noting that Wal-Mart is the major business force inside her state, they added that this is another step in the sausage-making process that leads to legislation.
"We have always known that Employee Free Choice Act goes through an amendment process and we are open to that," said one Senior Democrat. "What Sen. [Tom] Harkin [the chief EFCA sponsor] wants to do is work with anyone who wants to strengthen workers rights."
We interpret Lincoln's statement, the Democrat added, "as an invitation to compromise."

Calling all HuffPost superfans!
Sign up for membership to become a founding member and help shape HuffPost's next chapter