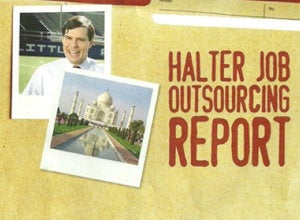 This past week, Senator Blanche Lincoln (D-Ark.) condemned an outside group for running racially-tinged attack ads against her primary opponent, Lt. Gov. Bill Halter, slamming him for outsourcing jobs while serving on the board of a tech company. On the ground in Arkansas, however, her campaign has been distributing mailers that make the same charge using similar imagery.
The Huffington Post was passed along a four-page mailer paid for by "Friends of Blanche Lincoln" that charges "Dollar Bill Halter" with profiting from a company that sent American jobs to India. The mailer includes pictures of the Taj Mahal on three of the four pages, as well as outlines of a presumably Indian skyline.
"When Bill Halter was getting rich on corporate boards, outsourcing just meant more profits," the mailer reads. "But now that Halter's running for office, he's suddenly upset that 'our jobs are being shipped overseas.' Can we really trust Bill Halter to stop outsourcing - after his company sent American jobs to India?"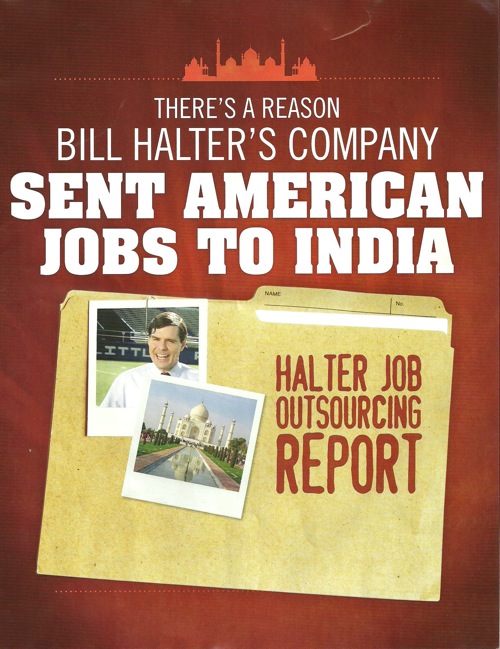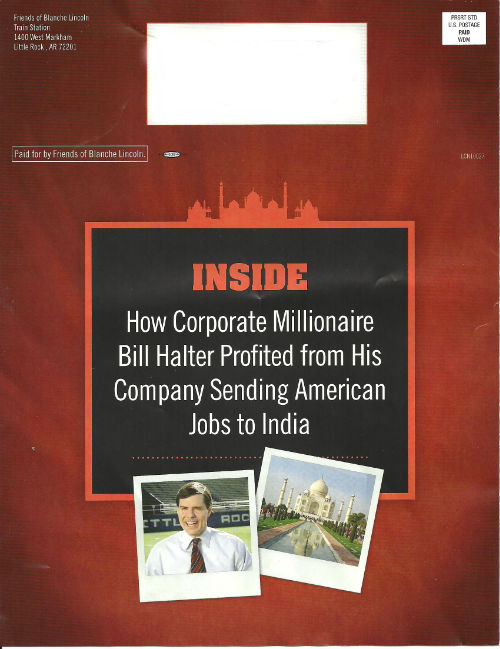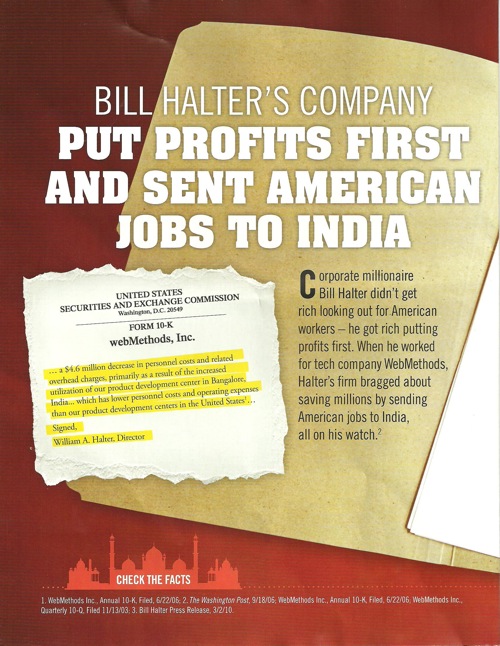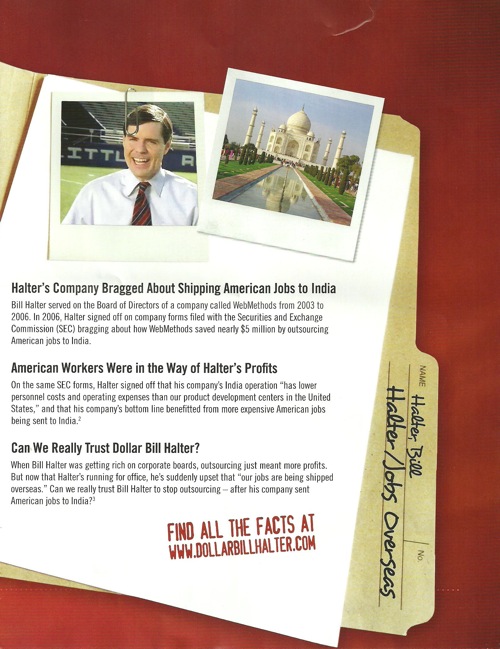 The veracity of the charge is debated. Halter served on the board of WebMethods, a tech company that, as a way of trimming costs, opened up new offices in Bangalore, India in 2004 as opposed to within the United States. But what struck Lincoln critics is how similar the messaging and imagery is to an ad being run on Arkansas television by the group, Americans for Jobs and Security. This past week, the business-backed organization (normally a proponent of open markets) put nearly a million dollars behind a television campaign that featured images of India, Indian music, and Indians themselves thanking Halter for sending them their jobs.
Lincoln officially condemned the ad saying it was "offensive and doesn't belong in Arkansas." In addition, she expressed her regret over AJS's "participation in the campaign." Her campaign told the Huffington Post that she has had "no contact" with the group.
Her mailer, however, has allowed critics to charge that she's comfortable with AJS's message even as she distances herself from the group's taint.
"The mailer isn't just racist and disgusting it's a lie," said Eddie Vale, a spokesman for the union conglomerate, AFL-CIO, which is backing Halter. "Halter's company never moved a single job overseas. It does however show how desperate and worried DC insider Lincoln's business backers are getting about the race."
The Lincoln campaign, for its part, said the mailer is simply an effort to present information on Halter in a "straightforward manner with documentation" and doesn't cross the line.
"Sen. Lincoln believes Bill Halter should be held accountable for his record leading a company that outsourced jobs to India," said Charlie Gocio, a spokesman for Friends of Blanche Lincoln. Americans for Job Security, Gocio added, "chose to present that information using Indian actors in a way Sen. Lincoln believes is offensive."
Popular in the Community