***CHECK BACK FOR UPDATES ...
After Obama's speech, Springsteen and Pete Seeger did an encore, reports the New York Times:
Bruce Springsteen recently came back onstage, joined by 89-year-old folk singer Pete Seeger and a choir (the same one?), for a version of "This Land Is Your Land."

The Boss has played the song -- written by another folk legend, Woody Guthrie - in live shows before.
***UPDATE 4:46PM***Here is an excerpt from Obama's speech at the Lincoln Memorial:
"And yet, as I stand here tonight, what gives me the greatest hope of all is not the stone and marble that surrounds us today, but what fills the spaces in between. It is you - Americans of every race and region and station who came here because you believe in what this country can be and because you want to help us get there."
Read the full text of the speech here.
***UPDATE 3:46PM*** The concert has attracted over the expected 500,000 people and is being nicknamed Obama-Stock:
The atmosphere was festive enough for at least one person to dub it "Obama-stock."

Folks came from all over the Washington region and from South Carolina, California and Atlanta; from York, Maine, and Wayland, Mass.; and from a tiny city in Alaska known by the name "North Pole." Although some said they were attending the "We Are One" concert as a less-onerous way to catch their piece of history, many said they planned to bundle up again and join the even-larger throngs expected for Tuesday's swearing-in and inaugural parade.
One of the highlights of Obama's Inauguration is the star-studded concert being held today at the Lincoln Memorial. The event is packed with celebrity guests and world-renowned musicians. Obama will give remarks amidst the festivities at 4pm. You can listen to the event live here.
A concert is under way on the National Mall in Washington, marking the start of four days of inaugural celebrations.

The crowd gathered in front of the Lincoln Memorial erupted in cheers when President-elect Barack Obama and his wife, Michelle, arrived, walking down the steps of the memorial.

Performers including U2, Beyonce and Bruce Springsteen are on the bill. Obama is expected to offer welcoming remarks.

The crowd, expected to reach perhaps a half-million, gathered in temperatures above the freezing mark. It was a welcome relief from the frigid weather that had gripped the nation's capital.

The spectators filled the area in front of the Lincoln Memorial, and extended along the mall on both sides of the reflecting pool.
Check out the list of guests and artists below (from HBO, which is broadcasting the event - watch it here):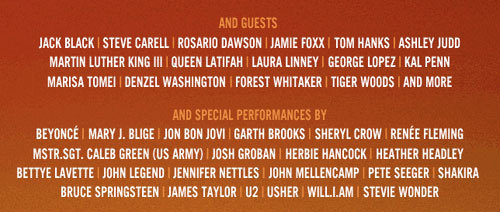 Check out photos from the concert in the slideshow below.
Popular in the Community