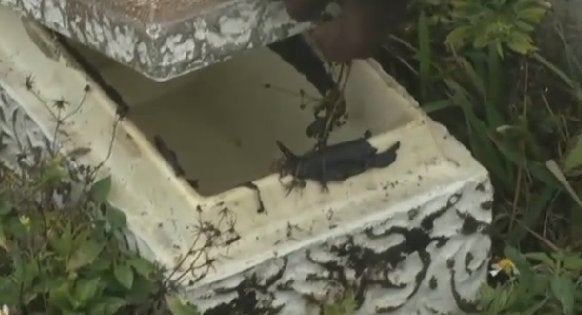 As first reported by WSVN, bodies at Miami cemetery Lincoln Memorial Park have been robbed and disturbed for what is believed to be use in Santeria rituals.
Officers reported seeing bones sitting next to open graves. A forensic examiner collected the remains for further investigation.
Elyn Johnson, Lincoln Memorial Park's manager, confirmed that seven graves had been disturbed, four of which were coffins for infants. Accoding to WSVN a baby's skull had been removed at one of the Lincoln grave sites.

When HuffPost Miami asked Johnson who she thought was behind these disturbances, she quickly answered, "Santeria. We don't think; we know."
Johnson said a nearby cemetery, Evergreen Memorial Park, experienced similar disturbances: "Now they're coming in here trying to desecrate this one."
Joseph M. Murphy, a Professor of Interfaith Studies and Dialogue at Georgetown University, told HuffPost Miami that human bones are used in an Afro-Cuban religious tradition usually called "palo," or "palo monte," to help worshipers communicate with the dead.
He also said "palo" is different from Santeria, which has its roots in African Yoruba culture, while "palo" is thought to come from the Kongo peoples of Central Africa.
Johnson confirmed that at another site at Lincoln, a dead chicken was set in place of the stolen remains. She told HuffPost Miami that those behind these grave disturbances also left food around the cemetery and broke into the office. They stole money and equipment, she said.
"The police ain't doing nothing. At first, they said it was a misdemeanor. Then we come to find out it's a felony," she told HuffPost Miami, adding that most of the disturbed grave sites were for those buried in the 1970s. "Some of the family members have been calling and getting on them about it."
Johnson said that in her 20 years managing Lincoln Memorial Park, she's never seen anything like this.

Popular in the Community