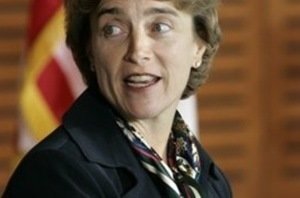 The time may have passed for the president to personally lobby skeptical senators on both health care reform in general and the public option in particular, but it's become increasingly clear that either Obama was personally averse to one-on-one arm twisting or thought it was best to leave the task to aides or allies in Congress.
On Wednesday morning, Sen. Blanche Lincoln (D-Ark.) revealed that the president never reached out to personally lobby her on health care reform. In fact, she claimed that she was the one who had to initiate the phone calls, not the other way around.
"I actually called and asked to have a meeting with him and went over to the White House and met with him and visited with him," Lincoln told MSNBC's "Morning Joe." "I think he hates asking people to do things that's contrary to what their gut tells them to do."
One of a handful of conservative Democratic holdouts on health care reform, Lincoln ended up supporting the Senate's final package. But not before she was able to get the public option sacrificed. The Obama White House has repeatedly stressed that it did everything it could to get a government-run insurance plan in the final legislative language. But it's getting harder to believe that argument. Lincoln is now the second senator to admit that they never got a personal entreaty from the president on the matter.
"I'd have to think about this, but I didn't really have direct input from the White House on this," Sen. Joseph Lieberman (I-Conn.) told the Huffington Post's Ryan Grim back in late December.
It would be unfair to say that the president, throughout the past year, has been completely hands-off with Congress during the health care debate. Aides to Obama have worked the Hill for months. And as the process hit its critical moment in recent weeks, Obama's involvement has also picked up. Moreover, as spokesman Robert Gibbs routinely notes, the president must have done something right for health care reform to get to this historic stage. Granting Congress a certain amount of autonomy helped move the process forward.
That said, when the health care debate ends and the retrospection begins, many progressives will argue (justifiably) that the public option might have been saved if the president had been more willing to get his hands dirty. On Wednesday, Rep. Dennis Kucinich (D-Ohio) showed just how persuasive Obama can be -- switching his no vote on health care to a yes vote after the president personally lobbied him on Air Force One and held a rally in his district.
Asked on "Morning Joe" about what she and the president discussed on the phone, Lincoln replied:
"I told him I felt like there was a lot we could do in health care, but I felt like we really needed to be very pointed and thorough about what we were doing. This was actually long before Christmas, because I felt like taking up the Senate Finance Committee bill, which was the only bipartisan bill we passed out of committee, would have been a great place to start, to just take up that bill."
Calling all HuffPost superfans!
Sign up for membership to become a founding member and help shape HuffPost's next chapter