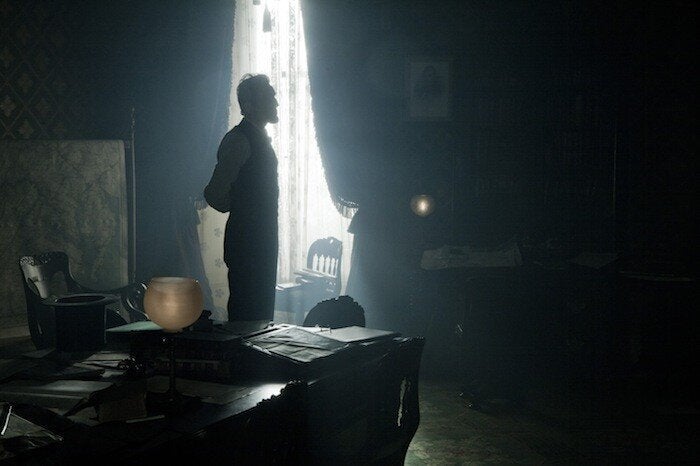 By the time Monday night rolled around, there was little surprise left in the "surprise" screening at this year's New York Film Festival. Thanks to, among others, Deadline.com's Nikki Finke, almost everyone fighting through Disney's tight security inside the lobby of Lincoln Center's Avery Fisher Hall knew they were there for the world premiere of Steven Spielberg's "Lincoln." (Perhaps in an ode to 1865 America, no cell phones, iPads or even Kindles were allowed inside the theater; needless to say, this caused quite a bit of consternation among attendees.)
A presumed Oscar front-runner for Best Picture, "Lincoln" (which Spielberg said was still unfinished) strode into the Academy Awards race with a quiet confidence that matched its titular protagonist. Written for the screen by acclaimed playwright Tony Kushner ("Angels in America") and directed by Spielberg, "Lincoln" is an impeccably detailed production -- after the screening, Spielberg revealed that sound designer Ben Burtt ("Star Wars") found Abraham Lincoln's actual pocket watch and recorded its ticking for the film -- that's loaded with laudable performances. Among the notable actors: Sally Field, Tommy Lee Jones, David Strathairn, James Spader, John Hawkes and Michael Stuhlbarg, all of whom could find themselves in the Supporting Actor conversation.
The standout, however, is Daniel Day-Lewis' work as Lincoln, an unsurprisingly immense achievement that mixes historical accuracy -- Day-Lewis' choice for Lincoln's voice was based on extensive research, and Spielberg was totally onboard: "We would have been a little bit criticized had we done Lincoln the way Disney does him at Epcot Center," he said -- and thoughtful emotion. Think of Lincoln as the anti-Daniel Plainview, the "There Will Be Blood" character that won Day-Lewis a second Best Actor trophy in 2007. As portrayed by Day-Lewis, Lincoln is fierce, but also kind-hearted; he lives by a strict moral code, but isn't afraid to bend the rules to make sure others do the right thing. It's a multifaceted look at the 16th president, one that Kushner said took years to perfect.
"I wrote about 100 pages, about three or four times, over the course of two years. I only ever got from September of 1863 to January 1864. So I realized that it wasn't going to work. Then there was the Writers Guild strike, which meant I had to stop writing for several months. I thought about it on the picket lines -- I don't know if that's legal or not -- but when I came back, I had this idea that we would just do the last four months, and I wrote a 500-page draft," Kushner said to laughs from the audience. "I sent it to Steven saying, 'I think the movie is really the last 200 pages, but look at the first 100 pages, about this fight for the amendment.' And [he] called me and said, 'I think that's my favorite part of the script.'"
"It's kind of confusing. The parties traded political places over the last 150 years," Spielberg said. "That in itself is a great story."
For his part, Kushner wasn't shy about making parallels between Lincoln and President Obama.
"I feel like I watched the Obama presidency very much through a Lincoln lens," Kushner said. "The movie is the movie, but it's been, I think, extraordinary to watch what I consider to be a great president in action while working on a film about a great president in action."
Check out reactions to "Lincoln" in the gallery below. The film premieres in limited release on Nov. 9.
Popular in the Community