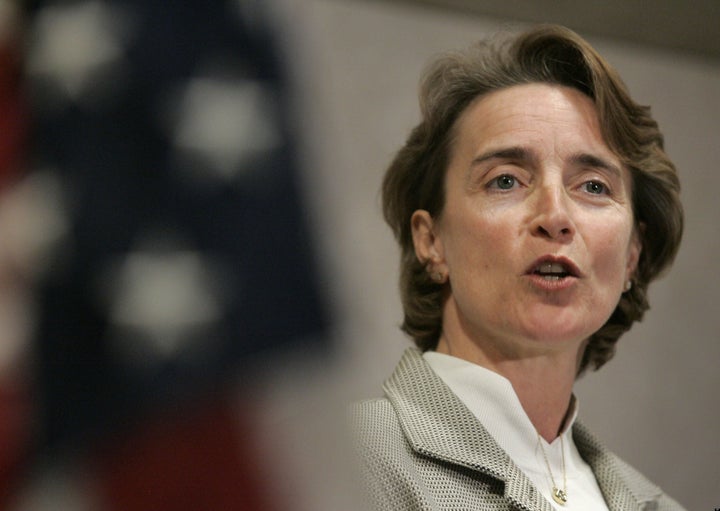 A new poll showing Sen. Blanche Lincoln (D-Ark) in deep general election trouble has compelled a progressive group that opposed her nomination in the Democratic primary to restart their feud with the White House over her candidacy.
On Thursday, a new Rasmussen poll shows Rep. John Boozman (R-Ark.) beating Lincoln by a margin of 61 percent to 32 percent. Rasmussen is notably viewed with skepticism by progressive organizations. But the group Progressive Change Campaign Committee, which poured heavy manpower and resources into electing Lt. Gov Bill Halter in the Democratic primary, jumped on the findings as evidence that Lincoln is as good as dead, electorally.
Noting that the last time a poll was conducted for a prospective general election in Arkansas, Halter trailed Boozman by 9 points (Lincoln trailed by 20), the group's co-founder Adam Green offered a sharp swipe at the administration.
The White House, Bill Clinton, and the big corporations they partnered with just flushed $12 million down the toilet. They worked to defeat the more electable Democrat in the primary -- not to mention the Democrat who would have had Obama's back on key votes. Rahm Emanuel will go down in history as having some of the worst political instincts of all time -- advising Obama to back Specter over Sestak, taunting progressives for backing the more electable candidate in Arkansas, killing the public option that had overwhelming public support, and working to water down Wall Street reform. Brilliance.
Accusing Emanuel of having "the worse political instincts of all time" is hyperbole. For all the flaws of the White House chief of staff, it remains White House policy to back incumbent Democrats in reelection campaigns. The administration, moreover, really didn't do that much to help Lincoln get reelected, leaving the heavy lifting to Clinton.
That said, the accusation that Lincoln's donors and allies flushed $12 million down the toilet is both playful and biting. The White House anonymously slammed unions for doing the same thing with the $10 million they put behind Halter's campaign. Polling numbers only reassure those unions that they, not the White House, got Arkansas right. Comments like Green's, meanwhile, make it clearer that the progressive community is not prepared to lift a finger to help Lincoln in the general.

Popular in the Community