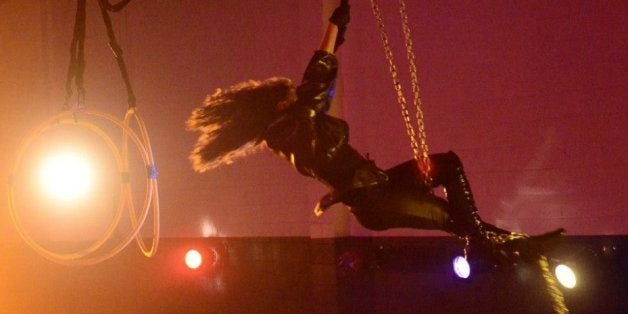 On any day of the week, Linda Souza is likely dangling from two wisps of fabric, or a hoop suspended 20 feet in the air, relying on nothing but her own strength to keep from crashing on her head.
In a past life, however, the 40-year-old found aerial performer had a job she found more stressful -- as the full-time vice president of marketing for a Los Angeles-based tech startup.
After earning her master's degree in global marketing, communications and advertising, Souza spent 17 years working for various tech startups, eventually reaching the director level. "There were some elements of marketing, and the positions that I was in, that I enjoyed," she told The Huffington Post. But the more senior her positions, the further away she moved from doing anything creative. She dreaded the drudgery of Monday morning meetings, or having to forecast 10 different budget models.
"It wasn't that interesting," Souza said. "But it sort of felt like, this is what you do to continue to advance."
Around the same time, in late 2010, Souza found a coupon for two introductory aerial classes on an online discount site and signed up on a whim, hoping to try something new after a breakup. She assumed she'd try it twice, then move on, but "from the first class, I was hooked," she said. "It's physically demanding, creative and fun."
Two classes turned into five, then 10, and eventually Souza began performing with her local studio and teaching classes herself -- a position that earned her a bit of money, but was really more about pleasure.
In December 2012, Souza walked into her boss' office, intent on giving her notice. She told the CEO that she saw a future in which she worked her way up to a chief marketing or even chief operating role, but she didn't want it.
"I knew I should," she said. "But I didn't."
Souza's boss asked her what she truly wanted, and she admitted that what she was after was more time. So the pair came up with a compromise: Souza would work three days a week, for 40 percent less than her original six-figure salary. It's the arrangement she's had ever since.
"It's the best of both worlds," Souza said. "I make enough so that I'm not worried about 'How am I going to pay rent?' But having those two extra days, it's such a significant impact."
Souza goes to the office Mondays, Wednesdays and Thursdays, and teaches classes both on her off days and in the evenings. Sunday is her only day with no commitments, but her packed weeks do not faze her.
"I feel pretty relaxed. Even though my schedule is full, the circus stuff, for me, doesn't feel like work. When I go to the office on Monday, it feels like work," Souza said.
Souza considers herself extremely lucky to have such a flexible employer. She knows that will not always be the case, but she's hopeful that going forward, she'll be able to piece together a similar part-time schedule with the network she's assembled through decades in her business. She does occasionally have moments of panic, she said, wondering what her peers think of her decision to step off the corporate ladder, but she has no desire to go back.
"It's always nice to not have to think about money at all," said Souza, who now lives with a roommate and has not taken a big vacation since she cut back her hours. "But it's totally fine. Some of the things I was buying anyway, it was like, 'Do I really need more stuff? I don't.'"
Instead of more material things, Souza said, she has gained a sense of possibility, time to explore an unexpected passion, and the freedom to tap into her creativity and physical strength.
"I'm scary strong," she said with a laugh.
"I'm following a passion, which just invigorates you," she added. "I feel very relaxed. Very free."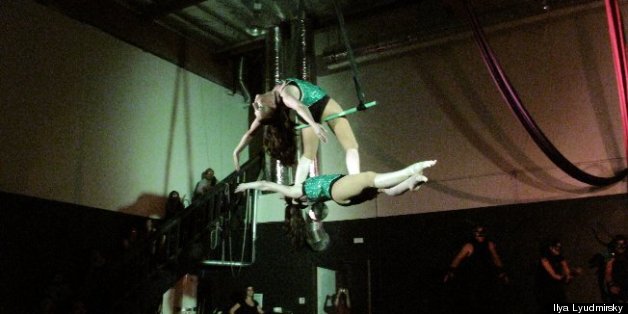 Souza, top, now performs as an aerialist and teaches classes at her local studio.
If you or someone you know is taking steps to live a life that's simpler, saner and more fulfilling, we want to hear about it. To submit a Letting Go nomination, email thirdmetric@huffingtonpost.com.

Calling all HuffPost superfans!
Sign up for membership to become a founding member and help shape HuffPost's next chapter