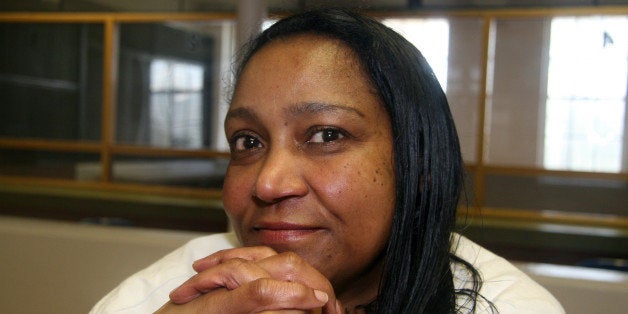 New allegations in a high-profile death penalty case may help Linda Carty, a 56-year-old British grandmother who has been on death row in Texas since 2002, get the appeal she so desperately needs.
"When you see the consistent pattern [of allegations] we have from every single witness, it just cries out for a hearing," Michael Goldberg, Carty's attorney, told The Huffington Post Friday.
With signed affidavits as new evidence, Goldberg has requested an evidentiary hearing with the Texas Court Of Criminal Appeals in hopes a favorable ruling paves the way for new trial in appeals court.
A jury sentenced Carty to death in February 2002 after she was convicted of plotting the murder of a woman and child who lived in her apartment complex. The four men convicted of kidnapping the pair testified against Carty, who worked as a Drug Enforcement Agency informant, to avoid the death penalty themselves.
Since the Chronicle's article, Goldberg said, "a lot of people [have] come out of the woodwork" with "things to say" about Assistant Harris County District Attorney Connie Spence.
The Chronicle's report included the affidavits, which were both signed in 2014 and supplied independent of one another to Carty's defense team. Christopher Robinson, one of the four gunmen who testified against Carty at trial, wrote that Spence both coached and threatened him into giving damning testimony against Carty. Charles Mathis, the former DEA agent who recruited Carty in the '90s as a confidential informant, accused Spence of inventing a false affair between him and Carty to coerce him into testifying for her office.
According to court records, four gunmen burst into the home of Carty's neighbor, Joana Rodriguez, in May 2001. They demanded money and drugs before beating Rodriguez's husband and abducting her and her newborn son, the document notes. She was found dead a day later, tied and suffocated in the trunk of a car. The baby was found alive and reunited with his father.
Prosecutors alleged that Carty, a mother and a grandmother, was obsessed with having another baby to save her common-law marriage and orchestrated the kidnap and murder plot so she could pass off Rodriguez's newborn as her own. Carty's defense argued she was set up by the kidnappers — all of whom had prior drug or robbery convictions — as retribution for her ongoing work with the DEA.
In his affidavit, Mathis, who could not be reached for comment, wrote that Spence had "limited my testimony and only wanted me to testify only to a very tight set of facts." He wrote he was unable to speak to Carty's important work with the DEA, or the fact that he found her incapable of committing murder.
Goldberg noted the Harris County District Attorney's Office has not opened an investigation into the allegations against Spence; a Harris County district attorney told the Chronicle the office would wait for a response from the state before opening any kind of investigation into misconduct by the office's attorneys.
The Harris County District Attorney's office did not return The Huffington Post's calls or emails for comment.
Carty has lost a total of three appeals at the state and federal level, including one in which the British government filed an amicus brief as a friend of the court to the U.S. Supreme Court. Goldberg, who has been working pro-bono on Carty's appeals case for almost a decade, said on top of unethical tactics by Spence's office, Carty's court-appointed trial attorney was inept; lawyer Gerald Guerinot even failed to call Mathis to the stand or contact the British Consulate when Carty was arrested. The Houston Chronicle notes Guerinot has had 20 clients condemned to death row.
Goldberg said Carty is now waiting for the Texas Criminal Court of Appeals to grant an evidentiary hearing based on the new evidence from the affidavits.
"It is very difficult to maintain your sanity being on death row for a decade," Goldberg said. "Linda has had so many highs and lows through first round of appeals and now she is in one of those highs thinking 'we got this!'"
Goldberg added: "But I'm trying to temper everything, because when you're dealing with the criminal courts, you can never say for certain."
REAL LIFE. REAL NEWS. REAL VOICES.
Help us tell more of the stories that matter from voices that too often remain unheard.
BEFORE YOU GO
PHOTO GALLERY
Executions - Famous Death Row Inmates