Linda Cohn proved quite a while ago that some girls just wanna talk sports.
Since ESPN launched in 1979, it has aired approximately 60,000 SportsCenter shows. As of 8 a.m. this Sunday, Cohn will have hosted 5,000 of them - or one in every 12.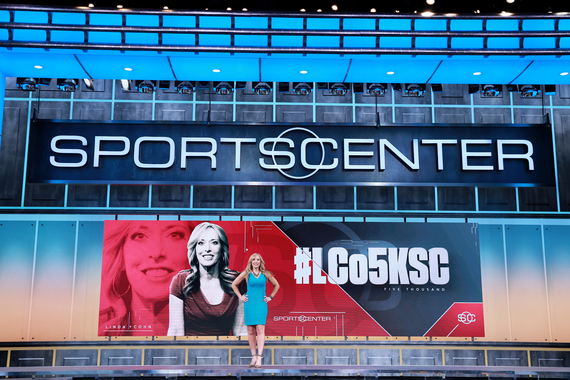 She's the first ESPN anchor of any gender to reach the 5,000 mark - and at 56, she says she hasn't thought about heading to the bench any time soon.
"I try not to look too far ahead," Cohn says. "I could retire as an anchor, but I see myself as always being busy, and I want that connection to sports."
Making ESPN one of those "I'd be doing this anyway" jobs.
"I was a fan long before I got to ESPN," she says. "I'll always be a fan."
For the record, her teams are the Knicks, Mets, Giants and Rangers. She was in the Garden the night the Rangers won the Stanley Cup in 1994, and one of the good parts, she says, is that she didn't have to interrupt her celebration to be a reporter.
"I wasn't working that night," she says. "I was just there as a fan. The first thing I did after [Rangers Captain Mark] Messier hoisted the Cup was call my father, because without him I wouldn't have been a Rangers fan."
It can be a challenge for sports fans also to be journalists, since reporting requires objectivity and that isn't what being a fan is usually about.
Cohn says she navigates those waters partly through Twitter, where she can express the opinions that wouldn't be appropriate on SportsCenter.
She has also solved another subtler dilemma that some sports journalists encounter. After years of admiring a player's skills from a distance, they may find that player up-close isn't such a nice person, which can tarnish their fan appreciation.
Cohn acknowledges this can be a concern, but says she doesn't let it bother.
"There's a lot more delight than depression," she says, and even though there are jerks out there, "I don't let them interfere with all the good that sports brings."
Her own gratitude to sports starts when she looks in the mirror.
"I grew up with very low self-esteem," says Cohn, a New York native. "I was the kid with glasses. But I realized I had sports skills, so I started playing hockey with the boys in the street."
Specifically, she played goalie, and she was good enough so she graduated from the street to the boys' high school varsity hockey team.
She stayed in goal at SUNY Oswego, this time on the women's team - and if that sounds like the kind of thing you only do when you're young, Cohn admits that when a women's professional hockey league was announced last year, "I looked into it."
Personal passions aside, she says her goal when she interviews athletes is to "make them feel comfortable."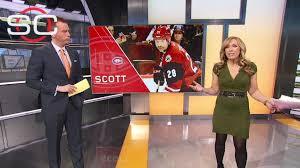 She cites John Scott, a journeyman National Hockey League enforcer who was voted onto the all-star team this year largely as a viral goof and ended up being named the game's Most Valuable Player.
"I knew I wanted to do a 1-on-1 with him afterward," says Cohn. "And of course so did everyone else. So I made sure I talked to him about his wife and his daughter, and told him how amazing his story was. I think he did feel comfortable, and my interview was tremendous."
The early 21st century is just generally a good time for sports fans, and Cohn is old enough to remember the days when there was no ESPN or cable. Sports fans had only short segments on the local radio and TV news or, gasp, the next day's newspaper.
"This is a great time to be alive for sports fans," she says, and she often follows her work day at ESPN by settling down to watch sports herself.
"I have a room with some great sports memorabilia," she says. "I guess it's my woman cave."
What happily has become less of a story over Cohn's 23 years at ESPN is the fact that women cover sports, as reporters, interviewers and anchors. The "sideline bunny" snickers haven't all gone away, but women have become an increasingly regular part of sportscasts in general, and Cohn is certainly one of the pioneers.
She's reminded of that, she muses, "when people come up to me and say they had never listened to a woman do sports before, but that after they listened a while, they realized I love sports the same way they do."
So no, she couldn't be at a better place than ESPN.
"I'm around people like me," she says. "People who are first and foremost fans."
For the record, however, her passion for sports does have some limits. Asked whether she would have become a hockey goaltender if goalies hadn't begun to wear masks, she admits that could have been a dealbreaker.
"I didn't wear a mask in street hockey," she notes. "But when I got to ice hockey, being a woman, no, I probably would not have been a goaltender if I couldn't wear a mask.
"But you also have to remember that anyone who wants to put any part of their body in front of a hockey puck is a little nutty."
REAL LIFE. REAL NEWS. REAL VOICES.
Help us tell more of the stories that matter from voices that too often remain unheard.