Last Saturday, I never got out of bed. I didn't want to and I didn't have to. I fed my doggies, grabbed my tea, and dove back into bed with my review copy of Recipes for Life: My Memories, by Linda Evans.
I devoured every page. What I like best about a great cookbook is the transport factor.
I want to read a cookbook that takes me to another time or place or teaches me a new trick, tip or cuisine. I want to be immersed. I want to be taken away without getting in my bathtub. Recipes for Life doesn't disappoint. I don't review most of the cookbooks I get asked to. One of the problems with many of the cookbooks I get sent today is that I've read it before, it just had a different author and cover, five or ten years ago. I really do have to request no more cookbooks about cupcakes, sandwiches or small plates! Yeah, you heard me; I'm done with three-inch thick frosting, reading about making a clubhouse (Is it really that hard to make a sandwich?) or how fabulous it is to share little tastes with everybody. I don't want to share my food. Give me my own plate and portion. For crying out loud. Crap, I need a director! Cut. Print.
Back to Linda.

I met Linda Evans on the set of Dynasty in the 80's. Aaron Spelling Productions hired me as a food stylist. It was a big deal to work on Dynasty. Aaron had come to one of my parties, and loved my food presentations. His producer hired me on the spot. Actually, Aaron Spelling changed my career. He put me to work on several of his productions and taught me about the television business. You only had to watch him to understand his success. I am so lucky.
So, there in on the set in the midst of all the shoulder pads, wigs, Cristal champagne, cameras, and what seemed like a cast of thousands, stood Linda Evans. I will always remember her politeness. No diva present, she simply sparkled.
Her memoir and cookbook is the history of her life. Oh my. What a life she has had. Friends that ranged from Barbara Stanwyck to Bo Derek to Rock Hudson and of course, Bunky (you are going to have to read the book to meet Bunky).
A very quick, enjoyable read with recipes that use real butter and several mentions of Julia Child and Linda's learning from Mastering the Art of French Cooking... I could relate. And Miss Evans is no stranger to falling in love with "romance" and then making the best of it (my first husband was almost as handsome as John Derek). Again, I could relate. But mostly, when all is said and done, her self-discovery and learning that a well-traveled road is made better with delicious meals enjoyed along the way. Made me proud that through every pothole or wrong turn in my road, I've always cooked. How you like food and what you cook can define one's life. I relate.
On page 59, Linda, yes, I'm calling her Linda, has a recipe for a hot artichoke dip. Not only was hot artichoke dip one of the first dishes I ever made and served, my mother made it, too. We served it in a bread bowl. My family was très nouveau riche. I love that about us. We didn't live on a golf course in the 60's for nothing!
Buy a round loaf of French or Hawaiian bread. Scoop out the center, fill with the dip, tear the scooped out bread into pieces and toast the pieces on the same sheet pan that you warm the dip bowl on.
Our "recipes" are almost identical and I gladly reprint Linda's. She's updated hers with good Parmigiano-Reggiano.
Buy this sweet and insightful book, and if you're very new to the planet, you'll think this recipe is new and you'll get to visit the 80's. But, you'll have to bring your own shoulder pads.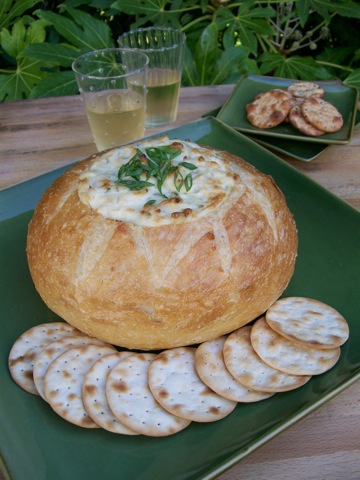 Makes six servings
1 (8-ounce) package cream cheese, at room temperature
1/2 cup mayonnaise
1 teaspoon Tabasco (or more, to taste)
1 1/2 tablespoons thinly sliced scallions (white part only)
1/2 cup grated Parmesan cheese (I prefer Parmigiano-Reggiano)
1 (13 3/4 ounce) can artichoke bottoms (not hearts), drained and finely diced
Preheat oven to 350 degrees.
With an electric mixer, beat the cream cheese with the mayonnaise. One by one, blend in the Tabasco sauce, scallions, and Parmesan.
Using a rubber spatula or wooden spoon, fold in the artichokes (don't use the mixer for this).
Spoon the mixture into a 3-cup baking dish and bake for 30 minutes, or until golden brown. Serve warm with crackers.
Denise Vivaldo lived and loved the 80's. It was raining men. Denise can no longer wear her Calvin's, recently sold her gold chains for scrap, and still cooks with real butter. Her cookbooks are on sale at Amazon.com.

Calling all HuffPost superfans!
Sign up for membership to become a founding member and help shape HuffPost's next chapter