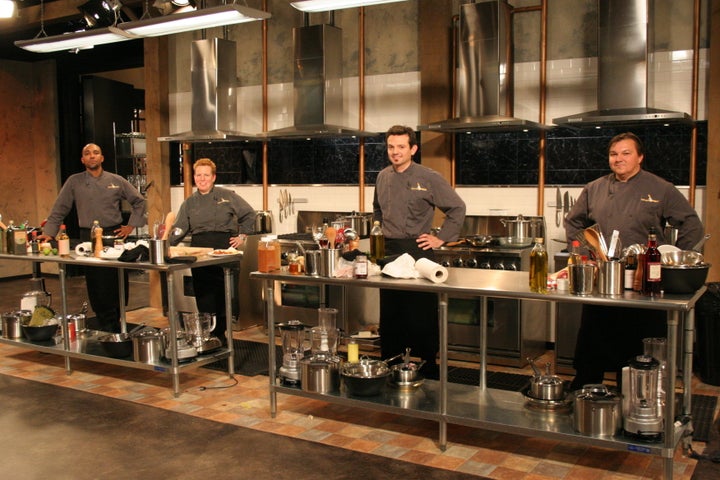 They say that the universal language is a smile. And I would add another universal language--food, at least as it is portrayed on the Food Network's show Chopped. On Chopped talented chefs compete for a grand prize of $10,000 by defeating three other chefs in three rounds of cooking: an appetizer round, entree round and then dessert. Three master chefs serve as judges in the same spirit of judging panels of other talent reality shows. One of the judges is typically very critical and looks to find the minutest culinary mistake; another is encouraging while wrapping the bad news around compliments like a chocolate covered turnip; and the other judge's criticism only comes by what has not been said. But the real challenge for the contestants comes not from facing the judges but from the time limit for each round, and especially because they have to use all of the ingredients in a mystery basket. The mystery basket is filled with either food items that typically would not be put together or the basket contains some exotic item that it requires full definition from food and wine expert, Ted Allen, who acts as the host.
Watching Miss Linda, an African American home-trained chef of 40 years, become a Chopped champion brought tears to my eyes as she danced her New Orleans shuffle with pride. Two judges teared up as well. There is a special victory that comes with every Chopped champion because no matter whether you went to the best culinary academy or learned to cook in your grandmother's kitchen as Miss Linda did, the playing field becomes even when the clock starts and all four chefs have to work with the same ingredients in the mystery basket. It is all about the dish that gets created. It is all about outcome. Although it is a competition, there appears to be a respect among the contestants for each others talent. In the final round as they wait to hear the verdict, Miss Linda praises and encourages her opponent in a warm, grandmotherly way.
The benefits of diversity are realized when A + B+ C = D. What is D? D might be new ways of knowing that lead to closing the achievement gap or innovative strategies that lead to eliminating health disparities or even effective communication strategies that lead to a Congress that truly works for a better America for everyone.
Each chef on Chopped must use all of the ingredients in the mystery basket or else they are eliminated from the competition. Often the chefs have never seen or even tasted an ingredient in the basket but they have to use it. Not surprisingly, in record time they produce a culinary masterpiece because they have to do so in order to win.
The lessons on how to manage differences are many: level the playing field, respect everyone's background and what they bring to the table and value the varied ways of knowing that lead to innovation and creative solutions to life's most challenging problems. Life is more like being given a mystery basket where we have to use all of its ingredients. How we treat those who are different from us will determine our ability to shape the future and whether or not we win.
Miss Linda claims that she will now put on her restaurant menu the berry beignet biscuits she concocted in the dessert round. "Ya''ll just don't know what you did," Miss Linda Green manages to voice to the judges through her tears when the proclaim her the Chopped champion. "Let me show love."
Popular in the Community