Hawaii Democrats are highlighting the fact that many of the Democrats featured in a new ad by Republican U.S. Senate candidate Linda Lingle are either former Republican candidates or were previously Lingle aides.
Lingle, a former Hawaii governor challenging Rep. Mazie Hirono (D), released an ad touting the support of what she describes as "Democrats for Lingle." The video shows various Hawaiian voters explaining why they plan to support Lingle and noting their Democratic ties. The ad comes in the middle of a heated battle between Lingle and Hirono in the Democratic-leaning state.
Hirono's campaign was quick to note that many of the Democrats in the Lingle ad have long held Republican or Lingle ties. Among those cited include Elaine Slavinsky, who unsuccessfully sought a state Senate seat as a Republican in 2004, and former Maui County Republican Chairwoman Jan Shishido, who sought a state House seat as a Republican in 2004. The ad also features former state judge Takashi Kitaoka, who was named to the bench by former Gov. Bill Quinn (R) in 1962 and said he became a Republican after his appointment by Quinn.
"This is a desperate attempt to distract from the true facts: Linda Lingle is a staunch supporter of Mitt Romney and the national Republican Party, and is trying to win one of the four Senate seats needed for the GOP to seize control of the U.S. Senate," Hirono campaign manager Betsy Lin said in a statement.
Lingle has been focusing on her bipartisanship in the ongoing race. In August, Lingle touted a photo of her and President Barack Obama on Facebook in an effort to showcase her ability to work across the aisle. The photo and associated messages, highlighted in several commercials, were attacked by Democrats who mentioned Lingle's nomination speech for former Alaska Gov. Sarah Palin's vice presidential campaign in 2008.
At the time, Lingle's campaign manager, Bob Lee, told The Huffington Post that Lingle is prepared to work with both sides.
"Governor Lingle said she will support President Obama if the policies are right for Hawaii," Lee said in August. "Likewise with Governor Romney. The key is don't be the rubber stamp."
Lingle spokeswoman Corrie Heck issued a statement Monday afternoon with a response to the Hirono campaign over the ad:
What the DSCC and the Hirono campaign are choosing to ignore is the three very prominent Democrat leaders featured in the spot: a former Democrat state Senator, the former State protocol officer who worked for 5 of Hawaii's Governors (4 of whom are Democrats), and a self-identified Democrat supporter who plans to vote for President Obama.

While the spot was labeled "Democrats" during the transfer to the television stations, nowhere in the spot do we state that all individuals featured are Democrats. The spot is about people across the state - from diverse backgrounds, political affiliations and perspectives - that agree Linda Lingle is the clear choice for U.S. Senate. There are several current and retired public school teachers included in the spot, as well as a native Hawaiian community leader, in addition to the Democrat supporters. These individuals are representative of the broad spectrum of supporters who are backing Linda Lingle for U.S. Senate.
CORRECTION: A previous version of this article misstated the name of Lingle's campaign manager. His name is Bob Lee, not Bill Lee. It also misidentified Betsy Lin as Lingle's campaign manager, rather than Hirono's. Also, following claims by the Hirono campaign, the article confused Barbara Leilani Purdy with her daughter, Barbara Baisa, according to a Lingle spokesperson.
Before You Go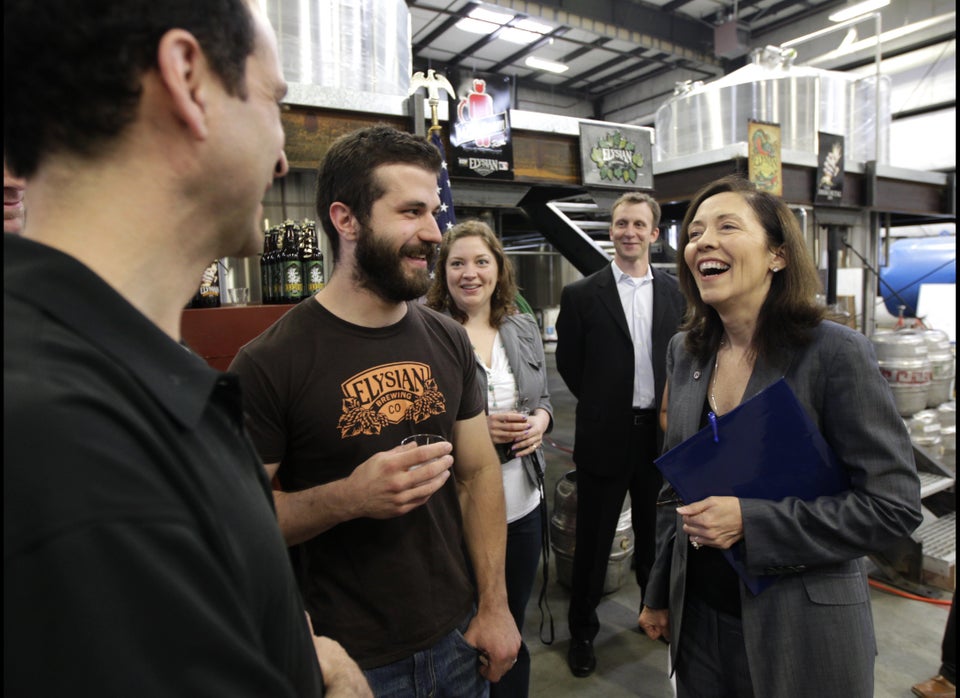 The Women Running for Senate in 2012
Popular in the Community