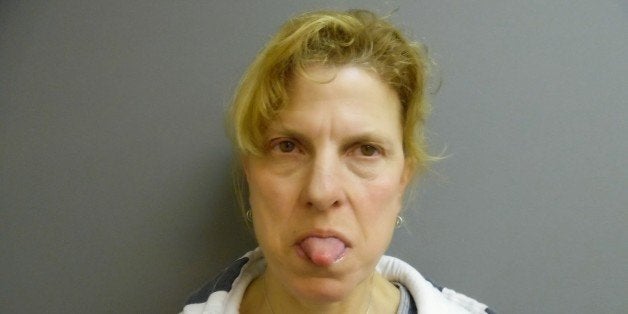 The tongue is an ingenious organ. It manipulates food for consumption, and conveys a range of moods and biological urges.
The outstretched muscular member on this woman's face speaks for itself. Vermont authorities identify her as 55-year-old Linda MacDonald, of Shelburne, a small town roughly 40 miles north of Springfield, Massachusetts.
Vermont State Police say MacDonald crashed a 2011 Toyota Camry into a fence late Monday night in Dummerston, Vermont. MacDonald was uninjured, but her vehicle sustained "extensive damage," according to a press release.
"Ms. MacDonald explained that because she was lost, she was on the telephone getting directions and writing them down on a legal pad when she exited the roadway and struck the fence," the press release states.
Authorities administered field sobriety tests and a preliminary breath test, which allegedly indicated MacDonald had consumed an unknown quantity of alcohol. She was ultimately arrested for driving under the influence and was transported to the Vermont State Police barracks in Brattleboro.
While being booked, MacDonald, stuck her tongue out at the camera. She was eventually released on citation to appear in Vermont Superior Court at a later date.