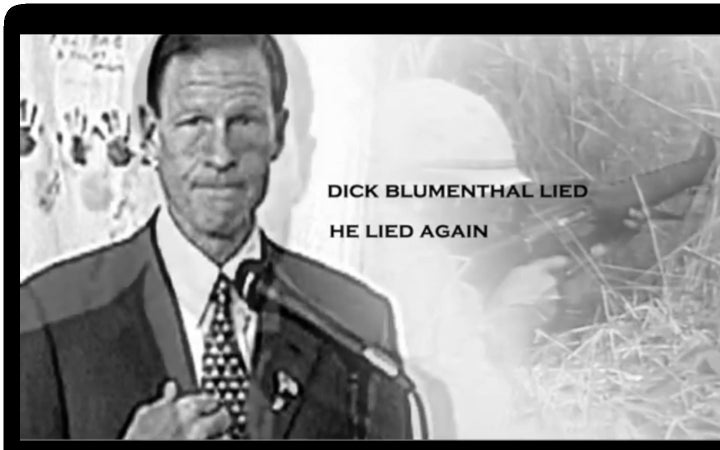 Linda McMahon is out with a brutal new attack ad highlighting controversial comments made by her opponent Richard Blumenthal about his Vietnam War-era military service.
"Would you lie about serving in a war?" the Connecticut GOP Senate candidate's ad reads over sounds of gunfire.
"Dick Blumenthal did, again and again," the ad continues, splicing shots of Democratic Attorney General Richard Blumenthal's much-criticized speeches with footage of American soldiers in Vietnam.
The brazen new strike is the first of its nature from the McMahon campaign, which has been less direct about addressing Blumenthal's statements uncovered by the New York Times in May.
"We have learned something important since the days that I served in Vietnam," Blumenthal said at a Norwalk rally in 2008. According to the Times report, however, Blumenthal had received multiple military deferments and had never actually been deployed.
The Times also reported that Blumenthal had mentioned having "served" in or "returned" from Vietnam on other occasions.
"If he lied about Vietnam, what else is he lying about?" the McMahon ad concludes.
Blumenthal had made a calculated decision to avoid making McMahon's own colorful history as WWE CEO a staple of the early stages of his campaign strategy -- he even chose not to mention her company directly in his latest ad. With McMahon's new ad in the spotlight, however, perhaps Blumenthal's tactics will change.
The McMahon campaign is currently facing some fire for reports about a 2003 WWE pay-per-view event that was held in cooperation with adult entertainment company "Girls Gone Wild."
The latest round of polling shows Linda McMahon closing the gap on Blumenthal in the heavily Democratic Connecticut, but that was before the wealthy GOP candidate came under heavy criticism for comments about reviewing the minimum wage.
REAL LIFE. REAL NEWS. REAL VOICES.
Help us tell more of the stories that matter from voices that too often remain unheard.