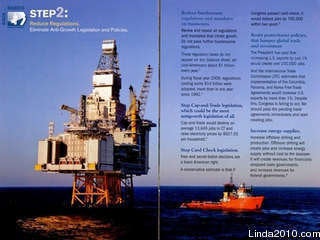 You know what might seem to be a really, really stupid thing to do right now, if you are running for elected office? This:
Fresh off news of the cataclysmic oil spill in the gulf of Mexico, [GOP Connecticut Senate contender Linda] McMahon recently distributed a mailer where she promised to put 'Connecticut back to work' by calling on the government to "increase offshore drilling and production."

[...]

McMahon says it's time to loosen the "burdensome regulations" that can "inhibit growth."

Drilling for oil near sensitive coastline ecosystems is a win-win, [says] McMahon in the mailer. "Offshore oil drilling will create jobs and increase energy supply without cost to the taxpayer," it reads.
Popular in the Community