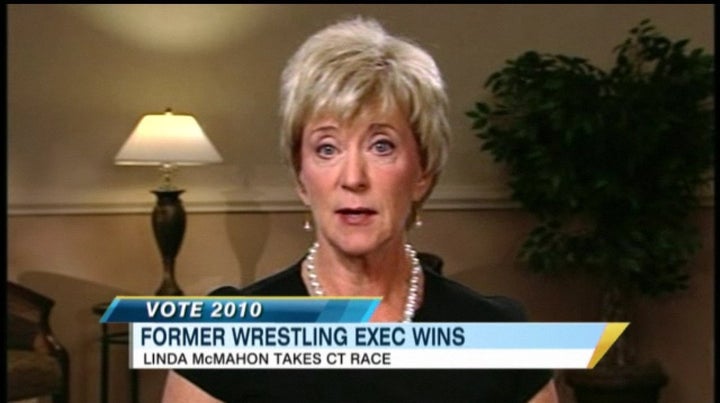 Linda McMahon took her Connecticut Republican Senate primary title belt to the morning shows Wednesday to talk about her victory, her plans to win in November, and of course, her colorful past as former head of World Wrestling Entertainment.
Speaking with ABC's "Good Morning America," McMahon said she expected Democrats to continue their attacks on the segments of WWE programming that were "created under the TV-14 format, not the PG format that it is today."
In a separate discussion with CNN Wednesday, McMahon said that her opponents' insistence on directing their focus toward the professional wrestling part of her life and away from the real issues had led her to victory, and might even push her through in November.
"As my opponents talked more and more about the WWE and issues that may have been relative to programming content ...instead of focusing on the issues, I talked about issues and continued to gain momentum," McMahon told CNN Wednesday morning. "If my opponents want to talk about soap opera content instead of focusing on issues, I will win again in November."
Asked if she had any regrets about the direction of the WWE, McMahon explained to "Good Morning America" that "any company, any organization, any of us as individuals would look back and say 'you know what there are things I would have done differently.'"
"What is important, I think, is where we are today and where we're going to be tomorrow," McMahon added.
McMahon emerged victorious atop a field of Republican candidates that she outspent (by spending more than $20 million), out-campaigned and beat squarely at the polls. And to carry her momentum through to a victory in November, McMahon said Wednesday that she's willing to spend an even larger chunk of her fortune.
"I've said from the beginning that I would spend what it would take for the people of Connecticut to know who I am and what I stand for," McMahon told "Good Morning America." "It's money I've earned, it's money I'm willing to invest to be a public servant for the people of Connecticut."
Does that mean McMahon would go as far as to spend $50 million of her own money in her quest for a Senate seat?
"Well, what I want to do is to make sure that I don't have to sacrifice any of my independence," McMahon said. "I'm not going to take any special interest money or any PAC money, and when I get to Washington I want to be the voice of the people of Connecticut and not owe special favors."
Watch Linda McMahon On ABC's "Good Morning America":
Popular in the Community