WASHINGTON ― Former World Wrestling Entertainment chief executive Linda McMahon, President Donald Trump's pick to head the Small Business Administration, sailed through a confirmation hearing on Tuesday and didn't have to answer for some of the most explosive moments of her time running the company.
And while both McMahon and Trump have touted the former WWE chief's experience growing the company into a national wrestling titan, small business groups had raised concerns about how she and her husband achieved that growth. WWE was part of a patchwork of regional wrestling companies when the McMahons assumed control of the company in 1982, and it grew into a nationwide business with near monopolistic control over professional wrestling ― in large part, critics say, because of the McMahons' willingness to crush their smaller competitors.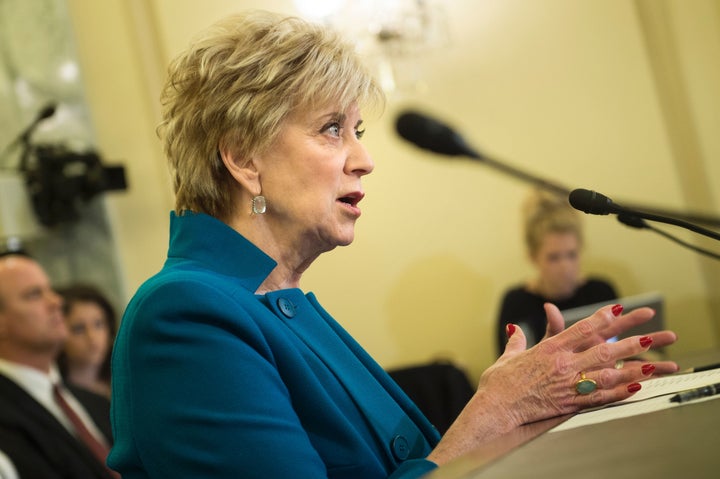 Despite the fiery nature of many confirmation hearings so far this month, only Sen. Tammy Duckworth (D-Ill.) referenced any of those controversies during the hearing before the Small Business and Entrepreneurship Committee.
Duckworth said she and McMahon met Monday to discuss some contentious aspects of McMahon's time at the WWE, including the company's practice of designating wrestlers as independent contractors.
"I especially appreciated your candor and willingness to address my concerns with WWE's use of [independent contractors], especially as it pertains to the health of your performers," Duckworth said. "As someone who's going to head the SBA and promoting small businesses, I don't want that to become the standard that small businesses use [independent contractors] to avoid paying and providing the health benefits and protections for small business employees just like anyone else. And also, I appreciate you addressing my concerns about potential monopolistic practices at WWE as well."
But Duckworth did not follow up with any questions about those issues, or offer any indication of how McMahon had responded.
McMahon often referenced her time at WWE, and it factored into questions from Sen. Chris Coons (D-Del.) about how she would protect small businesses on issues regarding intellectual property and patents. But there were no questions about McMahon's extensive lobbying efforts to classify wrestling as entertainment instead of a sport, a distinction that allowed it to escape many state-level sport-related regulations, including on drug and steroid testing.
The most memorable references to the company instead focused on the fact that McMahon's daughter, Stephanie, and son-in-law, former wrestler Paul Levesque, were in attendance to watch the hearing.
Stephanie McMahon and Levesque ― better known as Triple H ― are both executives at WWE. McMahon introduced them at the start of the hearing.
Sens. Cory Booker (D-N.J.) and Tim Scott (R-S.C.) used Levesque's presence as an opportunity to comment on their own appreciation for wrestling.
"He and I are about the same age, and Paul's letting himself slip a little bit, so after this maybe we should go down to the Senate gym and I can give Triple H some triple help in getting back in shape," Booker joked, before pressing McMahon on the need to continue grant programs that help people recently released from prison.
During the two-hour hearing, McMahon did face questions about her approach to small business regulation, climate change and disaster relief, an area that she said would become her primary focus. She also answered questions about previously saying she supported folding the SBA into the Commerce Department (an idea former President Barack Obama was once considering).
"When I was asked if I supported merging SBA into Commerce, I really wasn't focused on SBA or Commerce, I was focused on the concept of merging agencies, or reducing duplicative programs, so that we could reduce those costs," she said. "I am a firm believer that SBA needs to be a stand-alone agency."
The lack of fireworks related to wrestling ― or anything else ― would seem to point to a smooth confirmation process for McMahon, which may disappoint the small business groups that had tried to challenge her.
"We need a leader who truly understands the struggles of small business owners and has the technical expertise to navigate the maze of complex programs to steer the SBA in the right direction," Amanda Ballantyne, national director of the the Main Street Alliance, a network of small business coalitions, said in a statement after McMahon was chosen. "We fear that Linda McMahon does not meet this criterion and is ill-equipped to address the needs of our members and their fellow small business owners."
Popular in the Community