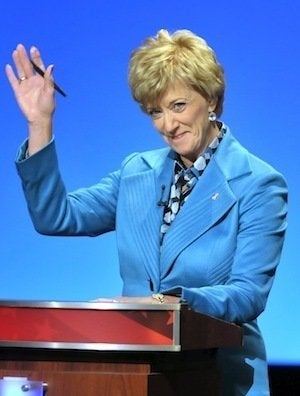 Former World Wrestling Entertainment CEO Linda McMahon, who is running as the Republican nominee for U.S. Senate in Connecticut, said she misspoke when she recently raised the idea of lowering the minimum wage.
"The minimum wage now in our country, I think we've set that, so there are a lot of people have benefited from it in our country, but I think we ought to review how much it ought to be, and whether or not we ought to have increases in the minimum wage," said McMahon at a press conference in making comments that were met with criticism.
(In Connecticut, the minimum wage is set at $8.25 an hour -- $1.00 more than the federal rate.)
The super-wealthy candidate, who has poured millions of her personal wealth into her campaign against Democratic rival State Attorney General Dick Blumenthal, walked back her words in an interview with CNN on Wednesday night.
McMahon tells CNN, "I thought I was answering a question that I had heard that was about increasing the minimum wage - would I consider that. So let me just go on record and say this: I am not for decreasing the minimum wage. I did not say that and that is not something I would consider." When asked if she "misunderstood the question and misspoke" she replied, "yes."
Meanwhile, Blumenthal's camp hasn't held back in taking aim at McMahon over her comments on the financial matter. A memo issued by Maura Downes, Communications Director for the Democratic hopeful's political operation, asks, "Can a Senate candidate caught on camera making a politically inconvenient admission to an audience of news reporters then successfully dodge criticism by pretending the exchange never happened?"
McMahon already has had some success in misleading the news media into thinking that her direct exchange with reporters about reducing the minimum wage never occurred.i
...
Linda McMahon will continue to use her $50 million bullhorn to try to drown out her real answer about reductions in the minimum wage. Richard Blumenthal will continue to hold her accountable for her words.
Popular in the Community