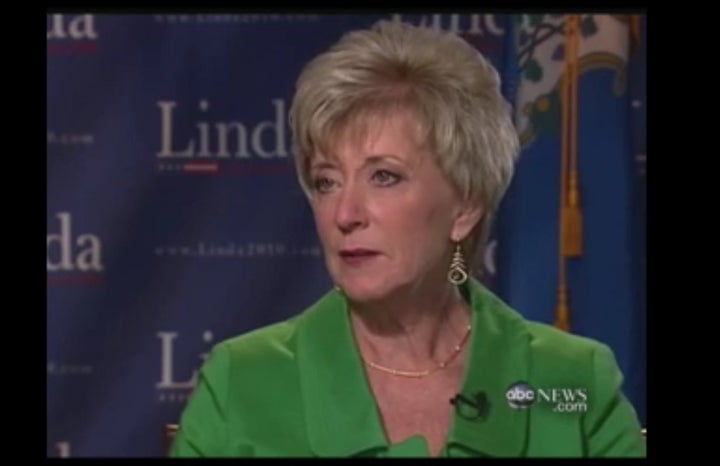 Frontrunning Connecticut GOP Senate candidate Linda McMahon defended her controversial WWE past and addressed the possibility of becoming one of Sarah Palin's "mama grizzlies" during a sit down with ABC's "Nightline" Monday night. Voters are headed to the polls Tuesday to decide if the billionaire former World Wrestling Entertainment CEO's recent momentum will give her the Republican nomination.
Asked by newcomer Nightline anchor Bill Weir about the WWE's turbulent past of steroid use and substance abuse, McMahon explained the circumstances as outside the professional wrestling organization's control.
"It's unfortunate, you know, that you can't change people's -- habits, their personal habits," McMahon told Weir. "I mean, OK, you know, Heath Ledger. That's an ... that's an awful story. It's an addiction. And so... if any of those professional wrestlers who died young had addictions that were outside of the ... which were their practices when they were outside of WWE, we don't have any control over that."
McMahon later maintained that there was a "very strong health and wellness policy in place, to protect these men and women who perform in this action-adventure soap opera every week," but alleged that most of the serious complications that affected wrestlers happened outside the WWE's jurisdiction as parts of their personal lives.
Pressed by Weir to explain how she felt about a particular WWE episode in which her daughter entered the ring to the crowd's chants of "slut, slut, slut," McMahon said that it was simply a symptom of the show being a "soap opera."
"It was acting," McMahon said. "WWE is the longest running weekly episodic program in television, so sure, there are some storylines that are better than others."
Weir went on to ask McMahon how she felt about being recognized by former Alaska Governor Sarah Palin as a "Mama Grizzly," to which she responded:
"I've been working very hard to get the endorsement of the people within our state, and ultimately, the ultimate endorsement is from the voters in the state of Connecticut. And I have not sought any outside endorsements."
If McMahon goes on to win Tuesday's Republican primary, she will face Attorney General Richard Blumenthal, the Democratic candidate with controversy of his own, in November for the seat of Retiring Senator Chris Dodd.
Watch Linda McMahon on ABC's "Nightline":
REAL LIFE. REAL NEWS. REAL VOICES.
Help us tell more of the stories that matter from voices that too often remain unheard.