 An ad posted by Connecticut Democrats on Monday morning showcasing World Wrestling Entertainment footage filmed under the tenure of former WWE CEO Linda McMahon, who is now running for U.S. Senate as a Republican candidate, was taken down within hours.
The video, posted by the state Democratic Party, is the latest WWE footage to be removed in recent days as the entertainment company takes down material which it says "has been misused in political environments" and seeks to transition into a "more family-friendly" brand. The material, posted by the Connecticut Democratic Party this morning, included scenes of violence and wrestlers engaged in sex acts, including a wrestler having sex with a corpse. McMahon is running against Rep. Chris Murphy (D) for the seat of retiring Sen. Joe Lieberman (I).
The ad, entitled "PG TV?" and posted to the video-sharing site Vimeo, was taken down by the company at 3:51 p.m. State Democratic Party spokeswoman Elizabeth Larkin said the ad was available online for roughly eight hours. Vimeo indicated on its website that the video was taken down at WWE's request and not for a political reason.
"Vimeo has removed or disabled access to the following material as a result of a third-party notification by World Wrestling Entertainment, Inc. claiming that this material is infringing: PG TV?," Vimeo posted on the website for the ad.
McMahon spokesman Todd Abrajano referred questions regarding Vimeo's decision to pull the ad to WWE, but described the video as Murphy and Democrats seeking deflect attention away from Murphy's congressional record.
"Chris Murphy and his minions at the State Democratic Party are grasping at straws to come up with anything they hope will divert the public's attention away from the fact that Congressman Murphy's campaign is imploding," Abrajano said in an email. "Connecticut voters are clearly unimpressed that Congressman Murphy skips work 80% of the time, that he still doesn't have a jobs plan after 5,000 days in elected office, and that he's refusing to come clean about the ethics scandal surrounding the special home loan deal he received while sitting on the House Financial Services Committee."
Spokespeople for WWE were not immediately available for comment.
McMahon, who left WWE in 2009, has long faced criticism over her role with the company, including during her unsuccessful 2010 U.S. Senate campaign. She has said that the company sought to tone down the content of its broadcasts in recent years. Material removed last week by WWE from various video-sharing websites included sexually explicit material and violent content. A WWE official said at the time that the removal was meant to promote a more "family-friendly" image, but noted the political aspects of the situation.
"Some of this footage has been misused in political environments without any context or explanation as to when it was produced," WWE Senior Vice President Brian Flinn said. "This damages the corporate reputation of our company. WWE is well within its rights to protect its intellectual property for fair use."
Larkin said that state Democratic officials believed they were within copyright law to use the material.
"Under the Fair Use exemption under the copyright law, we thought it was fair to use it to inform voters of Linda McMahon's qualifications for the U.S. Senate," Larkin told HuffPost.
Before You Go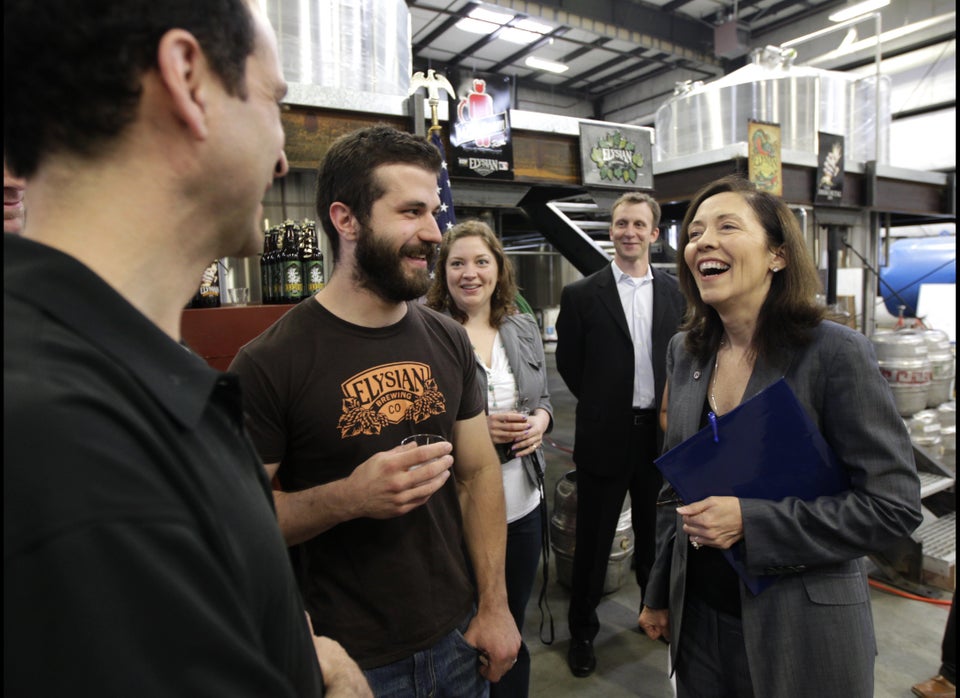 The Women Running for Senate in 2012
Popular in the Community