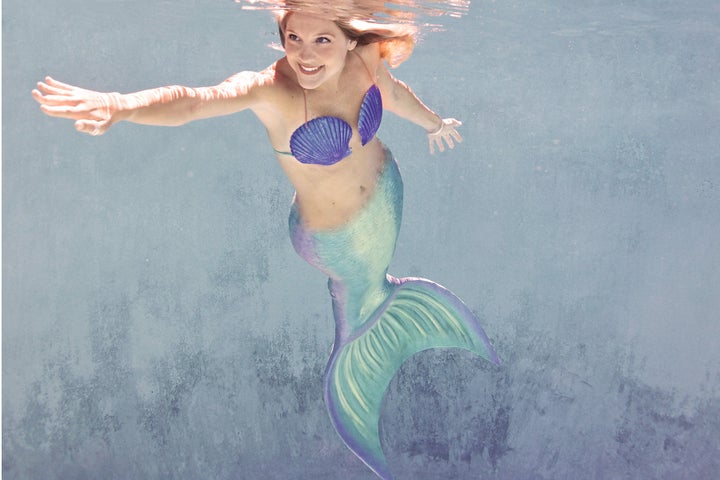 "I just kind of dreamed up this idea of what I wanted to do," Wolbert told HuffPost Women. And then she made it a reality. (It seems that mermaids are having their moment right now -- 22-year-old merman Eric Ducharme has been making headlines recently for his merman "lifestyle.") Wolbert spoke with HuffPost Women about what being a professional mermaid entails, the moment she knew she had to quit her day job and her real passion -- educating children about the ocean.
What does it mean to be a professional mermaid? What does your day-to-day look like?
My day-to-day as a mermaid is never the same thing. It can involve working on maintaining and designing tails, doing training, editing my "Mermaid Minute" videos for children, which is my passion, booking events like Hollywood parties or working with people to come up with neat fundraising ideas for ocean causes I believe in. I'm pretty much a one woman show. Overall, I'm wearing about 50 different hats.
What are these Hollywood parties?
I get hired very frequently to do really high-end celebrity events in swimming pools at hotels or at people's private mansions. I just did a huge party for a certain celebrity's little girl. I do all sorts of events where you don't even know who's hiring you. I've sort of become a mermaid to the stars and mermaid to the stars' kids. I have pinching-myself moments frequently.
How long have you been doing this?
I've focused full-time on mermaiding since I quit my real nine-to-five day job in 2005. I was working as a residence director for Emerson College's L.A. residential program. That's why I came to L.A. I worked there for about three years and was becoming increasingly distracted by the oceans and scuba diving and free diving.
There was one day where I got emailed to come down to the Grand Cayman Islands to do a shoot for free diving. When I came back I thought, "Why am I sitting in this office in A/C wearing uncomfortable shoes when I could be doing something more meaningful for the oceans." At that moment I knew I had to pursue my underwater career. I didn't realize I would become a mermaid yet -- that happened organically over the next few months.
How do people usually react when you tell them what you do for a living?
It's always funny at parties or at random social events. My friends love to introduce me as a professional mermaid. People's eyes get really wide and say "What does that mean?" And at first people think it's a practical joke. It's a really fun thing for me because it's amazing to enchant people and teach them about something that they never dreamed possible.
How do you make money doing mermaiding full time?
That's a really hard question to answer because I do so much different work. Rates are per event and then in addition to that I have fun forms of passive income. It's a very inconsistent profession. I'll go for weeks where I am booked straight. And then there are other times in the winter where it's a lot slower. I've learned to weather my way through the storm. That's just part of creating your own career.
So do you make your own costumes?
My silicone tail was co-created with my friend Allan Holt. He is an amazing special effects artist for Hollywood. Allan fell into the picture right around the time that I had this idea. We met up under the pretense of his underwater music video, and he said he could try to make a tail. We had this adventure, and seven months later we created this beautiful, functional, resilient mermaid tail. Since it has been coined as my "baby." I treat it like it's my first-born child.
What part of your mermaid career are you most passionate about?
The main core of what I do is sharing the ocean with people. Kids are my main target audience. That's why I started [being a mermaid]. My "Mermaid Minute" series was born because I wanted to be a mermaid to be a vessel for education for the oceans and conservation for our oceans. I had to acquire and film footage and I had to buy material to make a green screens. I did it all without a budget, so Season 1 really came from the heart. I sat and taught myself how to use FinalCut Pro and I co-composed the music with a friend of mind.
Any kid with a computer can watch it anytime for free. I wanted to make it as accessible as possible, so YouTube was the perfect outlet.
Is there an age at which you think you won't be able to be a mermaid anymore?
I'm sure eventually some day people won't want to look at me in a tail anymore, but I hope to be swimming forever -- I don't care if I'm in a tail or not. Swimming is my favorite thing in the world.
LOOK: Photos Of Linden As A Mermaid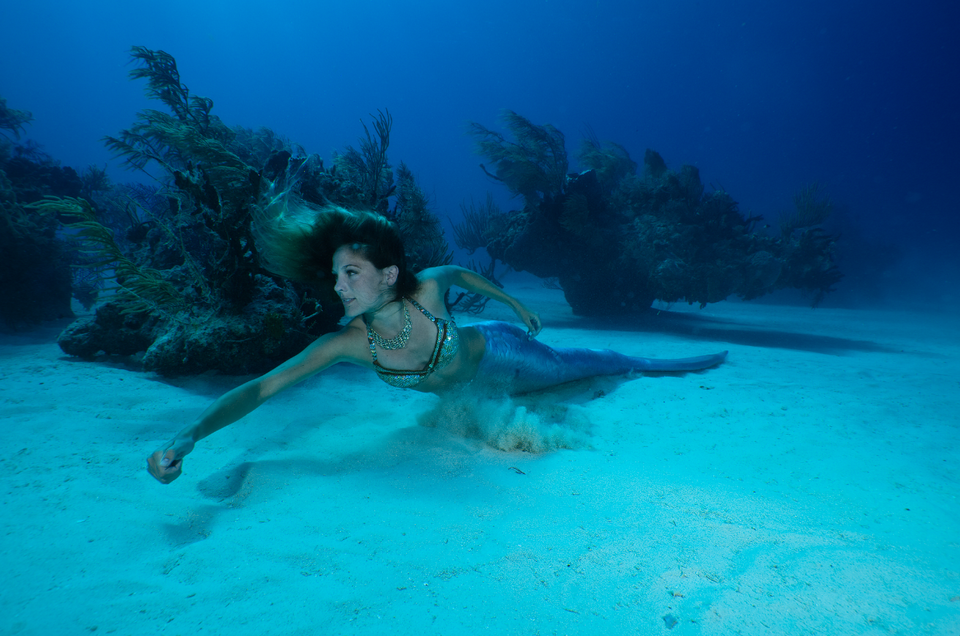 Linden Wolbert, Professional Mermaid
Related
Popular in the Community