The 21-year-old artist and student, tired of the vitriolic anonymous comments she received about her looks, artwork and personal life, decided to do something about it.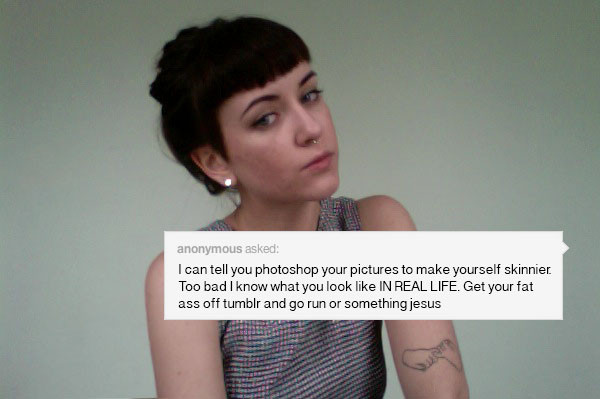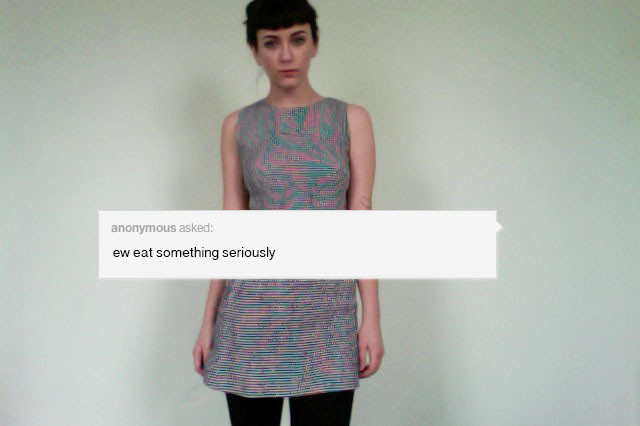 I get tons of anonymous messages like this every day and while this isn't unique to women, the content of the messages and the frequency in which I get them are definitely related to my gender. I almost exclusively get them after I post selfies. The authority people feel they have to share their opinion on my appearance is something myself and many other girls online deal with daily.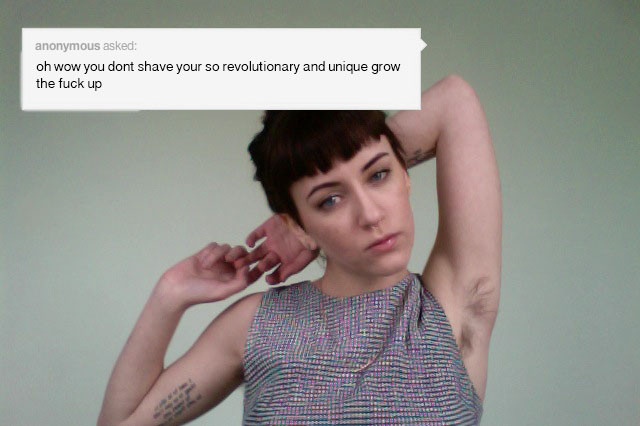 Bottos makes sure that the photograph and the comment make sense together; for example an image showing her body hair will be paired with a comment criticizing her decision not to shave.
"I picked the messages by subject matter," she told BuzzFeed. "They reference my tattoos, or face, or weight, or body hair. I wanted them to represent the scope of the messages I get."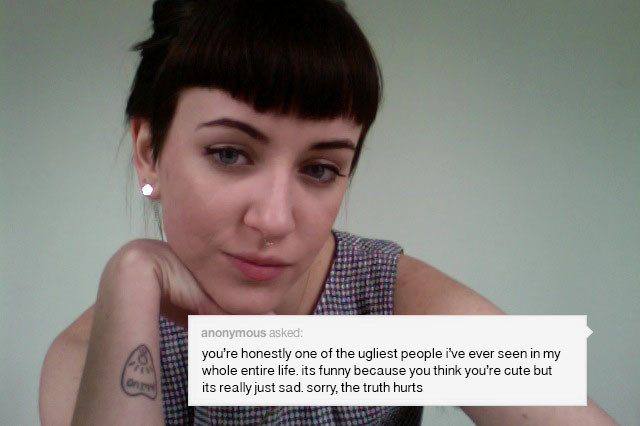 Bottos considers the series a work-in-progress, and plans to continue collecting and screencapping the anonymous comments she receives to use in the project.
"The feedback I've gotten has been overwhelmingly encouraging and I'm really excited to keep working with my ideas and evolving my work," she told The Huffington Post in an email.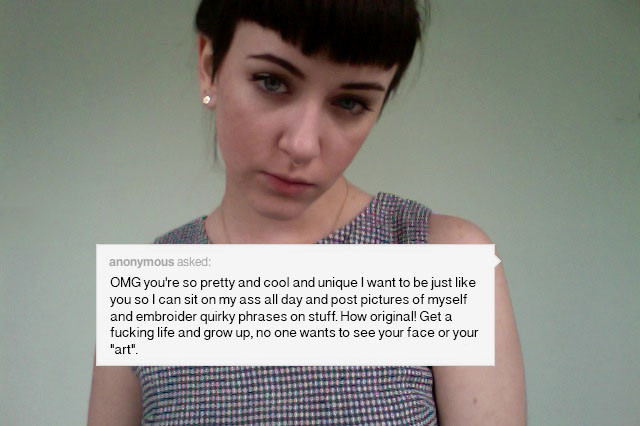 Bottos is a welcome voice in the larger conversation about how women are treated on the Internet. In a Jan. 6 piece for Pacific Standard magazine, Amanda Hess shared her own experiences of receiving rape and death threats from online commenters, and revealed that women are much more likely to report online harassment and stalking than men. She also dismissed the claim that such threats are "harmless":
Threats of rape, death, and stalking can overpower our emotional bandwidth, take up our time, and cost us money through legal fees, online protection services, and missed wages... As the Internet becomes increasingly central to the human experience, the ability of women to live and work freely online will be shaped, and too often limited, by the technology companies that host these threats, the constellation of local and federal law enforcement officers who investigate them, and the popular commentators who dismiss them—all arenas that remain dominated by men, many of whom have little personal understanding of what women face online every day.
Some men have seen first-hand the vitriol women face online -- a notable example is Conor Friedersdorf, a staff writer at The Atlantic. In a Jan. 7 piece, Friedersdorf recalled the "intensely personal missives of hyper-sexualized hate" he read while managing the emails of writer Megan McArdle during a guest-blogging stint. He called for readers to "stop passively accepting behavior towards women (or any person) that wouldn't be tolerated anywhere in offline life."
Passive acceptance is the exact opposite of Lindsay Bottos' attitude when it comes to this project -- and that's why we love it so much.
Check out the rest of the images here.
Support HuffPost
The Stakes Have Never Been Higher
Related
Before You Go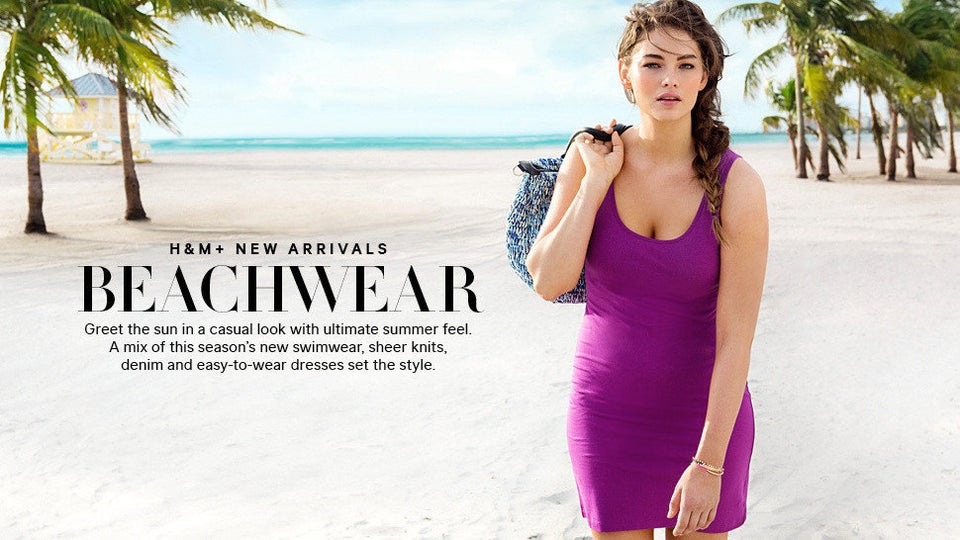 Body Image Heroes
Popular in the Community