Warning: This article contains content that may be considered inappropriate for work environments.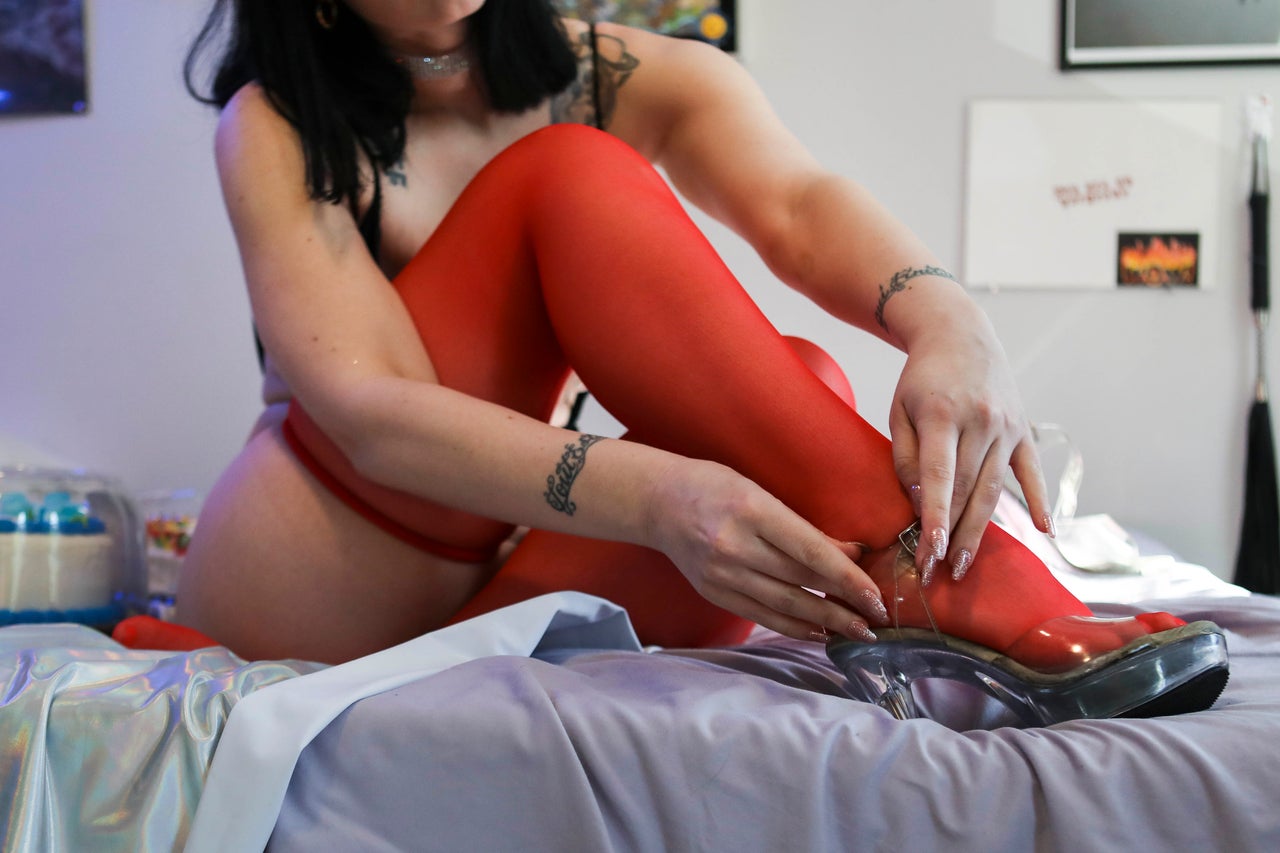 Like the cakes she bakes for them, Lindsay Dye's performances have layers.
While Dye, a 30-year-old Brooklyn resident, makes the bulk of her income from webcam modeling and performing as a cake sitter, she considers herself a businesswoman first and foremost. And with MFAs in photography and sculpture from the Pratt Institute, she has the pedigree of the artist she also manages to be.
In fact, she said she became interested in the world of camming as a photographer but didn't feel comfortable making art about it until she had tried it out herself. Six years later, it's still her job, and she has become known for her sexy, messy, modern performances in which she sings songs like the Spice Girls' "2 Become 1" while grinding on a frosted dessert. Both on cam ― where she prepares the batter in her bed, which is covered by a tarp, and viewers tip to choose the cake's colors ― and in real life, clad in icinglike pastel and metallic lingerie in gallery spaces and at hip downtown parties, Dye is using cake sitting to explore the boundaries between art, sex and commerce.
And while she knows that sitting on cakes is a funny thing to be known for, she also takes herself ― and her work ― very seriously.
What was it like starting out as a cam model?
At first, I pretended that my sound didn't work so I wouldn't have to verbally respond to people. I wasn't nervous about the nudity. I was nervous about how my personality would be perceived more than my body. Because I had already seen the array of bodies that are on this site. It wasn't about 'Am I hot or not?' I'm hot to someone. It was more like I hadn't found my cam persona, or my cam identity, yet.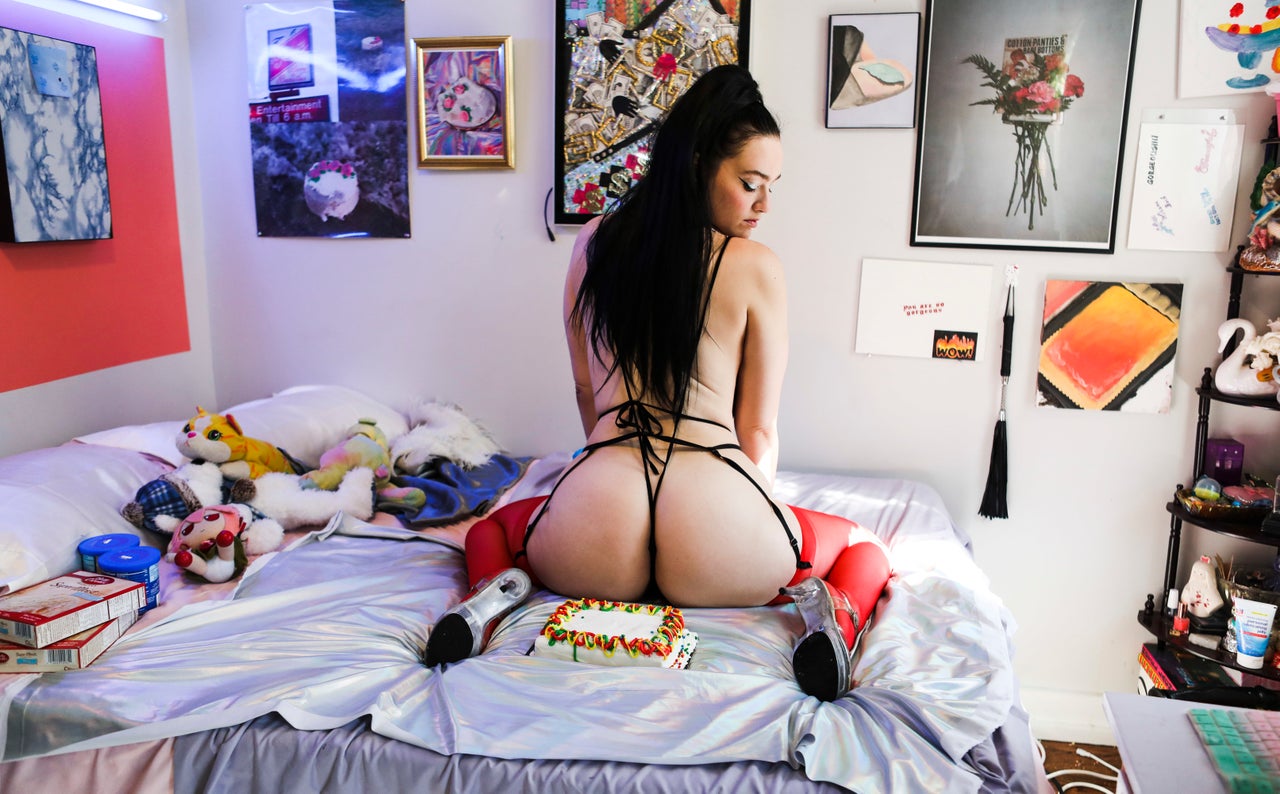 What is your cam identity now?
I'm definitely considered a comedian. Before I was sitting on cakes, I was doing very childlike performances, using donkey hoppers in my show. Inflatables and balloons and kiddie pool toys were always a part of my art and then became a part of my cam set. So I was using things that were in my art to elevate my identity and try to figure out who I am within the space.
So people know me as an artist, but I think they come for a laugh, and that's kind of where I am now with cake sitting. It's sexy, but it's funny, and that's the duality that's in my artwork too. It spans dark humor and sarcasm, but it's coming from a serious place, but it's still sexy, and people can still masturbate to it.
How did camming evolve into cake sitting?
The story of cake sitting is that I got a private message in my chatroom that someone wanted me to sit on my cat. My cat is a large presence in my chatroom. People know her. They know her name. They tip me when she comes on the camera. And this person was serious, because I received this message multiple times over months.
And so I started researching, and it's not just something ― it is evil and gross ― but it's a part of a crushing fetish that starts with small insects and moves up to larger animals. So obviously, I refused to do this, but while I was investigating crushing fetishes, I found cake sitting, which is like the more pure, wholesome version of what this person was asking me to do.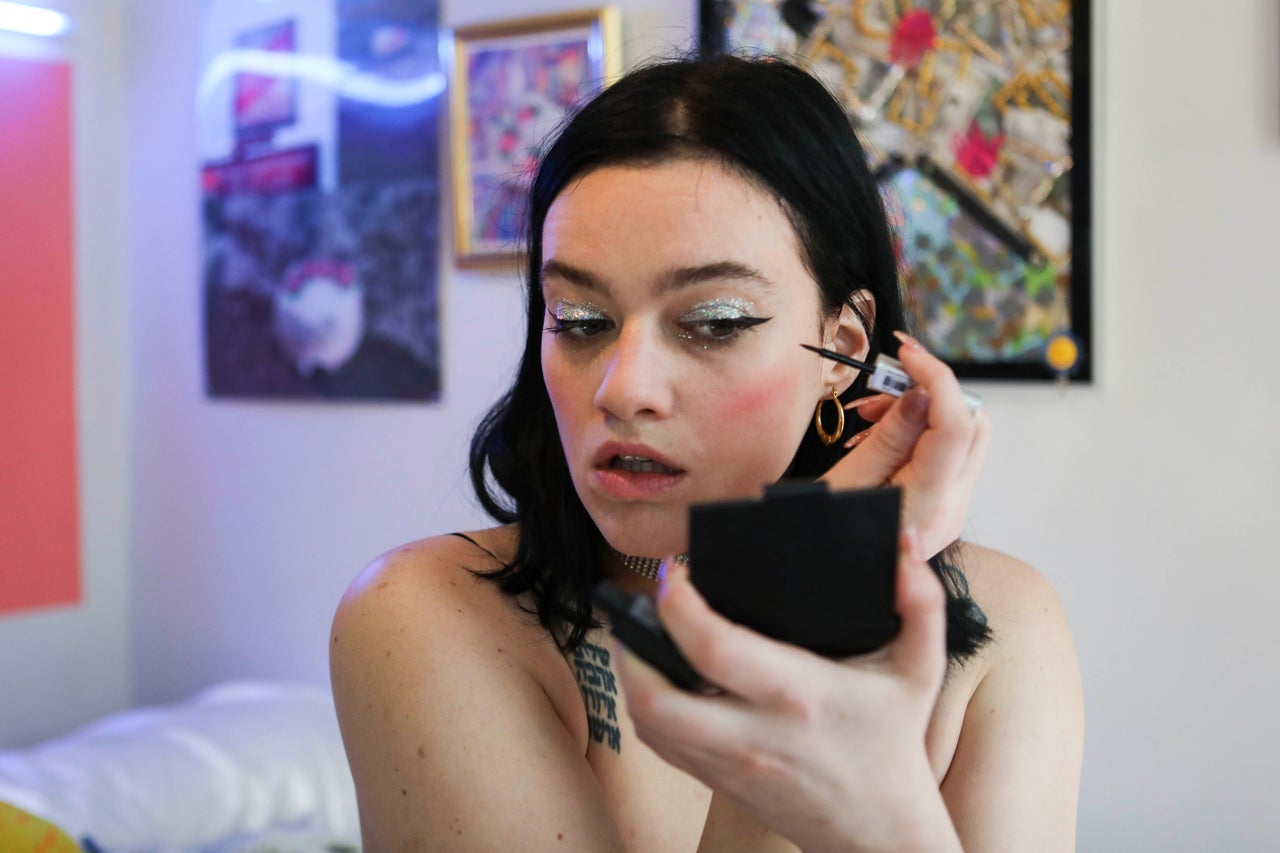 Is there a particular kind of cake that's best for sitting?
I do not buy them anymore. I'm totally invested in having them be, like, temporary sculptures that I'm making.
I'm up to the point where I'm ordering bulk Amazon orders of Pillsbury white cake mix ― it's not even called vanilla ― so that I can change the color of it. I try to make everything as rainbow as possible because otherwise it just looks boring, but I do stay away from red velvet or chocolate cake because they look like bodily secretions.
I've learned that I need more to work with, so I've started layering them. As opposed to making one layer of cake, I'm doing, like, five layers. The cake is already super artificial. Making it look even more artificial makes it look way more beautiful.
What kind of people are fans of cake sitting?
There is no specific person who likes it. It's an everybody thing. Why is that? Because everybody has a connection to cake. Everybody has a personal experience with cake. Everyone's had their own cake. So I think it's something for everybody because it hits everybody in the heart a little bit because it's an object they've had an intimate experience with before.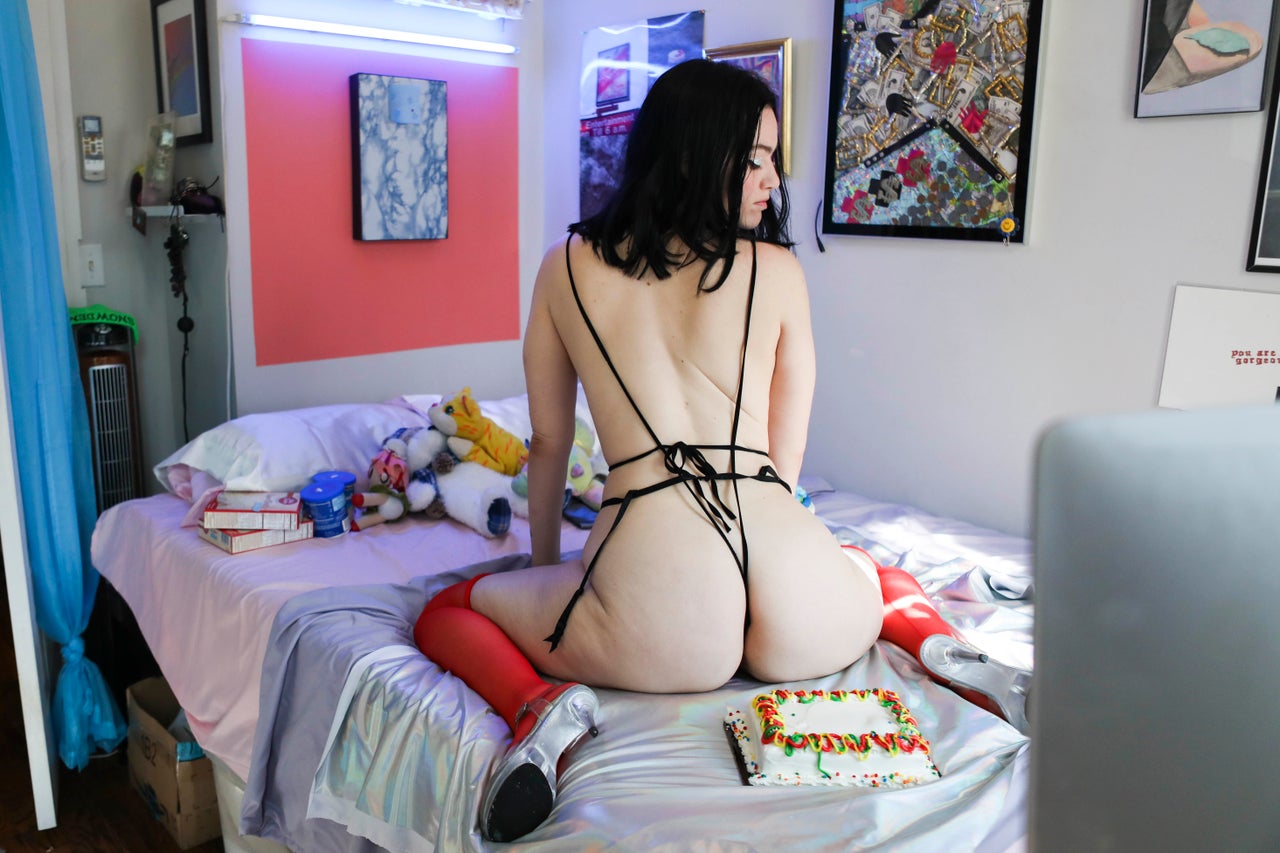 Do you draw a distinction between your artistic performances in real life versus your performances in the chatroom?
When I go and perform in real life, it's an in and out. I feel like a superhero. The art happens, and I'm out. When I'm in the chatroom, there's a long buildup, and there's just more communication about it and questioning of it and interaction with my audience.
In both cases, it's a quick moment. I always say the anticipation before is the most important part because it happens so quickly ― the actual flattening of the cake, the crushing. I keep it going by dancing or whatever, but that moment is a second.
There's also something really intimate with the chatroom because I'll do the performance and I'll leave the mess for them to see and I'll go take a shower and come back and we still engage afterward. And also, it's done, and then I masturbate. It's a totally sexual experience for them afterward.
The gallery is more about bringing porn into the public. So in both cases, I feel like I'm exposing an experience you wouldn't normally have in that space. It's bringing art into the chatroom and porn into the gallery space.
Have you sat on other foods?
I thought cake sitting was going to be fleeting, so I immediately jumped to the next food, which was pizza. Not the same effect. Pizza's already flat. You can barely see it on a stage. It wasn't effective. I maybe needed a deep dish or a Sicilian pie. But also the color palette is blah.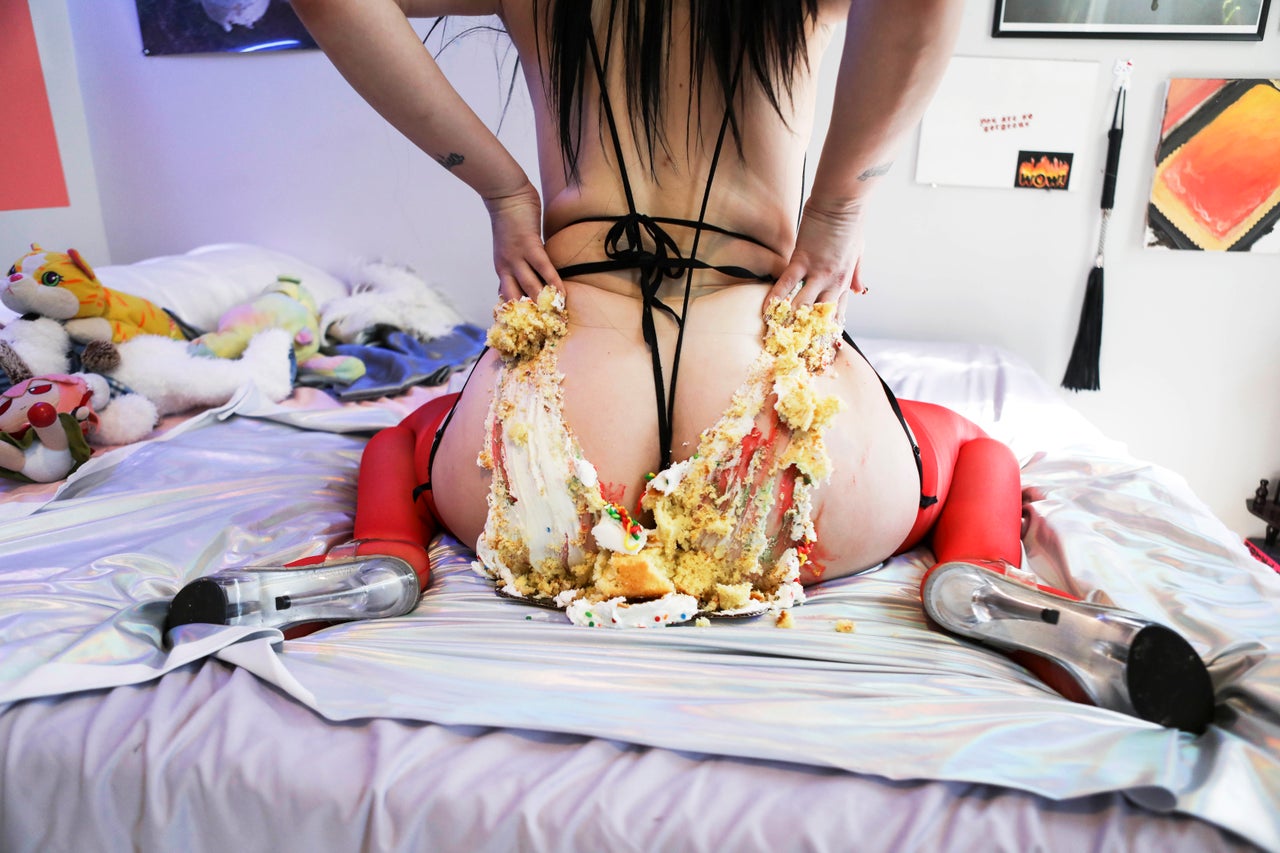 If you weren't doing this, what would you be doing?
I work with what I've got, and like many women, my entire life, I've been objectified, and my body is talked about so much. So I figured, let me just, like, use it for my job, since it's apparently what I've got. But if it wasn't cake sitting, it would be stand-up comedy, I feel like. I've referred to cake sitting as sit-down comedy.
What is the best part of your job?
Someone asked me, 'What feeling do you get out of cake sitting?' and it's power. I feel powerful and in control. And the fact that I can turn on my computer and be like, 'I am the boss right now'? Oh, my God, that feels really good.
Popular in the Community