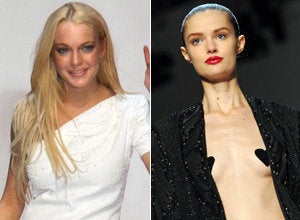 Lindsay Lohan's debut collection as Ungaro's 'artistic advisor' walked the Paris runway on Sunday. Widely panned, the outfits featured a plethora of hearts, from sequins on the outfits, patterns in the cloth, hats, and even heart-shaped pasties covering many of the models' nipples, exposed by unbuttoned jackets and plunging necklines.
At the end Lohan and designer Estrella Arch came out to take a bow.
Scroll to the bottom of this entry for some links to reviews of the show.