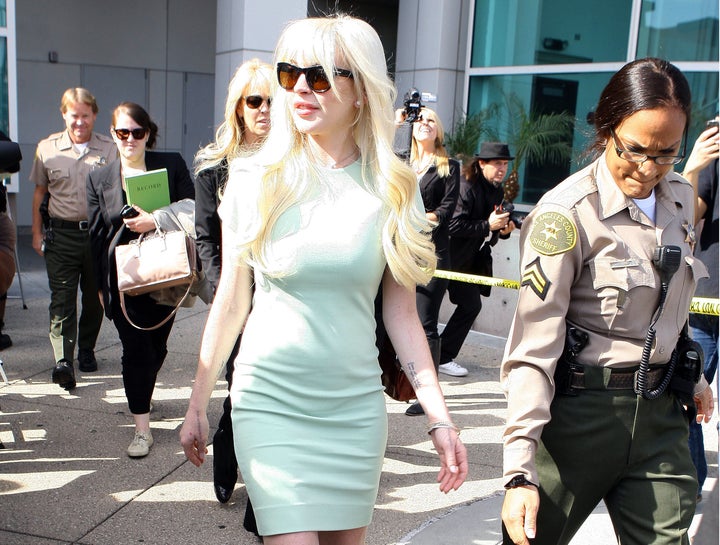 Lindsay Lohan's "Saturday Night Live" performance may not have been Emmy-worthy, but her efforts on the show could be the baby steps she needs to repair her long-tarnished brand.
"She showed that she wants to work again," Cooper Lawrence, author of "Cult of Celebrity" told The Huffington Post. "She was relaxed, confident and professional. She may not have been funny the whole time, but she did show up, seemed sober and did not come off like a drug addict pulling the wool over our eyes. I was left with the feeling that she may be tired of being the punch line."
Lohan received mixed reviews for her work on "SNL" this weekend, where she was quick to lampoon her past legal troubles and made light of the fact that she is often less than reliable, but she still wasn't able to pull off the kind of top-notch performance she proved she was capable of years ago when she hosted the show.
Still, following years of personal ups and downs and a handful of cancelled movie projects, simply not failing at the task put before her was enough for Lohan to start creeping her way back into the market as an actress, not a pin-up or a punchline.
"She was sober and knew that the critics would come down on her," said Hollywood publicist Michael Sands. "With her legal woes behind her ... perhaps she will take some acting classes and surprise us all."
"Do not count Lindsay out yet," he added.
However, not all critics were convinced that this weekend's show made the actress more viable as a real Hollywood player.
"Unless she's angling for a role as a not-terribly-adroit cue-card reader, or perhaps a sleepwalker, Lindsay Lohan didn't do her career any favors by hosting 'SNL,'" said April Bernard, the senior television editor for Us Weekly. "Referencing past successes such as 'Mean Girls,' as she did in one sketch, only reminded viewers how appealing she used to be. If she'd shown half the spark and talent that Maya Rudolph or Melissa McCarthy did this season, people would be talking about her comeback."
Love it or hate it, "SNL" was at least a minor step toward redemption for Lohan's brand -- a high-rated one at that-- but industry authorities believe it will take more than a few funny skits at her own expense to convince producers to take a chance on her as an actress again.
"Lohan's current brand rehabilitation tour -- including stops along the 'SNL' and 'Today' show highway -- have been orchestrated effectively but they hardly wipe away the memory of years of news coverage focused on her addictions, court appearances and her arrogance," said Mark Stevens, author of "Your Marketing Sucks."
"There's always room for human redemption," he added, referencing former President Bill Clinton's rise from scandal. "But the directors and producers who hired her in the past still aren't going to be hiring Lindsay Lohan for the time being."
PHOTO GALLERY
Lindsay Lohan
REAL LIFE. REAL NEWS. REAL VOICES.
Help us tell more of the stories that matter from voices that too often remain unheard.
BEFORE YOU GO