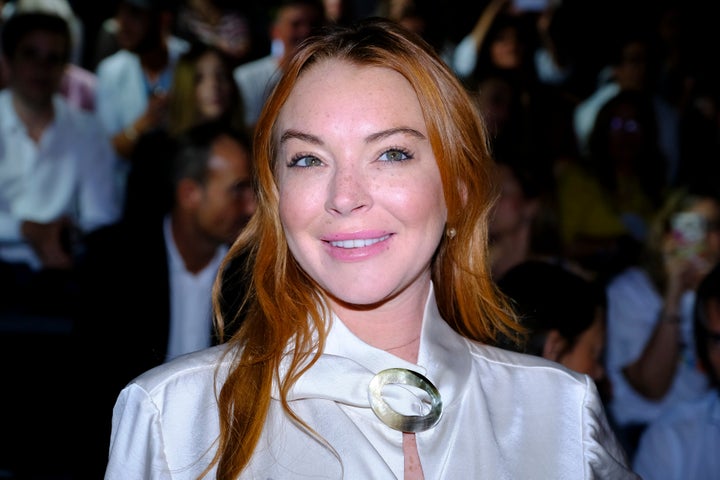 "I'm going to really hate myself for saying this, but I think by women speaking against all these things, it makes them look weak when they are very strong women," Lohan, 32, told British newspaper The Times in a recent interview. 
The former child star added that she's "very supportive of women," although she doesn't like "attention-seekers" or, as The Times put it, "trial by social media."
"I don't really have anything to say. I can't speak on something I didn't live, right?" Lohan said of the fact that she's never experienced any sexual misconduct during her years working in the entertainment industry. "Look, I am very supportive of women. Everyone goes through their own experiences in their own ways." 
Lohan, who's making a comeback with a new MTV reality show about her nightclubs in Greece, added that women should report assaults when they happen. 
"If it happens at that moment, you discuss it at that moment. You make it a real thing by making it a police report," she said, adding later: "You have these girls who come out, who don't even know who they are, who do it for the attention. That is taking away from the fact that it happened."
Victims of sexual violence often don't come forward directly after their assault for a multitude of reasons including fear of retaliation from their attacker, fear of losing their job and a justice system that notoriously lacks the ability to correctly handle sexual assault cases. Additionally, of the victims who report rape, only 2 to 10 percent are false, according to the National Sexual Violence Resource Center. 
Lohan pointed to a time when she and her ex-boyfriend, Egor Tarabasov, had a violent altercation on a Greek beach in 2016. 
"I had a fight with my ex on this very beach. What did I do? Nothing. I just took over the beach," she told The Times, referring to the fact that she later bought the very beach the couple fought on. "The best revenge is success, right?"
The controversial actress expressed a similar perspective during an interview with The New York Times earlier this summer. 
"There was this moment where it was like, 'I don't really need to be worried about a guy hurting me, I don't need to live in fear,'" she said of an epiphany she had while reading Tina Seskis' The Honeymoon, which she later bought the rights to. "Because when women show fear, I feel like that makes us powerless." 
Lohan also defended the now-disgraced Hollywood mogul Harvey Weinstein after several women accused him of sexual assault and rape in October. 
"I feel very bad for Harvey Weinstein right now. I don't think it's right what's going on," Lohan said in a now-deleted Instagram story. "I think Georgina [Chapman] needs to take a stand and be there for her husband."
Head over to The Times to read Lohan's full interview. 
Calling all HuffPost superfans!
Sign up for membership to become a founding member and help shape HuffPost's next chapter
BEFORE YOU GO