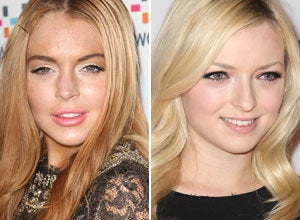 Lindsay Lohan is reportedly still terrorizing the clubs of Los Angeles with her over-inflated ego.
A source tells Us Weekly that Lohan threw a fit at Bootsy Bellows on Tuesday night and put a damper on reality star Francesca Eastwood's birthday party.
The source alleges that Eastwood was celebrating with her friends in a private area of the club when Lohan came over and started screaming that the birthday girl should leave: "[Lohan] was yelling 'I'm a star, she's a nobody, get her out of here!"
When someone tried to calm the 26-year-old actress down, she acted aggressively, and at that point security had to ask her to leave, explained the insider, who added: "She is acting like some bad '80s film star, and it is hard to watch because she needs help."
Eastwood's boyfriend, photographer Tyler Shields, who has worked with Lohan before, confirmed Lohan's mean girl antics: "We were celebrating my girlfriend Francesca's birthday at Bootsy Bellows, and it was a blast. Suddenly, there was a burst of chaos, and as quickly as it started, it was over. After the fact, we were all a bit confused about what just happened."
"I'm not sure what exactly sparked Lindsay's outburst," Francesca added. "Regardless, I still had an amazing birthday and 'Parent Trap' is still my favorite movie."
Lucky that Eastwood is so forgiving, as it's far from the first time Lohan has thrown a temper tantrum in a club and frankly it's surprising she's still welcome at any hotspot.
In September 2011, the actress threw more than a tantrum at the V magazine Black and White Ball at The Standard Hotel in New York, when without warning she stood up from where she was hanging out with a friend and threw a drink -- glass and all -- hitting a cocktail waitress.
Lohan's aim wasn't that great because she reportedly screamed at the waitress, "Not you, him!" pointing at a man in a white T-shirt.
At least this time Lohan's outburst didn't involve a glass. That's progress, right?
PHOTO GALLERY
Lindsay Lohan
REAL LIFE. REAL NEWS. REAL VOICES.
Help us tell more of the stories that matter from voices that too often remain unheard.
BEFORE YOU GO