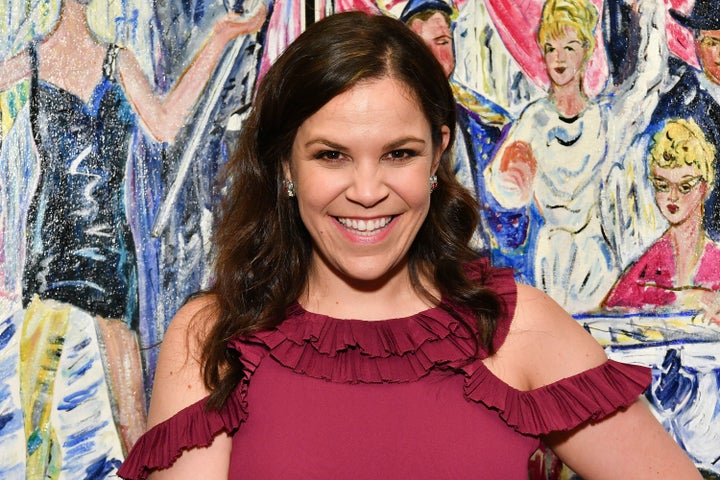 Lindsay Mendez never believed she would "really fit into a classic mold." But after a decade on Broadway, the singer-actress is finally getting richly deserved recognition ― thanks to a new take on a 73-year-old musical.
The singer-actress, 35, has received unanimous acclaim for her performance in the revival of Rodgers and Hammerstein's "Carousel," now playing at the Imperial Theatre in New York. In many respects, Mendez ― who in 2013 made an especially headstrong Elphaba in "Wicked" ― plays against type as Carrie Pipperidge, an upwardly mobile, if naïve, Maine millworker. She's received a Tony Award nomination for Best Featured Actress in a Musical for the role, while "Carousel" itself has scored a total of 11 nominations. Over the weekend, Mendez took home a Drama Desk Award for her performance. 
Such accolades feel "overwhelming and wonderful," Mendez said, acknowledging that her casting was a "huge risk and something super different." She landed an audition after singer-actress Betsy Wolfe withdrew from the part.
"This role is very different than anything I've done before. It's a challenge musically, too," Mendez, last seen on Broadway in 2017's "Significant Other," told HuffPost. "I want to scare myself when I choose what I want to work on. I feel like I do my best work under fear of being fired … and I think audiences are ready to see all kinds of different people do these classic shows."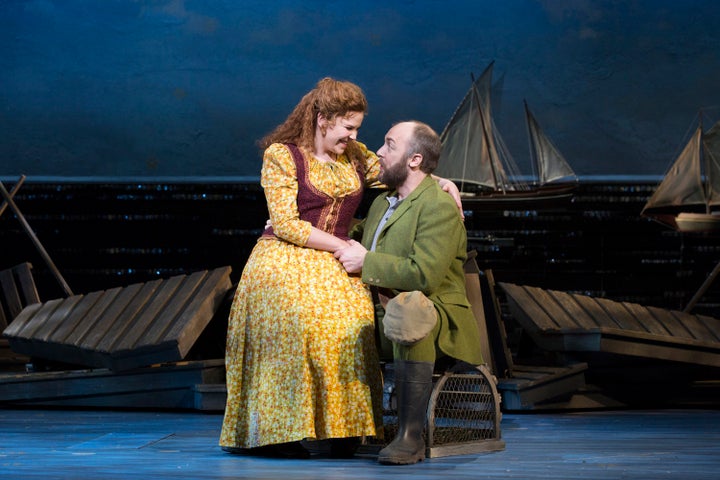 Playing Carrie doesn't mark the start of a new artistic chapter for Mendez as much as it shows the continuation of an ongoing – and incredibly prolific – one. While "Carousel" may be the California native's first show to garner awards season momentum, she's been establishing herself as one of the New York theater scene's most exciting talents for some time, thanks to stints in "Everyday Rapture" and "Godspell." She's best known for 2012′s "Dogfight," an off-Broadway musical by "La La Land" and "Dear Evan Hansen" composers Benj Pasek and Justin Paul. 
Growing up in the Los Angeles suburb of Norwalk, Mendez said she "never thought that I was supposed to do anything else" but pursue a career on the stage.
"I learned by watching Judy Garland and Barbra Streisand," she explained. Though she looked to those icons for inspiration, she added, "My father's Mexican and my mother is a Russian Jew, [so] I didn't really see anyone who looked like me in theater. I was told, 'Lose weight, gain weight, change your last name.' I was told numerous times that it would be tough for me to work in things except for 'West Side Story.' I was told a lot of different things, and that just never felt right to me."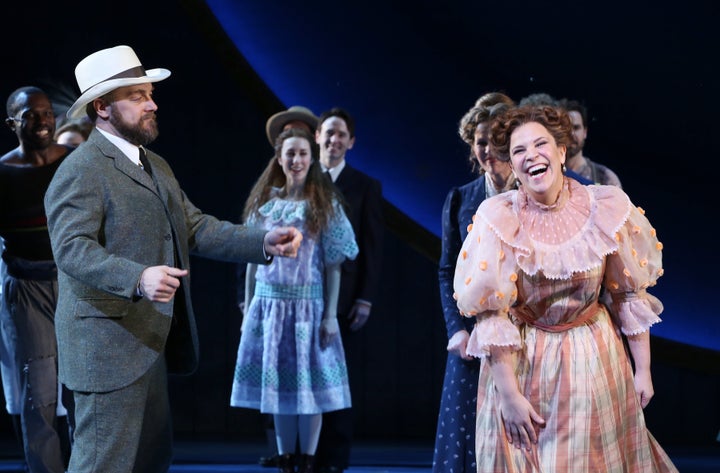 "Seeing someone like Sara in a show that was all white people [and yet] no one was commenting that she was Hispanic … was so encouraging to me," Mendez recalled. "She just was Hispanic in a part that wasn't written that way. That, to me, was the most exciting because it was like … just because we are that doesn't mean we have to play only that." Witnessing Lin-Manuel Miranda's success with "In The Heights" and "Hamilton" was inspiring, too. "That was an exciting time, because I just saw Lin blazing his own trail and showing another side to what my community is all about," she said. 
This "Carousel" revival has not been without its detractors. The 1945 musical is often criticized for alluding to spousal abuse between Billy Bigelow and Julie Jordan (played in the current production by Tony nominees Joshua Henry and Jessie Mueller, respectively), the show's romantic leads. In the penultimate scene of Act II, Julie appears to defend child abuse, too, after Billy slaps their daughter, Louise (Brittany Pollack).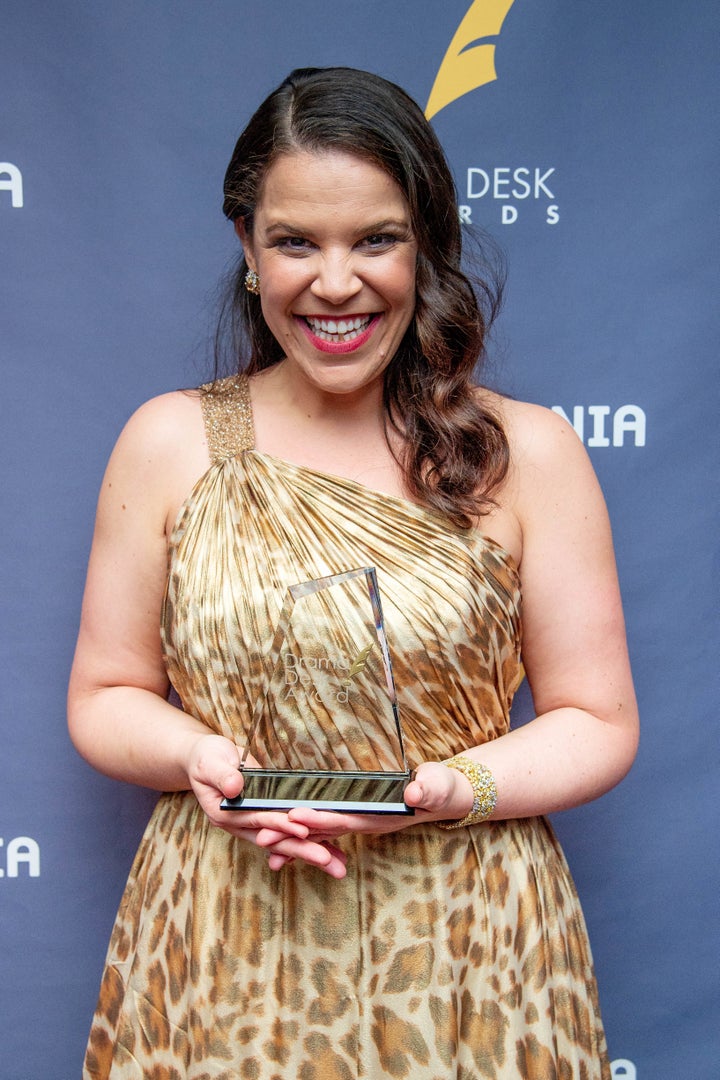 Questions over how these problematic plot points would be interpreted in the era of Me Too and Time's Up hung over the revival well ahead of its April 12 opening. For her part, Mendez said she believes "Carousel" provokes discussion about domestic violence without glorifying or condoning it.
"In the theater, it's not our job to make everything OK," she said. "It's our job to hold up a mirror [to reality] and say, 'These things happen. How do you feel about them happening?' To say that domestic violence doesn't happen every day is wrong, because it does."  
In fact, Mendez said there's a "strong, empowering" message to be found in the musical's female characters, including Carrie Pipperidge. "The show does make you feel good in so many ways, especially when you get to see these characters triumph," she said. "People learn from their mistakes and move forward. … That's something I can believe in, especially right now."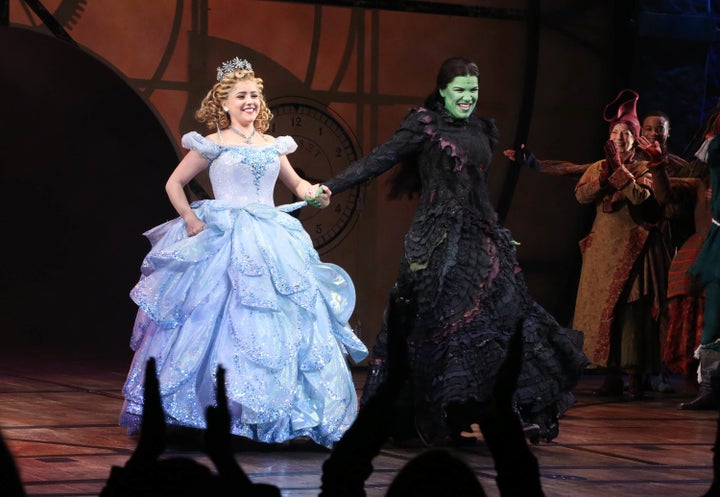 Regardless of how Mendez fares at Sunday's Tony Awards, she hasn't stopped thinking ahead. She's got her eye on "Three Points of Contact," a new musical by composer Ryan Scott Oliver, a longtime friend and collaborator. She'd also love to try her hand at Shakespeare. "I keep thinking about what would terrify me, and that's on the list," she said.
She's happy to relish in her "Carousel" success, too.
"I love going to work every day," she said. "I'm just doing what I think is innately me, and hopefully people like it." 
BEFORE YOU GO