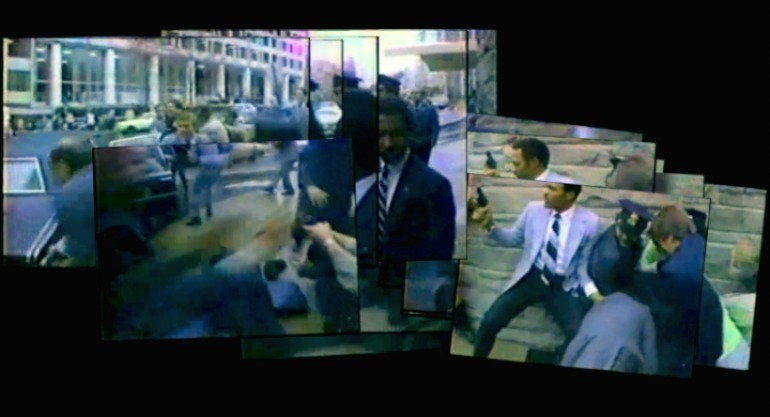 Of all the white hot action to go down at the inaugural Art Wynwood (and with 23,000-plus in attendance -- 5K on opening night alone -- there was indeed a lot of white hot action), perhaps none was as heated as the pair of killer clips presented by the keen-eyed Lindsay Scoggins. Pragmatically entitled "Video Panorama," and consisting of manipulations of both Zapruder's infamous JFK assassination footage and the spot-on scenes of Hinkley's attempt on then-President Reagan, Scoggins' re-reeling of bloody American history was, in a word, sublime.
Well, as sublime as high violence can get anyway. Scoggins, a South Florida native whose vivid visuals were first grounded in sound (she's classically trained in music), has a pedigree that runs from mash-ups featuring Miss Piggy to the Guggenheim's esteemed YouTube Play, where she was one of only 25 selected to participate (and which led to display at Guggenheim Venice, Bilbao and Berlin). At Art Wynwood though she's gone beyond that rep-making rush of rashness and entered a realm riddled with history -- and ripe for obliteration.
"Everyone has seen and identified with this footage," she said over lunch at Joey's during a break from fending off fans. "I want them to see it differently. See it for what it is, what it isn't, and mostly, for what it could be."
Scoggins adds that these recast milestones are just the first step in a disaster series she'll be unveiling over the course of this year, here in her hometown of Miami, of course, as well as elsewhere, including LA's Royal/T, where her partner-in-crime David "The Urban Hunter" Tamargo is in the midst of a nine-month-long creative directorship.
She also wants it to be known that the Art Wynwood showing owes much to Wet Heat Project's Grela Orihuela, who handled the Fair's video programming, and who's been pursuing Scoggins since seeing the crunk-crazed "Wonderland Mafia" after it wowed the Guggenheim.
Credit should also be given to Art Wynwood director (and founder) Nick Korniloff, who not only put together (and made wild success of) the Fair in a matter of mere weeks; he gave Orihuela carte blanche to curate her clips as she saw fit. That something as spectacular as Scoggins' screen gems ended-up being featured (and lauded) is well worth applauding.
Where the wowful Lindsay Scoggins will go next is anyone's guess, but it's a cinch it'll encompass milestones -- and give us all a whole new way of seeing.
Image: Lindsay Scoggins "Reagan"
REAL LIFE. REAL NEWS. REAL VOICES.
Help us tell more of the stories that matter from voices that too often remain unheard.