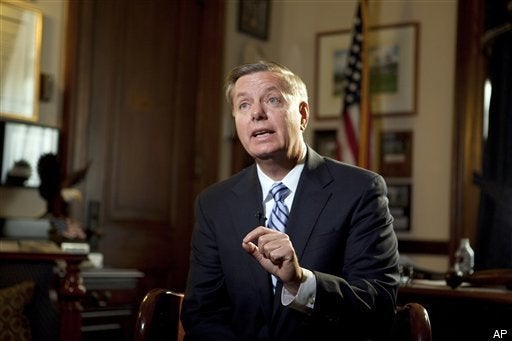 Senator Lindsey Graham (R-SC), the sole Republican climate bill supporter in the Senate, may be backing away from the inclusion of a cap-and-trade system in the bill, The New York Times reported.
"Realistically, the cap-and-trade bills in the House and the Senate are going nowhere," Graham said. "They're not business-friendly enough, and they don't lead to meaningful energy independence."
According to the Times, Graham is not alone in this. The article portrays expectations as being scaled back across the board, with Republicans, industry executives, and even Democrats acknowledging the difficulty of passing a comprehensive climate bill with a cap-and-trade system.
However on Wednesday, Graham made a statement which appeared to be in response to the Times' piece, which emphasized his plans to continue to work on the climate bill:
"The energy legislation that was passed by the Senate Energy and Natural Resources Committee is not strong enough to lead us to energy independence. The climate change legislation passed by the House of Representatives and Senate Environment and Public Works Committee is too onerous on business and does not enjoy bipartisan support.

"My goal is to continue working with Senators Kerry, Lieberman and my Senate colleagues to create a new pathway forward that focuses on a more robust energy security package and a more business-friendly climate legislation.

"I am committed to finding a new way forward as I believe energy security is a short and long-term job creator for our country. Clean air is a shared value by both parties and all Americans. I remain hopeful after discussing this matter with conservation groups, businesses, and Senate colleagues we can be successful this year."
John Kerry (D-MA) who is also working on the legislation, gave a statement to counter rumors generated by the Times article.
We are not scaling back our efforts. We have not changed our goals one bit. We are simply trying to figure out what the magic formula is to be able to get 60 votes but our goal remains exactly what it was before: to price carbon and to create a target for the reduction of emissions that is real. That's the goal.

How Obama responds to the hurdles facing the climate bill in his State of the Union address Wednesday night will also be closely analyzed by proponents and detractors of the bill.
Popular in the Community