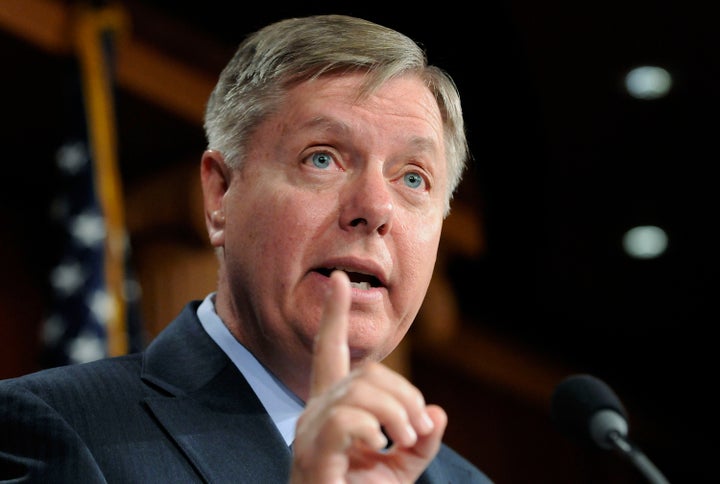 WASHINGTON -- Sen. Lindsey Graham (R-S.C.) threatened a "nasty" spat with the National Labor Relations Board and vowed to go "full guns a-blazing" if the independent agency went ahead and filed its controversial complaint against the Boeing Company, according to notes recently obtained by the House oversight committee.
NLRB acting general counsel Lafe Solomon accused Boeing in an April complaint of breaking labor law when it established a production line for its 787 Dreamliner in South Carolina. Documents obtained this week, which appear to be Solomon's internal notes, detail a series of tense phone calls Solomon had with Graham and Boeing officials in the runup to the complaint he issued. In a letter Wednesday to committee chairman Darrell Issa (R-Calif.), Rep. Elijah E. Cummings (D-Md.) said that the documents raise questions about whether Boeing tried to use political influence to scuttle the complaint before it was filed.
In his complaint, Solomon said Boeing's move was retaliation against the company's unionized workers in Washington State for having gone on strikes in the past. The complaint, which could potentially derail the aerospace manufacturer's plans in South Carolina, has created a political firestorm, with Republicans accusing both the labor board and the Obama administration of meddling in corporate decision-making and potentially costing jobs.
Solomon's notes, as quoted in a release from Cummings' office, would suggest that Boeing and at least one congressional ally tried to dissuade the agency from filing its charge, although the NLRB is viewed as an independent, quasi-judicial body. Michael Luttig, Boeing's general counsel, apparently told Solomon that he would "go to the Hill" to prevent him from litigating the case, and Graham apparently told Solomon that "the political fallout would be huge" if a complaint were filed against Boeing.
Kevin Bishop, communications director for Graham, said the senator doesn't dispute the version of events in Solomon's notes. He also asserted that Graham was not out of line in making his remarks, despite what Cummings and other Democrats might say.
"Sen. Graham has made clear that he talked to Mr. Solomon beforehand," Bishop said.
In a statement through Bishop, Graham said, "In saying that I would be 'going guns a-blazing,' I meant that I would vigorously criticize the NLRB and actively work to protect the economic interests of South Carolina. Those statements were made to convey to Mr. Solomon the political uproar that would occur both in South Carolina and nationally if the complaint was filed."
Indeed, Graham appears to have simply made good on his promise to go "full guns a-blazing," having been arguably the loudest critic of the labor board since the complaint was filed. "I'm afraid the NLRB has an agenda that is not healthy for the country," Graham told reporters back in May. He's gone so far as to threaten to defund the board.
Judicial Watch has posted Solomon's notes, as well as internal emails among NLRB staff. Emails show that the staffers made several jokes about what they apparently saw as the overreaction of some Republicans to the Boeing complaint. In one email, Solomon cracked that he and a colleague should consider jobs in Switzerland. "We screwed up the us [sic] economy and now we can tackle Europe," he wrote.
In his letter to Issa, Cummings argued that the NLRB should be free to investigate and issue decisions without political interference.
"No corporation should be able to discriminate against American workers and then avoid accountability for its actions by using its political influence in Congress to seek to undermine the rule of law," Cummings wrote in his letter. "These new documents raise serious concerns that this may be exactly what happened in this case. The ongoing legal proceeding should be allowed to take its full course without any further interference from Members of Congress."

Calling all HuffPost superfans!
Sign up for membership to become a founding member and help shape HuffPost's next chapter