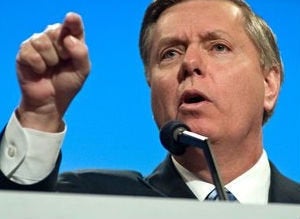 Sen. Lindsey Graham (R-S.C.) is facing fire from Republicans in his home state for making critical comments about the Tea Party movement.
Graham, a moderate Republican, was quoted as saying the Tea Party lacks "a coherent vision" and that the life of the coalition of conservative activists might be short-lived in a New York Times magazine profile published Thursday.
Now, just one day after Graham's criticism came to light, the Daily Caller reports that Sandra Stroman, Chairman of the Chester County GOP, is pushing back against her home state Senator's remarks.
"The Tea Party is alive and well here in South Carolina as you can see with the nomination of Nikki Haley and the popularity of SarahPalin," Stroman said. "Lindsey tends to be out of touch on matters like these."
Lin Bennett, who chairs the Charleston County GOP, expressed a similar sentiment towards Graham's take on the Tea Party. "He is totally out of touch with his base in South Carolina," she told the Daily Caller, adding that his comments "prove he does not understand the frustrations of his voters."
But this isn't the first time that Graham has found himself at odds with Republicans in his home state over his politics and style of legislating. Last fall, the Charleston County GOP censured the South Carolina Senator for working with Democrats on climate change legislation, while earlier this year the Lexington County GOP voted to censure Graham over his vote for the Wall Street bailout.
Graham faced even more extreme reaction to his work on Capitol Hill from a conservative crowd at a South Carolina town hall meeting last year. While speaking, the Republican Senator was interrupted by angry attendees calling him a "traitor" and charging him with "going to bed with John Kerry" for working with the Democratic Senator on clean energy legislation at the time. Outside the same event, a "RHINO HUNT" activist protested against Graham with a display that imaged the South Carolina Republican being flushed down a toilet (see video below).
Popular in the Community