WASHINGTON ― The Senate's most outspoken Republican this week found a way to denounce sexual assault allegations against Supreme Court nominee Brett Kavanaugh without addressing the actual accusations. 
Christine Blasey Ford vividly described Kavanaugh attempting to rape her when they were both teenagers, saying he pinned her to a bed and used his hand to stifle her screams.
Sen. Lindsey Graham (R-S.C.) and other Republicans have said Blasey must be mistaken about what happened. But on Thursday, in a fiery speech from the dais during the Senate Judiciary Committee hearing ― which had been precipitated entirely by Blasey's testimony ― Graham ranted about a claim from another woman, who came forward this week.
Julie Swetnick said in a sworn declaration that in the early 1980s, she saw Kavanaugh at parties where groups of boys would rape girls. Her attorney is Michael Avenatti, who also represents a woman who received money to stay quiet about an alleged past affair with President Donald Trump.
Democrats did not ask Kavanaugh about the gang rape accusation, but Graham did during an angry few minutes of questioning from the dais.
"Were you a gang rapist?" Graham asked.
"You're supposed to be Bill Cosby when you're a junior and senior in high school," Graham said. "And all of a sudden, you got over it. It's been my understanding that if you drug women and rape them for two years in high school, you probably don't stop."
The serial rape accusation is ridiculous on its face, in Graham's view, because Kavanaugh has not been accused of any similar behavior over the course of his career.
Graham went on to say that voting against Kavanaugh's nomination would be "legitimizing the most despicable thing I have seen in my time in politics."
He didn't ask Kavanaugh anything about Blasey's story.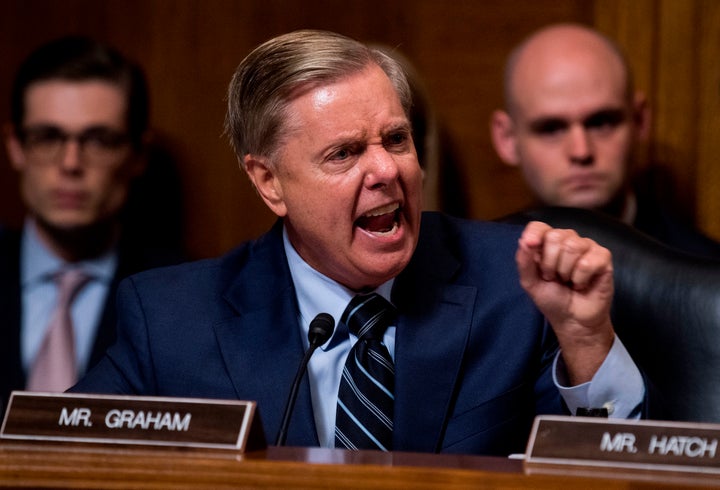 Later, during a closed-door Republican meeting, Graham's colleagues applauded him, as did conservative commentator Sean Hannity, who interviewed Graham on Thursday evening, when the senator railed against Senate Democrats some more.
"Do you really believe that Brett Kavanaugh is a serial rapist? Do you believe any of this garbage?" Graham asked on Hannity's program. "I'm sorry Dr. Ford went through this. She shouldn't have had to go through. But I am convinced beyond any shadow of a doubt that Brett Kavanaugh is not the man they're trying to make him."
Blasey, the sole accuser who testified before the committee, did not say Kavanaugh drugged her or that he was a serial rapist. Not even Avenatti's client said she'd witnessed Kavanaugh raping people ― she said she'd seen him at parties where rape did occur and she thought he might have participated.
HuffPost asked Graham on Friday if it's fair to say Democrats are claiming Kavanaugh was allegedly a serial rapist like Cosby, who has been accused of assault by dozens of women.
"No, I'm not saying that," Graham said. "I'm saying it's fair to say that that's the accusation that came from Mr. Avenatti."
Graham suggested that his Cosby comments perhaps shouldn't be taken literally.
"The process that we are engaging in has led to this accusation and nobody wants to talk about it because it is so over the top," he said.
Nobody except Graham, that is.
"I want to prove to people what this process is all about," he said. "It's about buying time, throwing anything and hoping it will stick."
REAL LIFE. REAL NEWS. REAL VOICES.
Help us tell more of the stories that matter from voices that too often remain unheard.