Sen. Lindsey Graham (R-S.C.) said Saturday that if former President Barack Obama actually wiretapped Donald Trump's phones, either legally or illegally, it would be the biggest scandal since Watergate.
Speaking at a town hall in Clemson, South Carolina, Graham addressed Trump's baseless claims that Obama eavesdropped on him prior to the 2016 election. Trump claimed Obama's actions were as scandalous as "Nixon/Watergate" in one of several tweets on Saturday morning.
"I don't know if it's true or not, but if it is true, illegally, it would be the biggest political scandal since Watergate," Graham said, referring to a scenario in which the Obama administration tapped Trump's phones without a warrant. The crowd, which was evidently packed with anti-Trump residents, booed at this suggestion.
But then Graham, who is often willing to publicly criticize Trump, suggested that it would equally shocking if the eavesdropping had been done legally.
"The other side of the story ― just be quiet for a second ― if the former president of the United States was able to obtain a warrant lawfully to monitor Trump's campaign for violating a law, that would be the biggest scandal since Watergate," he said.
Graham made clear that the latter form of wiretapping would be aimed at investigating "Trump campaign activity with foreign governments."
"So it's my job as a United States senator to get to the bottom of this. I promise you I will," he concluded, drawing applause.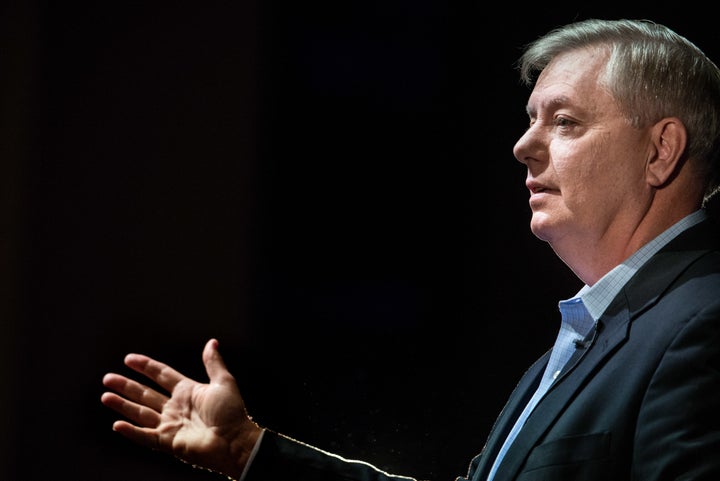 The president typically does not order surveillance, and there is no evidence that the Obama administration wiretapped Trump's phones. The FBI, which is part of the Department of Justice, must request a warrant for a wiretap, and the DOJ prides itself on operating independently from the White House. The president ordering surveillance on an American would be a huge violation of that independence.
A FISA Court denied the FBI's request for a warrant to monitor four members of the Trump campaign team over the summer, according to The Guardian.
Obama spokesman Kevin Lewis addressed Trump's claims Saturday in a statement, calling them "simply false."
"As part of that practice, neither President Obama nor any White House official ever ordered surveillance on any U.S. citizen," Lewis said.
The statement does not appear to preclude the possibility that the Obama administration's Department of Justice surveilled Trump of its own volition.
It is not clear what prompted Trump's remarks.
Trump may have been responding to recent leaks revealing that senior Trump campaign officials had contact with the Russian government during the campaign or transition period and later denied doing so, or misrepresented the nature of the meetings.
Attorney General Jeff Sessions recused himself Thursday from any investigation of Russia's alleged interference in the election, after the Washington Post reported that he met with the Russian ambassador to the U.S. during the campaign. During his confirmation hearing, Sessions denied meeting with the Russian government while serving as a Trump campaign surrogate.
Graham did not spend his entire town hall speaking critically about Trump, however. At one point, he spoke over loud jeers to explain why he wanted to help Trump be "as successful as possible."
"Number one, I agree with him, mostly, and I'd like to get this country moving again," he said.
Since January, disgruntled constituents have been filling Republican lawmakers' town halls in order to grill their representatives about plans to replace Obamacare and investigate Trump. Many lawmakers have responded by canceling their public meetings or otherwise avoiding in-person contact with constituents that cannot be controlled.
But Graham said he was pleased to hear from his constituents despite the cantankerous reception.
Calling all HuffPost superfans!
Sign up for membership to become a founding member and help shape HuffPost's next chapter
BEFORE YOU GO
PHOTO GALLERY
2017 Scenes From Congress & Capitol Hill