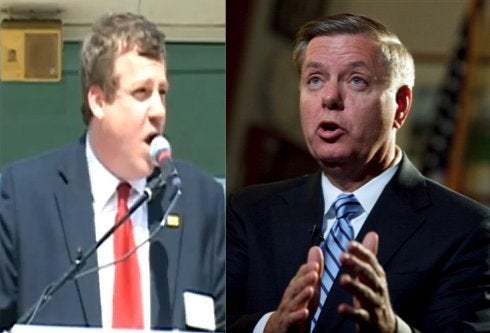 William Gheen, head of the conservative, anti-"amnesty," anti-illegal immigration group Americans for Legal Immigration PAC (ALIPAC), spoke at a Greenville, S.C. Tea Party rally this weekend and called for Sen. Lindsey Graham (R-S.C.) to "come out of that log cabin closet."
According to Gheen, being gay is "a secret that Lindsey Graham has."
Gheen told the crowd: "I hope this secret isn't being used as leverage over Senator Graham, so today I think Senator Graham, you need to come forward and tell people about your alternative lifestyle and your homosexuality."
"Barney Frank is more honest and brave than you," Gheen continued, referring to the openly-gay Massachusetts congressman.
ALIPAC has posted the video titled "US Senator Graham is Gay" on YouTube, where various news outlets have covered it.
At one point, the video contained the tags "queer" and "fag," which Gheen told HuffPost were the result of a hacked YouTube account. When Gheen was informed of the keywords, he replaced them with less incendiary language.
The group defended itself Monday, and in fact doubled down on calls for Lindsay Graham to admit his homosexuality.
In a statement, ALIPAC alleged that a "brief clip of Gheen's speech, which is out of proper context, has already gone viral on YouTube and been reported by Keith Olberman on MSNBC without proper permissions or attributions."
"US Senator Lindsey Graham is gay and while many people in South Carolina and Washington DC know that, the general public and Graham's constituents do not," Gheen said in the statement. Though Gheen claimed, both in the statement and at the Tea Party rally, that he does "not care about Graham's private life," he again said that Graham must declare his supposed homsexuality "so the public can rest assured he is not being manipulated with his secret."
"I need to figure out why you're trying to sell out your own countrymen and I need to make sure you being gay isn't it," Gheen said over the weekend.
Anonymous rumors of Sen. Graham's supposed homosexuality have swirled around Washington before. In the run-up to Justice Sotomayor's confirmation hearing, Graham asked Sotomayor to explain uncredited comments about her past behavior. A blogger reactd by asking Graham to respond to anonymous speculation that he was gay.
Former CNN anchor and former ALIPAC partner Lou Dobbs is "calling for William Gheen to resign after his comments/actions on Sen. Lindsey Graham's sexuality" via Twitter.
Watch the video, started at the "gay" comments, or start from the beginning for full context:
Support HuffPost
The Stakes Have Never Been Higher
Popular in the Community