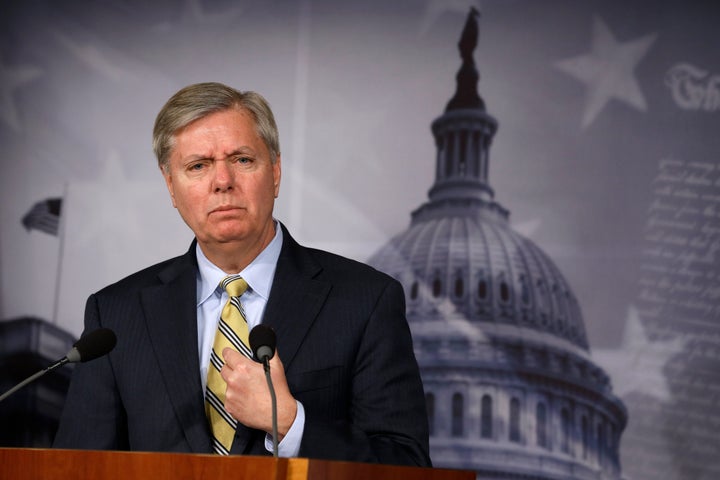 WASHINGTON -- Sen. Lindsey Graham (R-S.C.), one of the members crafting an immigration bill in the upper chamber, said Tuesday that former Florida Gov. Jeb Bush's opposition to a pathway to citizenship for undocumented immigrants could damage their effort.
"He has been a great voice on immigration, he has been a good governor, understands the Hispanic community," Graham told reporters. "I just think this proposal caught me off guard, and it undercuts what we're trying to do."
Bush, a Republican, and lawyer Clint Bolick wrote in a newly released book, Immigration Wars, that undocumented immigrants should be denied a pathway to citizenship. However, the former governor had previously said he would support a pathway.
"It is absolutely vital to the integrity of our immigration system that actions have consequences -- in this case, that those who violated the law can remain but cannot obtain the cherished fruits of citizenship," they wrote. "To do otherwise would signal once again that people who circumvent the system can still obtain the full benefits of American citizenship."
Graham differs on that point, as do the rest of the members of the "gang of eight" working on an immigration reform plan. Their framework would allow undocumented immigrants already in the country to become citizens, but only after border security metrics were met and the immigrants went through a long process.
Graham told reporters that he disagreed with Bush that a path to become citizens would be a magnet for future unauthorized immigration, particularly because the former governor said he does support legalization.
"This idea of just permanent residency -- that will be amnesty as much as a pathway to citizenship for a segment of the party, and I think it's just as much of an inducement to say if you come here you can spend the rest of your life, that's not a deterrent for people to continue to come in the future," he said. "What I want to do is make sure that we don't have a third wave. Long story short: Politically and substantively, I don't think it's a very good idea."
Beyond that, he said a bill without a pathway to citizenship wouldn't go anywhere in the Senate.
"From a political point of view, we've got 55 Democratic senators and 72 percent support for a pathway to citizenship," he said. "It's just not practical. We're not going to be able to pass any bill in the U.S. Senate without a pathway to citizenship."
Sen. John McCain (R-Ariz.), a member of the "gang of eight," said their plan would "make sure there's not a magnet" through other enforcement mechanisms. He said he wasn't "surprised or not surprised" by Bush's comments and that he respects his opinions.
Unlike Graham, McCain said he didn't think Bush's statement would hurt their immigration reform efforts.
"We're moving ahead and we're coming ahead with the best proposal that we can," he told reporters. "And we believe that it will be widely supported."
Sen. Marco Rubio (R-Fla.), another "gang of eight" member, also said he doesn't think the move will add to the difficulty of bringing in Republican support for immigration reform. He said that he supports a pathway because he believes it's the right move for the country.
"I thought about that issue a lot, and [went] back and forth on it before I signed on to my principles and I just concluded that it's not good for the country in the long term to have millions and millions of people who are forever prohibited from becoming citizens," Rubio told reporters. "That hasn't worked out well for Europe."
Calling all HuffPost superfans!
Sign up for membership to become a founding member and help shape HuffPost's next chapter
BEFORE YOU GO
PHOTO GALLERY
10 Major U.S. Federal Immigration Laws