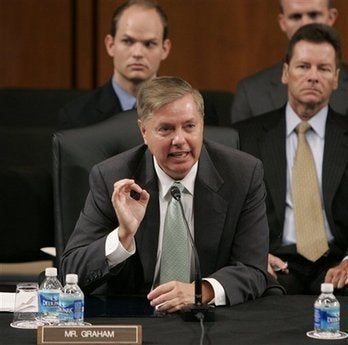 Sen. Lindsey Graham (R-S.C.) called on Sunday for President Barack Obama's top counterterrorism adviser to step down, referring to John Brennan's recent statements on the administration's handling of the Christmas Day bomb plot as "mind boggling and unnerving."
"I think it would be better to have a new person in that job," the South Carolina Republican said during an appearance on Fox News Sunday, in which he suggested that the public could no longer feel safe with him in the post.
Brennan, Graham said, is "disconnected from the world in which we live in and the threats we face. He is also the same guy that assured us that within 50 minutes we got all the information we needed from the Christmas day bomber. He is also the guy who says, 'hey he is now talking.' But can you really have a system where the parents of the terrorist will encourage the terrorist to cooperate with the FBI? Is it any way to fight a war to read Miranda rights? And do you want someone in charge of counterterrorism who finds a 20 percent return to fight rate is acceptable. He is lost my confidence and is the best evidence yet how disconnected this administration has come from the fact we are at war. We are at war and these statements are just mind boggling and unnerving."
In coming out in favor of Brennan's resignation or firing, Graham joins a growing list of Republican lawmakers howling with dissatisfaction with the homeland security adviser. The list includes Graham's close friend in the Senate, John McCain (R-Ariz.).
A 25-year veteran of the CIA and adviser to Republicans and Democrats alike, Brennan has come under attack for arguing that Obama's decision to place the Christmas Day bomber in the criminal justice system actually was smart policy. He also argued that GOP lawmakers who insisted that the president's counter-terrorism policies were dangerous to America were playing politics with national security and distracting from the war on terror.
As evidence, the White House and allied groups have pointed out that the procedures they have relied on were largely culled from the Bush administration playbook. One point Graham did not mention was that the failed shoe bomber, Richard Reid, was also read his Miranda rights -- starting five minutes after he was placed in custody.
As for recidivism, the issue was far more problematic under Bush, the Obama White House insists. Two weeks ago, Brennan sent a letter to members of Congress, informing them that after a comprehensive records review, it was determined that all the former detainees released or transferred who returned to terrorism after there release, did so during the Bush years.

Popular in the Community