At least one prominent Republican is calling on the Kentucky clerk refusing to grant marriage licenses to LGBT couples to resign if she continues to resist.
Sen. Lindsey Graham (R-S.C.) said Tuesday that because Kim Davis is a public official, she should "comply with the law or resign."
"The rule of law is the rule of law," he told conservative radio host Hugh Hewitt. "We are a rule of law nation."
Graham, a 2016 presidential hopeful, said that he agrees with her personal beliefs, but she must abide by the law.
"I appreciate her conviction, I support traditional marriage, but she's accepted a job in which she has to apply the law to everyone," he said.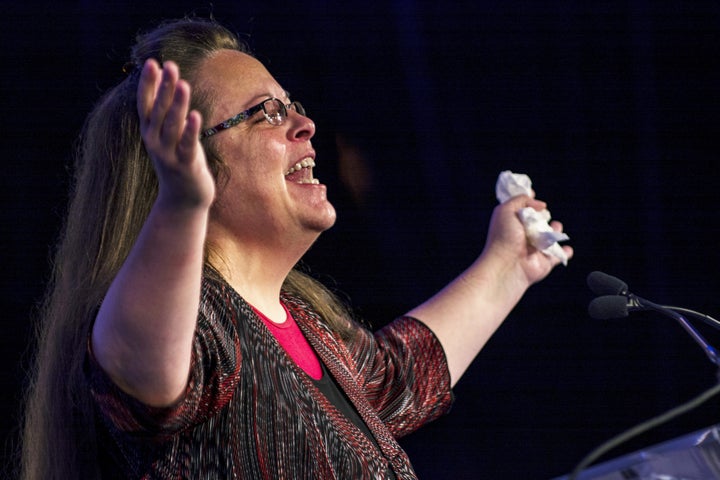 Davis, a clerk in Rowan County, Kentucky, has resisted abiding by the Supreme Court decision to legalize gay marriage nationwide because she claims it goes against her religious freedom. Last week, she filed an emergency injunction with the Supreme Court asking it to delay a lower-court order calling for her to issue the licenses. The Court rejected her request on Monday, essentially ordering her to comply.
Yet on Tuesday, Davis continued to refuse, saying that she can do so "under God's authority."
The ACLU filed a motion Tuesday to hold Davis in contempt of court for refusing to issue a marriage license to an LGBT couple in her county, and a federal judge has summoned her to appear in court on Thursday.
As HuffPost's Cristian Farias noted, Kentucky law prevents Davis, an elected official, from being fired. As a result, if she does not resign, the state can only remove her from office if she is impeached or charged with a crime. Kentucky officials might appoint a special prosecutor to investigate whether or not she is breaking the law.
Listen to Graham's comments above.
Popular in the Community