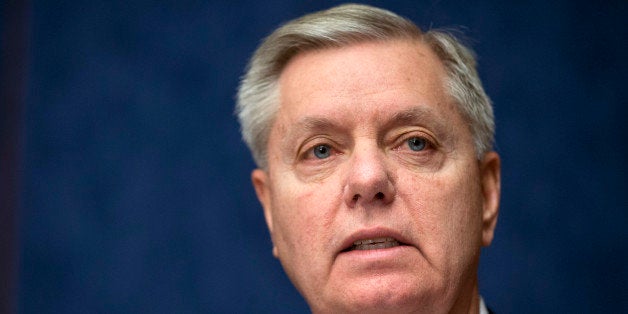 WASHINGTON -- It's going to be a squeaker of a vote for U.S. attorney general nominee Loretta Lynch, whenever the Senate finally votes to confirm her.
There are only four GOP senators publicly supporting Lynch: Orrin Hatch (Utah), Lindsey Graham (S.C.), Jeff Flake (Ariz.) and Susan Collins (Maine). If all 44 Democrats and the two independents vote for her, along with those four Republicans, that puts Lynch at a 50-50 vote. To make it through, she'll need one more Republican to say yes.
Graham said Wednesday he's not too worried about that happening.
"I think we're going to pick up a couple more," Graham told The Huffington Post. Asked if he thinks it could come down to Vice President Joe Biden stepping in as the tie-breaker, he said, "I hope not."
One of those Republicans may be Sen. Mark Kirk (Ill.). He's been mum on Lynch thus far. But on Thursday evening, he sounded awfully positive about his conversations with her, despite repeatedly avoiding giving a direct response on how he'll vote.

"I would say that she did quite well in the interview with me," said Kirk. "She did a very good job talking about how the feds can help lower gang violence in Chicago."

Pressed on whether that means he's leaning yes on her confirmation, Kirk said, "You know, I think I'm looking forward to working with her to make sure we have the strongest possible effort against huge gangs in Chicago."
Many Republicans say they'll oppose Lynch because she believes it was legal for President Barack Obama to take executive action on immigration and halt certain deportations. They have not raised concerns about her qualifications for the post, but say their anger over the president's action is enough for them to block Lynch. One of her loudest critics is Graham's buddy Sen. John McCain (R-Ariz.).
But Graham says the group's anger is misplaced.
"This, to me, is a sign of the dysfunction of this place," he said. "She's qualified. Their frustration with the executive order, I share. I'd rather fight this in court."
The South Carolina senator pointed out that if Republicans reject Lynch, that means they're stuck with current Attorney General Eric Holder, who many Republicans have had problems with.
"Keeping Holder on, I think that would be corrosive," Graham said. "I think we need a fresh face."
It's not clear when Lynch will get her confirmation vote. She was nominated in November and has been ready for weeks, but Senate Majority Leader Mitch McConnell (R-Ky.) is delaying her nomination until the Senate passes an unrelated human trafficking bill. That measure has stalled over an anti-abortion provision, fueling partisan tensions.
Graham isn't the only Republican going to bat for Lynch. Former New York City Mayor Rudy Giuliani (R) said last week that he's been personally calling GOP senators and urging them to vote for her.
"The confirmation process has been really tremendously distorted. ... It's become Republicans torture Democrats, Democrats torture Republicans. Who started it, God knows," Giuliani said. "But as a Republican and looking at the Constitution, I find Loretta Lynch not only to be an acceptable appointment, but I find her to be an extraordinary appointment."
If confirmed, Lynch would make history as the first African-American female U.S. attorney general.
This story has been updated with comments from Sen. Mark Kirk.
Calling all HuffPost superfans!
Sign up for membership to become a founding member and help shape HuffPost's next chapter